Live Smell-Free: 5 Best Air Purifiers for Weed Smoke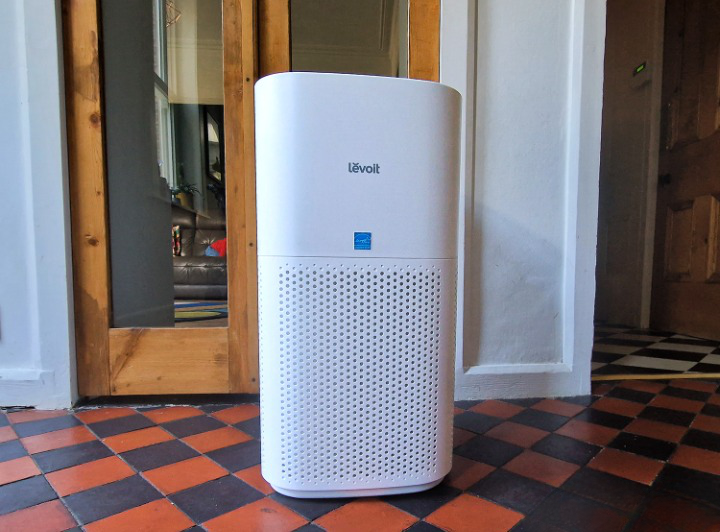 Are you looking for a way to get rid of the nasty smell of weed smoke in your home? Don't worry, we've got you covered!
In this blog post, we'll be exploring the top five best air purifiers that are perfect for filtering out and removing even the strongest odors of marijuana smoke. We'll also provide helpful tips on finding the right air purifier that best suits your needs.
So let's dive in and find out which one is best for eliminating weed smoke from your space!
How we choose the best air purifier for weed smoke?
Buying an air purifier for any home is a big investment, and when it comes to something as serious as removing harmful marijuana smoke from your living or working space, you want to consider multiple factors before making such a purchase.
In this blog section, we'll explore what special features one should look for in an air purifer specifically designed to combat weed smoke and the importance of researching the specs closely before checking out.
We hope that by providing you with helpful information you can find an air purifier where price-performance ratio works well for your needs – so let's get started!
Types of filters
Carbon is one of the most effective materials for removing airborne particles from the air, including odors. It works by trapping particles within its many pores, so any smells or toxins that pass through it will be eliminated. This makes it an ideal filter type for use in air purifiers designed to remove smoke from marijuana or tobacco products.
In addition to carbon filters, HEPA (High-Efficiency Particulate Air) filters are also beneficial when searching for an air purifier that can eliminate weed smoke effectively. HEPA filters contain a very dense material which traps harmful particles as they pass through, meaning they can capture and hold even smaller molecules like pollen and dust mites.
They are commonly used in medical settings and hospital operating rooms due to their ability to trap even microscopic contaminants before they have time to spread throughout a space.
Features
For starters, be sure to look for an air purifier that has a high Clean Air Delivery Rate (CADR). This is the measure of how well an air cleaner removes airborne pollutants from its immediate area.
The higher the CADR rating, the faster and more effectively it will eliminate cannabis smoke from your home or office environment. You'll also want to make sure your chosen model is designed with several fan speeds so that you can adjust it according to your needs and preferences.
In addition, pay attention to which type of filters come with your device - check if they're made out of pleated material or carbon filters as this will determine their effectiveness at eliminating odors caused by marijuana use as well as other airborne particulates like pollen and dander.
Size
The size of the purifier is important because you want it to be able to fit in whatever space you have available. Different models come in different sizes so make sure you measure your space first before committing to a purchase.
Capacity on the other hand indicates how well your air purifier can tackle large amounts of smoke at one time. This can vary greatly among different models, so it's important to consider how much smoke you need the air purifier to handle before selecting one.
A larger capacity model will be able to clean more air in a shorter amount of time, but that comes at the expense of taking up more space. Ultimately, size and capacity are both essential considerations when shopping for an air purifier for weed smoke.
Budget
No matter if you are a smoker or not, having an air purifier installed in your home can be beneficial for everyone. It helps to remove any harmful particles that might exist in the environment, including second-hand smoke. But when it comes to buying an air purifier specifically designed for weed smoke, budget plays an important role.
Air purifiers come with a range of features and at different price points depending on the model and brand. If you want maximum efficiency in terms of filtering out weed smoke from the air then it is recommended to invest more money into getting a higher-end model. These will usually have advanced filtration systems capable of eliminating most particulate matter as well as odor control options that would prove useful in keeping smokey smells away from your living spaces.
On the other hand, cheaper models still provide some level of efficiency but may require more regular maintenance and filter replacements due to their less powerful filters. This means additional costs which could add up significantly over time so it's important to take these factors into account when looking at lower priced units too.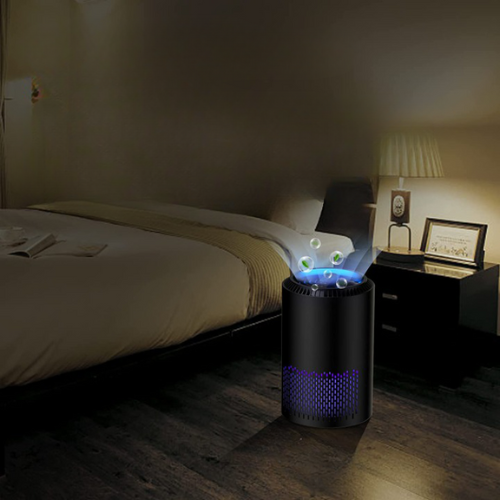 Quick Specifications
Dual-channel technology with 360 degree air outlet refreshes the air 5x per hour in rooms up to 215ft² / 20 m².
Sleep mode fan is reduced to lowest speed and noise is as low as 22db.
Add 4 - 5 drops of essential oil to aroma pad below purifier for a fragrant environment
Why we love it?
AROEVE Air Purifier for Weed Smoke is the perfect solution for persons who are suffering from allergies or asthma. The H13 HEPA filter in the air purifier traps particles as small as 0.3 microns so that smoke, pollen, dander and other airborne pollutants can be eliminated from your home's indoor environment.
The unique dual-channel technology circulates fresh air up to 5 times an hour throughout rooms of up to 215ft² / 20 m², giving you a clean and healthy atmosphere inside your house at all times keeping you safe from bad pollen levels outdoors.
What should you know?
The Arovee Air Purifier for Weed Smoke is an air cleaning and healthy humidity system designed to keep your home clean, fresh, and comfortable. It has a powerful motor that filters out up to 99.9% of dust, pollen, pet dander, smoke particles, and other airborne pollutants in your home or office space with its 3-stage filtration process.
To add an extra layer of comfort into the air quality atmosphere experience you can also add 4-5 drops of essential oil to the aroma pad below the purifier for a fragrant environment.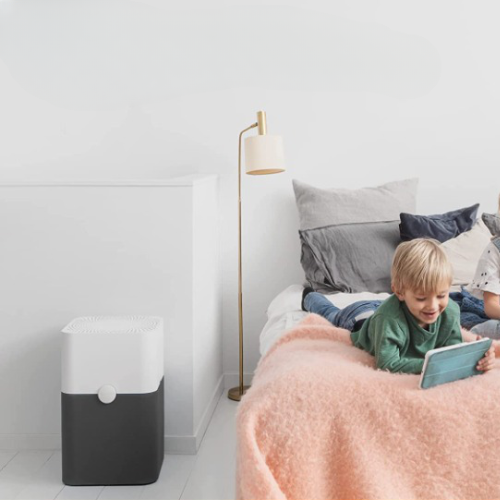 Quick Specifications
Easily adjust fan as-needed with one button to ensure optimal air quality.
Helps reduce allergens and pollutants that trigger allergy and asthma symptoms.
Reduces smoke & smog during wildfire season.
Why we love it?
The Blueair Air Purifier for Weed Smoke is a revolutionary product that offers superior air quality for any space. With its powerful HEPA Silent technology, the device can quickly and quietly deliver clean air without traditional filtration – making it the perfect solution for anyone striving to purify the air in their home or office.
In addition, users have complete control over the fan speed with just one button – allowing them to adjust airflow as-needed according to their particular environment.
On high setting, this product can easily clean 540 sq.ft. of large room in 12 minutes or up to 2592 sq.ft. XL space in only 60 minutes! And most impressively, its whisper-quiet operation (31 dB) makes it practically silent on low settings while still delivering an energy efficient performance thanks to its ENERGY STAR rating (that consumes 30W).
What should you know?
Blueair air purifier for weed smoke are the ideal choice for people suffering from allergies and asthma. They are designed to trap and reduce allergens, pollutants, smoke, smog, dust and pet dander that can trigger symptoms of these conditions. Blueair's advanced technology ensures that more than 99.97% of airborne particles are removed; which means your home is fresher and cleaner.
This superior performance has been verified by CARB Ozone safety standards as well as Intertek Sustainability program with zero ozone rating (<5ppb). This makes it a reliable aerosol filter to improve air quality in homes during wildfire season or when lingering odors from pets or cooking interfere.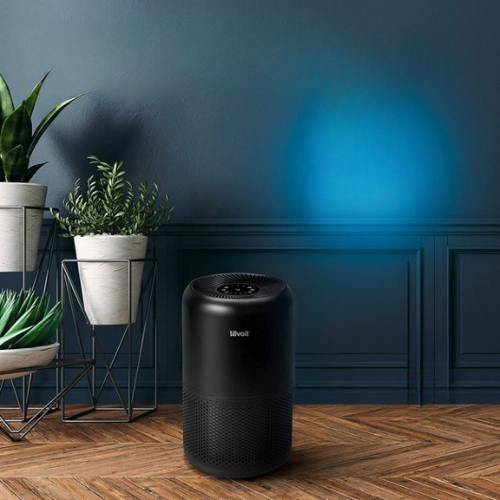 Quick Specifications
Avoids using UV-C light to clean air due to harmful ozone and secondary pollution.
CADR of 141 CFM/240 m³/h for 1,200 ft² space in one hour.
H13 True HEPA Filter captures 99.97% of airborne particles 0.3 microns or larger.
Why we love it?
The LEVOIT Air Purifier for Weed Smoke is an ideal device for cleaning the air in your home or office. It uses advanced technology to ensure that the air in your environment remains free of allergens, dust, smoke, mold spores and other airborne particles. The purifier does not use UV-C light for cleaning due to its potential health risks associated with ozone production and secondary pollution.
This system has a Clean Air Delivery Rate (CADR) of 141 CFM/240 m³/h which means it can improve air quality up to 1,200 ft² space within one hour! This superior CADR rating makes this unit perfect for medium-sized rooms and spaces quickly by removing contaminants such as dust mites, pollen, pet dander etc., so you can breathe safely without worry.
What should you know?
Levoit Air Purifier for Weed Smoke is a great all-in-one solution for maintaining clean, healthy air in your home or office. Unlike some other models, this one provides plenty of options to choose from to meet your specific needs.
It comes with a Pet Allergy & Toxin Absorber filter that helps reduce pet-related odors and allergens. Other filters are also available depending on what kind of environment you need, making it highly versatile.
The QuietKEAP Technology included in the Levoit makes it one of the quietest air purifiers on the market by reducing its sound levels to just 24dB - almost completely silent. That means no more loud humming when trying to sleep at night! This makes it perfect for bedrooms or any location where noise can be an issue.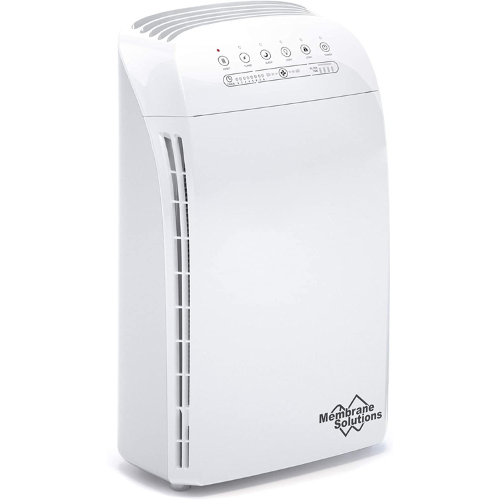 Quick Specifications
MSA3 H13 HEPA Air Purifier delivers 112 CFM (190m³/h) clean air quality.
Cleans rooms up to 840 ft² in an hour or 500 ft² in 36 minutes.
Filters out 99.97% of particles as small as 0.3 microns and air pollution PM 2.5 (particulate matter).
Why we love it?
The Membrane Solutions Air Purifier for Weed Smoke (MSA3 H13 HEPA) is an impressive air-purifying device that packs a lot of features into one compact unit. This purification system delivers 112 CFM (190m³/h) clean air quality, which makes it well suited for larger rooms up to 840 ft² in size - it takes just 36 minutes to clean 500 ft²!
What's truly unique about the MSA3 H13 HEPA is its 3-in-1 filtration system: Pre-Filter, H13 True HEPA Filter and Activated Carbon Filter with OdallerPure technology. The combination of these three different filters ensures maximum elimination of particles from the air such as dust, pollen, pet dander and other allergens.
The advanced odour removal technology also reduces strong smells or airborne gases from entering your room so you can breathe easy without bad smells getting in the way of your comfort.
What should you know?
The Membrane Solutions Air Purifier for Weed Smoke is an excellent device for creating a clean, healthy living environment. Thanks to its advanced filtering system, it is able to filter out 99.97% of particles as small as 0.3 microns and air pollution PM 2.5 (particulate matter). This helps to eliminate common allergies such as sneezing, coughing, and irritated eyes - giving users the peace of mind that their air quality is optimal!
Furthermore this device has several user-friendly features including Sleep Mode for overnight use; Eight-hour sleep timer if you want the purifier/humidifier to turn off after a certain period of time; Child Lock so children don't accidentally activate functions; Filter life display so you know when it's time to replace your filters; along with additional customisable settings which can be adjusted depending on individual preference or needs.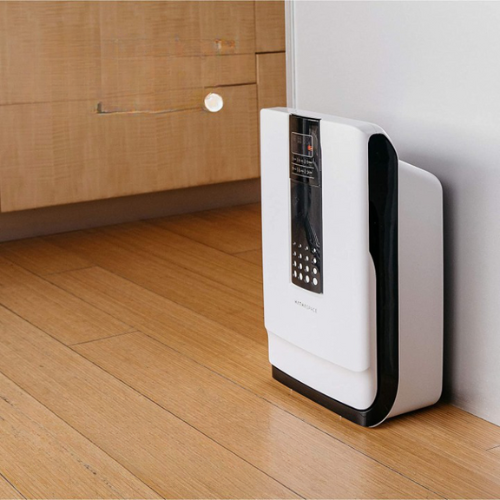 Quick Specifications
H11 HEPA filter captures 99.9% of particles down to 0.3 microns.
Includes air cleaner and odor eliminator with honeycomb activated carbon filter.
Smart air purifier with remote control & manual.
Why we love it?
Having a clean and healthy environment in your home is important. This is why HATHASPACE has created their 5-in-1 air purifier and humidifier – to ensure you have the cleanest, safest air possible. The filter system works by targeting pollen, dust, pet dander, VOCs (Volatile Organic Compounds), smoke, and odors from your living space.
It features an H11 HEPA filter that captures 99.9% of particles down to 0.3 microns for maximum protection against allergens and pollutants indoors. It also includes an air cleaner and odor eliminator with a honeycomb activated carbon filter for added odor absorption power so your living space not only looks but smells great too!
What should you know?
Hathaspace Air Purifier for Weed Smoke is a smart air purification solution for your home. It features both remote control and manual operations, giving you the flexibility to customize the air quality according to your needs. The machine automatically adjusts itself in auto-mode with its digital display that reveals real-time feedback on the level of contaminant particles present in the indoor environment.
In addition, Hathaspace provides a two year warranty along with award winning customer support 7 days a week should you ever have any issues or questions about their product.
This means peace of mind knowing that if something ever goes wrong you'll be taken care of quickly and properly. With all these features combined, it's hard not to love this top-of-the-line air purification unit!
FAQs about the best air purifier for weed smoke
Weed smoke can be irritating and unhealthy to breathe in. To help protect yourself from this unwanted air pollution, an air purifier is a great solution. In this blog section, we will answer some frequently asked questions (FAQs) about the best air purifier for weed smoke.
How often should I change my filter?
The frequency at which you need to replace your filter depends on how often you use it and what kind of environment it's being used in. Generally speaking though, most experts recommend replacing fine particle filters every 6-12 months depending on usage and conditions indoors. For more heavy duty usage it might require replacing more regularly than that - maybe as often as every 3-6 months instead!
Can an air purifier remove all odors from smoking marijuana?
Air purifiers with ozone generators have been shown to reduce odors by breaking down organic molecules associated with smells like cigarette smoke or marijuana - but they won't completely eliminate them either way so you may still notice a faint smell after using an ozone generator based device!
It's also important to note that while these devices can be helpful in reducing smells associated with smoking cannabis they shouldn't be relied upon exclusively without proper ventilation or other methods of odor removal first either!
Do air purifiers help with respiratory health issues caused by weed smoke?
Air purifiers can be very effective at reducing the harmful particles found in marijuana smoke, which can help reduce the negative health effects associated with it. However, it is still important to ensure that proper ventilation and other methods of odor control are used as well - air purification alone is not enough to completely remove all traces of weed smoke from your environment.
Conclusion
In conclusion, the above-mentioned air purifiers are great options when it comes to removing weed smoke from your home. Depending on the size of the room, budget, and technically advanced features, you can select any one of these air purifiers that best fits your needs.
They're all excellent at eliminating odors and toxins while offering effective filtration similar to a medical-grade device—all without taking up too much energy or space in your home. Try out one of them today and experience the benefits first hand!
*This site contains affiliate links. I may earn a small commission through links in this post.