Master Your Kitchen and Try Out the 5 Best Yogurt Makers of 2023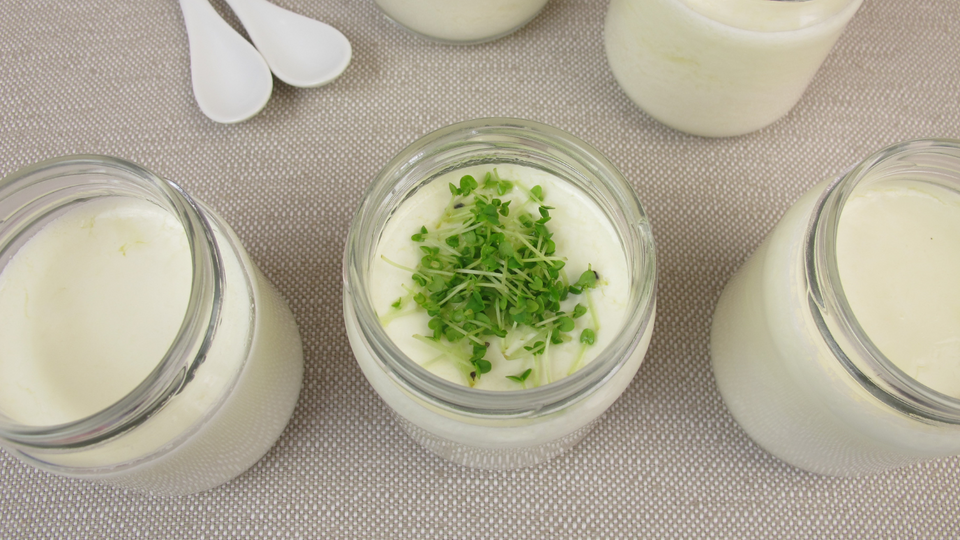 Yogurt is a food staple that ties together many ancient cultures, and people have been consuming it for centuries. The word "yogurt" actually originates from the Turkish term "yoğurmak," which means to thicken, coagulate or curdle. Today, yogurt is consumed by many as part of their breakfast routine while others prefer to use it in various savory dishes and sauces.
Although making your own homemade yogurt may seem intimidating at first glance, it's actually quite simple with the right tools and ingredients like milk, a yogurt starter and some kitchen utensils. To produce lactic acid to give the finished product its thick texture requires monitoring of temperature levels during fermentation – something that can be time-consuming if you don't have the right equipment.
However there are now good quality yogurt makers on the market that do all this work for you so all you need to worry about is just enjoying your homemade creation!
In this article, we will be looking at 5 best yogurt makers with a detailed buying guide to help you get started in your yogurt making journey.
How we choose the best yogurt makers?
Yogurt is a delicious, nutritious and easy-to-make snack. If you're looking to make your own homemade yogurt, then investing in a quality yogurt maker is the way to go. However, there are many things to consider before you settle on one and choosing the best yogurt makers can be quite confusing at times.
Here are some key factors that should be taken into account when shopping for the perfect yogurt maker:
Type
Yogurt makers are a great way to make nutrient-packed, delicious yogurt at home. But when it comes to purchasing the right yogurt maker for you, it is important to consider the different types available and decide which one would best suit your needs. There are several types of yogurt makers that vary in size, heating methods, cost and various features.
If you prefer convenience, an automatic or electric yogurt maker may be more suitable for you as they typically require very little effort from you on part of making the perfect batch of homemade yogurt. Typically these models come with timer settings so you can make sure your finished product isn't too thick or too runny. If budget is not a concern then this might be a good option for you!
On the other hand if money is tight but freshness still matters then opting for a manual or stovetop model could save some cash while giving excellent results without much fussing over temperature and timing settings like its electric counterpart requires. For many, these machine also take up less counterspace compared to their automated counterparts since they don't need an extra outlet powering them constantly during use
Capacity
Capacity refers to how much yogurt a machine can make in one batch or serving. Different models have different capacities and this has an impact on how well suited they are for your needs. If you plan on making a lot of yogurt consistently then look for a model that offers higher capacity as it will save time and energy compared to having multiple batches in lower-capacity machines.
If you only make small amounts occasionally, then buying a cheaper low-capacity model may be sufficient, but if large amounts of regular production is necessary (especially if there's more than one person in the family consuming the product) then investing in a larger capacity machine would be preferable to avoids any hassles down the line.
Features and Controls
Features such as temperature control make a big difference in the quality of yogurt produced, with lower temperatures yielding creamier yogurt. The number of shapes and sizes of containers also matter – extra-large or special shapes may be necessary if you plan on making large batches or unique recipes.
Another feature worth considering is if your device has an automatic shut off – this helps to keep your yogurt from spoiling while ensuring that it doesn't overheat during production.When evaluating controls, think about how easy they are to use and understand.
Some models have digital displays while others rely on analog dials– both can be effective in controlling the process; just choose which one works best for you based on personal preference and skill level. It's also useful to know what kind of timer control each model has — preset times allow users to walk away until their batch is finished with no worries about leaving it running too long!
Warranty and Maintenance
Yogurt makers require regular maintenance and repairs. A warranty is important in ensuring that those costs are covered, so you don't have to spend a lot of your own money if something goes wrong with the yogurt maker. In addition, most warranties cover parts or repairs for a set period of time to guarantee customer satisfaction.
A good customer experience is based on reliable product performance and peace of mind knowing that the manufacturer stands behind their product when things go awry. Without an adequate warranty policy, consumers may not be confident about making an investment in such a machine—especially given how expensive they can be!
Additionally, regularly scheduled maintenance is recommended to keep the appliance running optimally over its lifetime and this expense should also be covered by the warranty agreement whenever possible.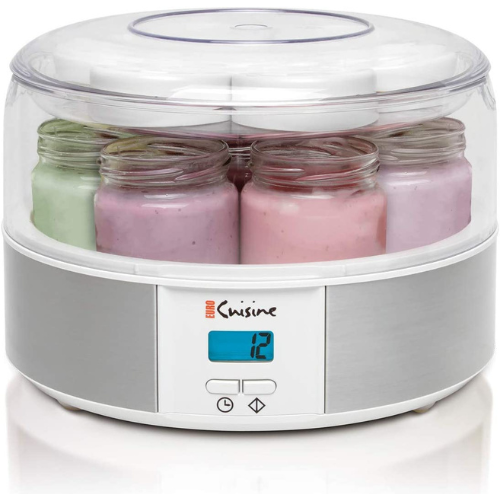 Quick Specifications
Allows for different flavoring options according to family preferences.
Blue LED Digital timer display will beep when ready.
Includes 7 reusable 6 oz glass jars with rotary date setting lids.
Why we love it?
Euro Cuisine yogurt maker is a smart and useful appliance that helps you to transform milk into tasty yogurt in just a few hours. Not only does it make the process easier, this device also includes 7 reusable 6 oz glass jars with rotary date setting lids. These jars come handy when you want to take your homemade yogurt on the go!
The Euro Cuisine Yogurt Maker has an intuitive design which makes it easy for anyone to use. It's unique blue LED digital timer display will beep at the end of the fermentation cycle so that you know exactly when your yogurt is ready to enjoy. All these features combined make this machine truly invaluable for those who love making homemade natural yogurts or fermented beverages like kefir and kombucha in their own homes!
What should you know?
Do you want to make your own all-natural and healthy yogurt without any additives, preservatives, or artificial flavours? With the Euro Cuisine Yogurt Maker, this is now possible! The secret lies in its thoughtful design and innovative features.
This yogurt maker has six BPA free containers where you can easily make individual servings of yogurt that suit your family's preferences. Whether it's traditional plain yogurt or more fun flavors like mixed fruits and honey, the possibilities are endless. You can even try out unique flavor profiles depending on what ingredients you have available! Best of all, since each container is portioned separately,your family members can enjoy different options according to their food tastes.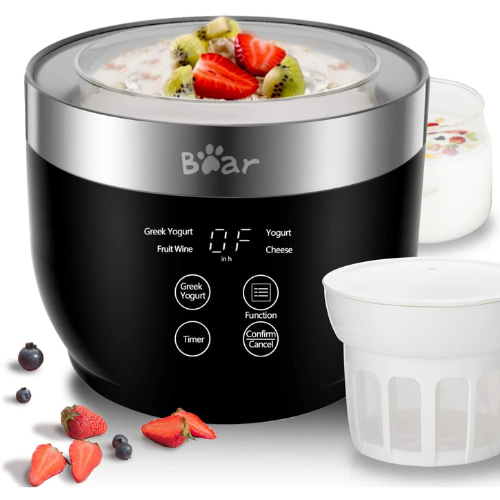 Quick Specifications
One-touch button & LED display function for easier control.
304 stainless steel inner pot and microcomputer control system.
Features two 1 Qt big capacity glass jars.
Why we love it?
The Bear Yogurt Maker is a fantastic piece of equipment for anyone who loves to create their own handmade yogurt creations. It's made from 304 stainless steel, so it's tough and reliable, as well as easy to keep clean. Its microcomputer control system ensures you can prepare consistent results every time.
What truly makes the Bear Yogurt Maker stand out from the rest though is its ability to produce higher doses of probiotics than commercial yogurt makers - something that all those health conscious yogurt eaters will definitely appreciate!
And that's not all. This handy machine can also be used as an equivalent four machines: a fruit wine maker, cheese maker, yogurt maker, and Greek yogurt maker in one – giving you plenty of options when you want to experiment with different recipes.
What should you know?
The Bear Yogurt Maker is the perfect solution for yogurt fans who want to make their own. Not only does it help you control fermentation time and types of pro-biotics, but its one-touch button and LED display function makes things easier than ever before.
This device also has an incredible 14 hours adjustable precise timer that allows users to customize the taste of their yogurt according to personal preference. This alone is incredibly useful and efficient!
Plus, a beep sound signals when your desired texture and consistency have been reached, so you don't have to worry about overcooking the yogurt.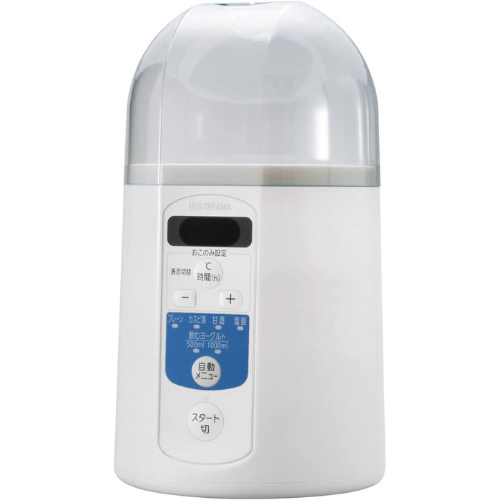 Quick Specifications
Timer can be set in 1 hour increments (1 to 48 hours).
Automatically sets the perfect temperature and time for each menu.
Temperature can be set in 1°C increments (25-65°C).
Why we love it?
Iris Ohyama Yogurt Maker is the perfect gadget for anyone who loves to make homemade yogurt and other fermented foods! With its automatic settings, you can easily create delicious and healthy snacks at home. The temperature of the maker can be adjusted in 1°C increments from 25-65°C so that you get the optimal result for whatever recipe you've chosen.
Furthermore, it will automatically set the time and temperature according to the menu selection. This means that your food will always taste as good as possible without having to worry about adjusting these settings manually every time!
This appliance also comes with an easy-to-read LCD display, allowing you to check on progress throughout fermentation processes in just one glance – no need for constantly monitoring or checking temperatures here! Its vibrant green light indicator adds a modern touch and lets users know when they are ready to enjoy their freshly made treats.
What should you know?
Iris Ohyama is one of the leading brands when it comes to yogurt making, and their new Yogurt Maker does not disappoint. This kitchen appliance stands out for its features that make yoghurt-making as hassle-free as possible.
The timer can be set in 1 hour increments (1 to 48 hours), giving you total control over how long it takes your yogurt to ferment and gain just the right amount of taste. And with a cord length of approx 2m, you don't have to worry about stretching the power supply too far!
What's more is that this Yogurt Maker also comes with a recipe book supervised by a certified food coordinator full of 29 different kinds of recipes; everything from traditional plain flavors all the way up through exotic fruit combinations and anything else your heart desires.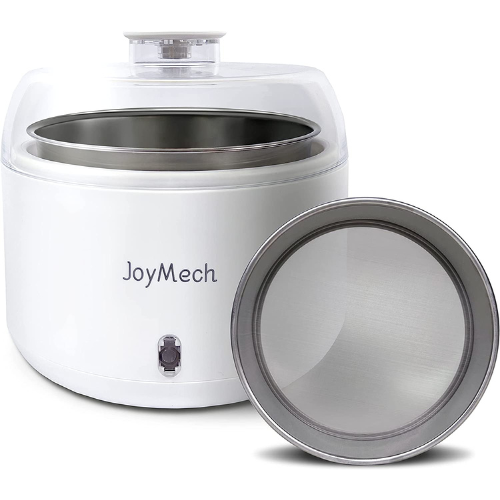 Quick Specifications
3D Constant Temperature Control System to evenly ferment probiotics.
Transparent Cover (BPA Free) with Air Switch.
Food Grade Stainless Steel Container & Strainer.
Why we love it?
JoyMech Yogurt Maker is an easy and reliable way to make fresh yogurt in the comfort of your own home. All you have to do is add milk and probiotics powder, plug it in and let it ferment for 12 hours.
Not only that, but this machine also comes with a 3D Constant Temperature Control System which ensures that the probiotics are evenly fermented across each batch. This means you can make up to 25 - 30 fl oz of tasty homemade yogurt every single time!
The JoyMech Yogurt Maker has quickly become one of the hottest kitchen appliances on the market today due to its convenience, efficiency and delicious results. Its user-friendly design makes this device an ideal choice for anyone looking for a simple yet sophisticated way to prepare their favorite yogurt without any hassle or mess.
What should you know?
Designing a yummy yogurt that is convenient and unique can easily be done with the JoyMech Yogurt Maker. This amazing machine allows you to strain up to 25 oz of yogurt at a time!
It features many amenities including a transparent BPA-free cover complete with an air switch, white machine body with matte finish, and food grade stainless steel container & strainer. The versatility of this product makes it easy to use so you can create gourmet yogurt in no time.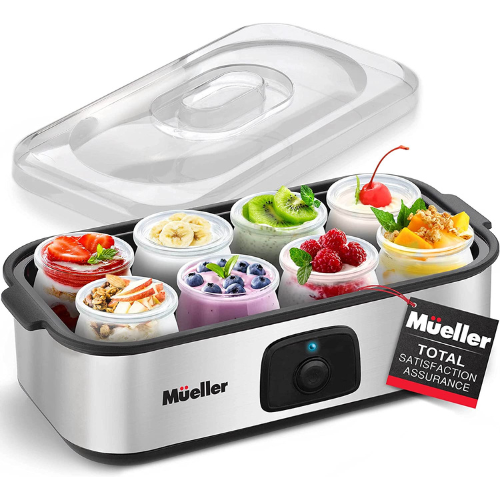 Quick Specifications
8 - 12 hours processing time depending on milk type used.
Stainless steel housing with transparent cover and food grade materials.
Heating base and fermenting pot for optimal activation of yogurt.

Why we love it?
The Mueller Yogurt Maker is the perfect solution for anyone looking to make their own yogurt. It's fully automatic at the touch of a button, allowing you to create individual batches or larger batch sizes up to 48oz. The processing time varies depending on the type of milk used, usually 8-12 hours.
With this amazing tool you can create both regular and Greek yogurt in no time! Not only that, but it also comes with a built-in timer and alert system which will let you know when your yogurt is done processing!
What should you know?
If you're looking for a budget-friendly way to make gourmet-quality yogurt at home, then the Mueller Yogurt Maker is an excellent option. It comes with a stainless steel housing and a transparent cover made from food grade materials.
This yogurt maker has an advanced heating base which evenly distributes heat and activates the fermentation of yogurt in minutes. The included fermenting pot helps ensure that your homemade recipes turn out creamy and delicious every time.
You can also experiment with various flavors or add ingredients like nuts and fruits to create unique combinations sure to delight your family or friends.
FAQs about the best yogurt makers
Are you looking for the best yogurt maker to help satisfy your cravings? If so, you've come to the right place! In this blog section, we'll cover a few FAQs about the best yogurt makers on the market today.
Is yogurt maker worth it?
Yogurt makers can be a great investment for those who love yogurt and want to make it fresh at home. Not only is it an economical choice, but you also get to enjoy the satisfaction of making your own yogurt with ingredients that you know are healthy and delicious. Plus, homemade yogurt contains beneficial probiotic bacteria which are great for digestion and overall health.
The main benefit of owning a yogurt maker is convenience - instead of having to buy tubs or single-serving containers at the grocery store every week, all you need is some milk or non-dairy alternative (like coconut or almond milk) plus any desired flavorings to create your own custom batches in just an hour or two. It's also more cost-effective than buying pre-made yogurts, so if you're looking for ways to save money on groceries then this could be an easy way to do so!
Is it cheaper to make or buy yogurt?
Making your own yogurt is definitely cheaper than buying it. For example, you can make homemade Greek yogurt using a few simple ingredients - milk and live active cultures. This will cost much less per pound of yogurt than store-bought versions do, especially if you use quality organic ingredients.
Additionally, when making your own yogurt you have control over the ingredient list and can customize it to your tastes or dietary needs.
Furthermore, making it at home eliminates any added preservatives or artificial flavors that are often found in store-bought brands. All in all, if you're looking for an economical way to enjoy delicious yogurts then making it yourself is usually the best option!
Is it good to eat homemade yogurt everyday?
Eating homemade yogurt everyday can be a great way to get your daily dose of probiotics, which are beneficial bacteria that help with digestion. It's also an excellent source of calcium and protein, two important nutrients for healthy bones and teeth.
Not only that, home-made yogurt is much more cost effective than store bought or processed yogurts as you have control over the ingredients used and how it tastes!
In addition, it's made fresh so you don't have to worry about any added preservatives or other additives that some commercial yogurts may contain.
Conclusion
In conclusion, yogurt makers are essential appliances to help you create your own delicious and healthy yogurts.
The five best yogurt makers discussed in this blog each offer something different, so it is important to read reviews and compare features to find the one that best fits your needs.
With a yogurt maker at home, you can quickly prepare fresh homemade dairy or non-dairy products in just a few minutes. Yogurt makers are available in various sizes and shapes; they also come with different levels of complexity.
Whatever type you choose, owning a yogurt maker will give you access to healthier, fresher alternatives anytime!
*This site contains affiliate links. I may earn a small commission through links in this post.