The 5 Best Grill Cleaners That Won't Leave Your Grill Stinky!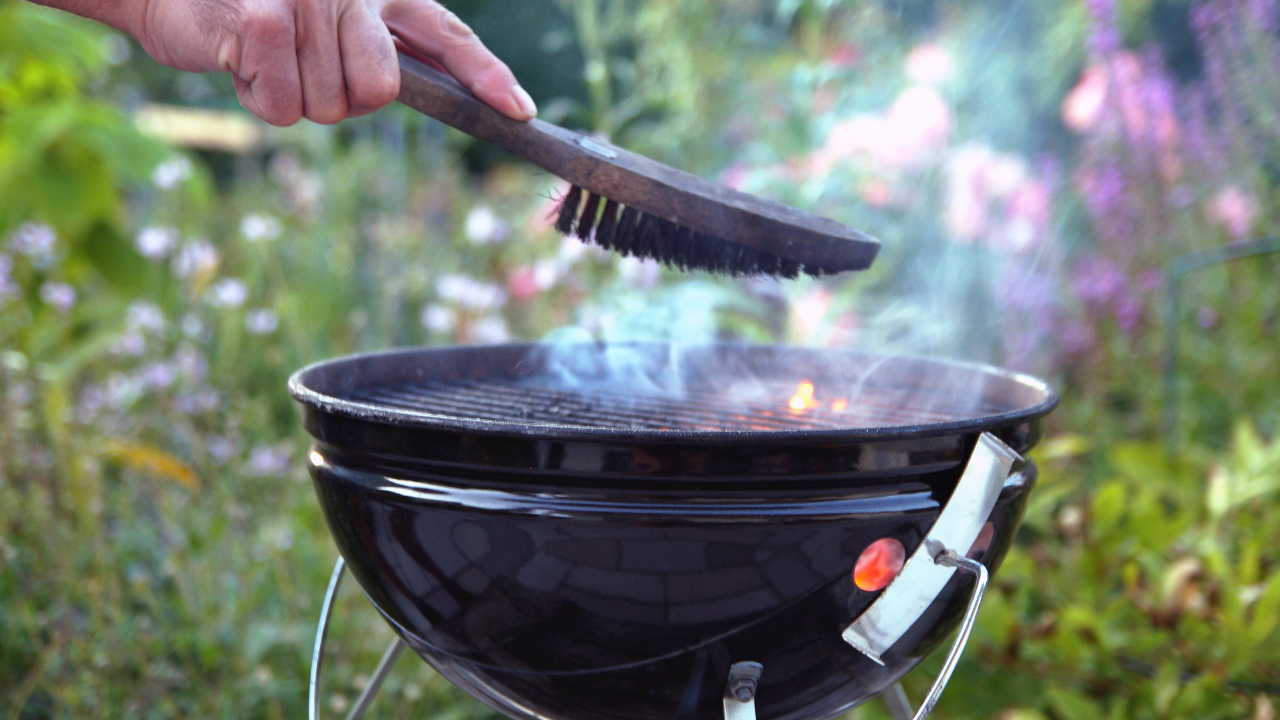 Grilling season is here, and that means your trusty BBQ will be seeing plenty of use over the next few months. But with all that delicious food comes dirt, grease, and residue – which can clog up your grill quicker than you think!
Fortunately, there are some great products out there designed specifically to help keep your grill clean and healthy. Today we're going to go through five of the best grill cleaners on the market that will save you time and hassle in sprucing up your outdoor cooking apparatus for another summer of mouthwatering meals.
From brushes to wipes to chemical solutions - these cleaning supplies are sure to get every nook of your instrument free from grime. So, read on if you're looking for some new ideas in how best shape up your pit!
How we choose the best grill cleaners?
Are you looking for some help on choosing the best grill cleaner for your outdoor kitchen? Having a clean, well-maintained BBQ or charcoal grill can make all the difference between an enjoyable grilling experience and one that is subpar.
If you want to ensure your next cookout goes off without a hitch, it's important to choose wisely when selecting a Grill Cleaner. We will explore various factors to consider in order to pick the perfect product so that your BBQ is always as clean as possible!
Types of grill
The type of grill you own will determine which kind of cleaning solution is best suited for your particular model. You should always check with the manufacturer first before selecting a product, as they may have recommendations on what types of chemicals or tools work best on their devices.
Some typical grills that require special care include ceramic, stainless steel grills, cast iron stoves and charcoal grills – all needing different formulas depending on the material used to construct them.
Cleaning solutions
When purchasing the best grill cleaner, be sure that it has been specifically designed for use on outdoor barbecue systems as other kinds (e.g., laundry detergents) can cause damage if used inappropriately. There are also many natural solutions available such as lemon juice, vinegar, baking soda, and even beer!
Depending upon how much buildup you have on the exterior surfaces of your unit will depend whether these natural options suffice or if more aggressive commercial brands need to be brought out into play!
Tools and brushes
Once you've chosen the correct cleaner based off its compatibility with your specific type of BBQ system; you'll then want to look at purchasing accessories such as wires brushes and scrapers which can help aid in removing built up residue and caked-on grease deposits respectively!
As well - donning protective gloves is recommended whilst conducting this process too avoid skin irritation/burns from harsher chemical agents found within certain cleaners.
Ease of use
The best grill cleaners are those that are easy to apply and don't require heavy scrubbing.
Some solutions come in aerosol cans which allow you point and spray onto spots with minimal effort while others can simply be poured into an existing bucket of water – just make sure you follow all instructions pertaining to dilution levels as this will ensure maximum effectiveness without causing any damage!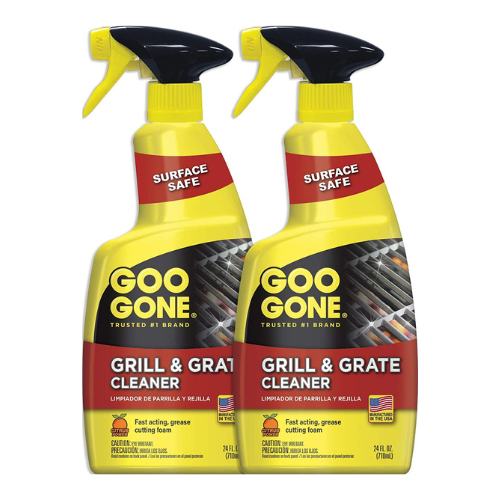 Quick Specifications
It cleans your grill and is safe on food-prep surfaces
It is a safe alternative to abrasive cleaners
This super-strength gel is biodegradable and reduces smoke/flare-ups
Why we love it?
Are you looking for an all-in-one solution to clean your grill and grates? If so, then the Goo Gone Grill and Grate Cleaner Spray should be the product of choice. Designed with the latest technologies, this super strength gel is not just any ordinary cleaner; it doubles as a safe food preparation surface cleaner while still providing excellent cleaning power!
This powerful formula eliminates stubborn grease build up quickly and effectively on both gas and charcoal BBQs. Its fast action also makes it great for removing baked on particles from pellet smokers or electric smokers in half the time that other traditional cleaners take. And its versatility ensures that no matter what tough job you have ahead of you, Goo Gone Grill and Grate Cleaner Spray will rise to the occasion.
Plus, this premium quality solutions leaves behind a pleasant lemon scent without having to worry about toxic chemicals being left behind on food prep surfaces.
What should you know?
The Goo Gone Grill and Grate Cleaner Spray is an incredibly useful product for all avid grillers out there who want to keep their grills in tiptop shape. It works on caked-on food, baked-on deposits, carbon and grease so you no longer have to worry about scrubbing away at those pesky bits stuck onto your grill grate.
Not only that, but it is surface safe which makes it perfect for cooking grates, racks, drip pans, grill interiors and exteriors without worrying about damaging the surfaces with abrasive cleaners due to its non-toxic formula.
This spray cleaner also boasts a much better result than aerosol products as you don't have to deal with awful smoke or strong odors. We can surely say that this is one of the top contenders of this best grill cleaners list!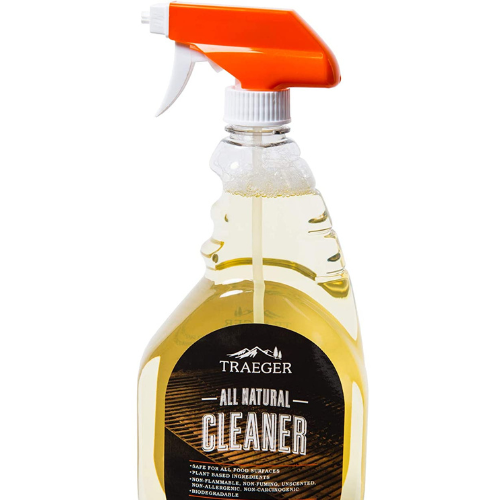 Quick Specifications
It is a non-toxic solution
The ingredients are sourced from USA
It easily wipes off any carbon residue

Why we love it?
If you're looking for the best way to clean your Traeger Grill, look no further than the Traeger Grill Cleaner. The industrial strength solution is made in the United States and is tough on grease while still being completely non-toxic to keep your food surfaces safe.
The Traeger grill cleaner is formulated to quickly penetrate, break up and remove even the toughest grease and gunk that accumulates on your grill grates, warming racks, or other metal surfaces. It also prevents new grease from sticking so it can be easily wiped away before it has a chance to accumulate into a sticky mess. The result? Crispy skinned meats with every cook!
It doesn't matter if you have a wood pellet model or an electric one – this all-purpose cleaner will work hard for your prized cooking appliance leaving it squeaky clean with each use!
What should you know?
The Traeger Grill Cleaner is the perfect product for anyone who loves wood-fired cooking. Not only that, but it promises an easy clean kit to make sure your grill looks just as good as when you purchased it no matter how long you've owned it!
The Traeger Grill Cleaner ensures a thorough, deep clean of all surfaces inside and outside of your smoker, especially compared to other options on the market. It uses non-toxic cleansers that are safe for any surface on a Traeger Smoker; so there's no need to worry about damage while using this product.
And not only does the cleaner do its job, but it also smells great too; leaving behind a fresh scent after cleaning off any nasty buildup from extended use!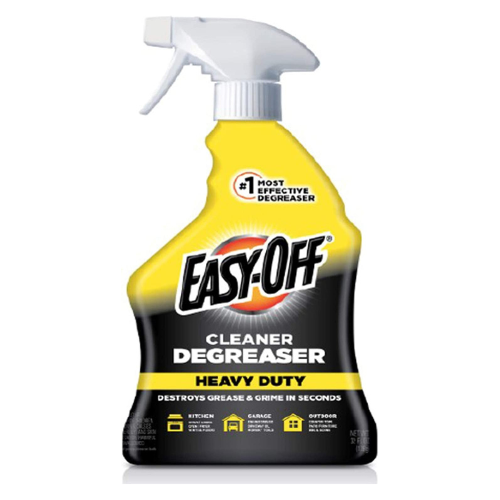 Quick Specifications
It is specifically formulated to penetrate and remove tough grease
You can use only on hard, non-porous surfaces and rinse thoroughly with water
It has a great lemon scent
Why we love it?
Do you have a tough, greasy mess that's been giving you trouble? If so, the Easy Off Heavy Duty Degreaser Cleaner Spray is the perfect solution! This specialty cleaner has been specially formulated to quickly and effectively penetrate those stubborn grease and grime deposits. The heavy duty degreaser works well on hard, non-porous surfaces such as ovens and stove tops.
To use it simply spray it in your desired area of cleaning, wait for 15 minutes (or longer if needed) and then rinse thoroughly with water. Once done you'll be left with clean surfaces free from grease and grime. And to make your job even more pleasant there's an added bonus of this product having a delightful lemon scent!
The Easy Off Heavy Duty Degreaser Cleaner Spray is one of the best solutions when dealing with tough cleaning jobs. It makes quick work of any grease problem leaving behind sparkling clean areas without much effort or hassle.
What should you know?
The Easy Off Heavy Duty Degreaser Cleaner Spray is perfect for back splashes, cooktops, stovetops, cupboards, and countertops. It works on greasy range hoods as well as on and in cabinets that have been subject to heavy grease build up.
Plus it's not an aerosol spray so there's no worrying about the chemicals chocking you while using it - making it safe to use indoors. It's important to note however that this de-greasing solution should not be used on aluminum surfaces due to its strong corrosive properties which could cause significant damage to those types of materials.
However when used properly, the Easy Off Heavy Duty Degreaser Cleaner Spray offers fast and effective cleaning power for most hard kitchen surface areas with minimal effort needed from you. This is surely one of the best grill cleaners to buy in 2022!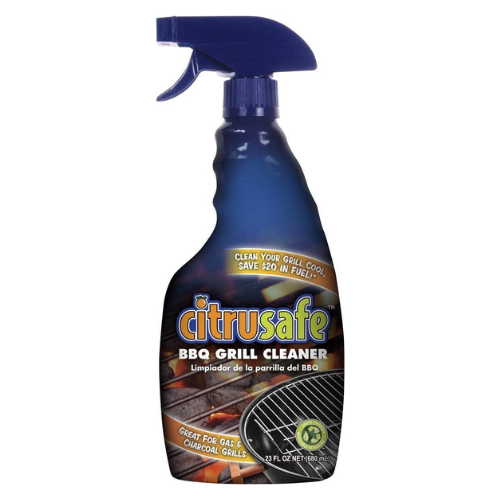 Quick Specifications
It is non-flammable, non-corrosive, non-toxic, biodegradable
It works great on gas grills, charcoal grills, cookers, smokers
It's meant to clean your BBQ grill's cooking surface easily and effectively
Why we love it?
Are you looking for an easy yet effective way to keep your barbeque grill clean? Then the Citrusafe Grill Cleaning Spray is the perfect solution! This innovative spray is specifically designed to make cleaning your grill quick and effortless while using safe, natural ingredients.
Made with citrus peels, citric acid and a biodegradable surfactant blend, the Citrusafe Grill Cleaning Spray easily degreases BBQ grills without any harsh or abrasive cleaners. By degreasing the cooking surfaces of your grill, it both restores its non-stick properties and preserves gasoline efficiency - saving you fuel in the long run.
Plus, it ensures that wire brush bristles don't get ingested into food during eating. In addition to being healthy and environmentally friendly, this unique cleaner also works effectively to give results as good as those obtained by abrasive scrubbing or chemical sprays.
What should you know?
When it comes to keeping your grill clean, you want the best product on the market. That is why the Citrusafe Grill Cleaning Spray is an ideal option for anyone wanting a safe and effective way to clean their grill.
This spray is non-flammable, non-corrosive, non-toxic, biodegradable and phosphate free so you don't have to worry about any of those issues when using it. Moreover, it can be used for all types of grills including charcoal and pellet grills as well as gas models.
The special formula helps remove soot build up from ceramic or ceramic fiber glass log sets without harsh scrubbing damage caused by wire brushes that are often too abrasive!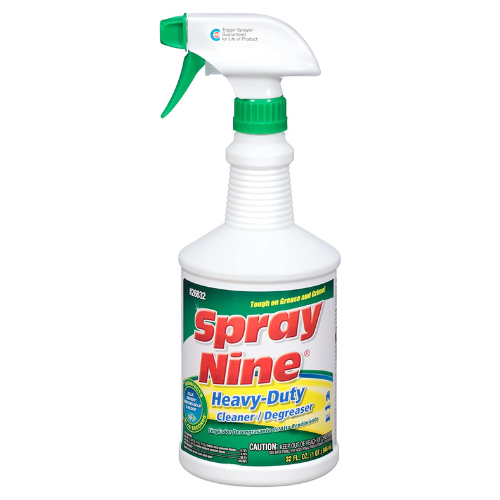 Best Cleaner for Burned-on grease
Spray Nine 26832 Heavy Duty Cleaner Degreaser and Disinfectant
Check Deal On Amazon
Quick Specifications
It contains no petroleum or chlorinated solvents
It is formulated to weaken the ability of soils to cling to surfaces
It acts as an effective disinfectant against germs like E. coli and salmonella
Why we love it?
The Spray Nine Heavy Duty Grill Cleaner/Degreaser is designed to penetrate through layers of grease buildup in a single application. It breaks down food particles and destroys them on contact so they can be easily wiped away from non porous surfaces like stainless steal or plastic grills.
Plus, it provides a long lasting residue-free finish so your grill looks brand new again with minimal effort! Not only does this powerful degreaser lift off stubborn dirt but it also has germ killing properties that allow it to act as an effective disinfectant against germs like E. coli and salmonella.
Its mold/mildewcide powers help prevent the growth of these microorganisms as well – keeping your outdoor kitchen areas safer & healthier all season long! And its deodorizing capabilities ensure that any odors related to cooking will be eliminated quickly & efficiently after each use.
What should you know?
The Spray Nine Heavy Duty Grill Cleaner/Degreaser is an industry leading all-purpose cleaner and degreaser designed to tackle your toughest cleaning jobs.
With its powerful blend of surfactants, caustic soda, and wetting agents it quickly removes dirt, grease, oil, carbon deposits and other soils from surfaces like tools, tires, vinyl, stainless steel and engines without leaving behind any residue or streaks.
The best part? It kills 99.9% of bacteria in just 45 seconds after application! That means it's a great way to ensure your grill stays clean and sanitized during the summer months when you don't have time to do a thorough scrub with water or detergent every time you use it!

FAQs about the best grill cleaners
If you are a passionate grill master, chances are you know how difficult it can be to keep your grill clean and well-maintained. The accumulation of grease and food residue stuck on your grates can turn even the most savory steak into a charred mess if left too long.
To help make the maintenance of your barbecue equipment easier and more thorough, here is an FAQ guide on choosing the best grill cleaners to do the job properly without damaging any parts or voiding warranties!
How often does a grill need to be cleaned?
Keeping your grill clean is an important part of regular maintenance and will help extend the life of your appliance. To ensure it's working properly, you should aim to clean your grill every time you use it, as well as every season or so.
At least once during each season (spring, summer, fall), you'll want to give your grill a deeper clean beyond just brushing off ingredients from cooking sessions.
How do you use a grill cleaner?
To use a grill cleaner, start by turning off the gas supply and unplugging or removing any batteries. Then brush off any remaining food particles, grease, and dirt from the grates with a stiff wire-bristle brush.
Once the surface is clean, spray on the cleaning solution and allow it to sit for several minutes before scrubbing again with a stainless steel brush or scouring pad. Finally, rinse off all residue and reassemble your grill for use.
Can you use all purpose cleaner on a grill?
No, you should not use all-purpose cleaner on a grill.
All-purpose cleaners are designed for cleaning hard surfaces like countertops and appliances, whereas grills require specialized cleaning products that can safely remove grease and food particles without damaging the grilling surface.
Conclusion
In conclusion, these 5 best grill cleaners are all excellent choices for anyone looking to keep their grill in tip-top shape. Whether you're a professional or just an outdoor barbecuing enthusiast, any of these options will help you get the job done quickly and effectively.
No matter which one you choose, proper maintenance with one of these products can extend your grill's life significantly. So go ahead and pick your favorite – getting ready for grilling season has never been easier!
*This site contains affiliate links. I may earn a small commission through links in this post.