Best Espresso Machine under $200 - Buyer's Guide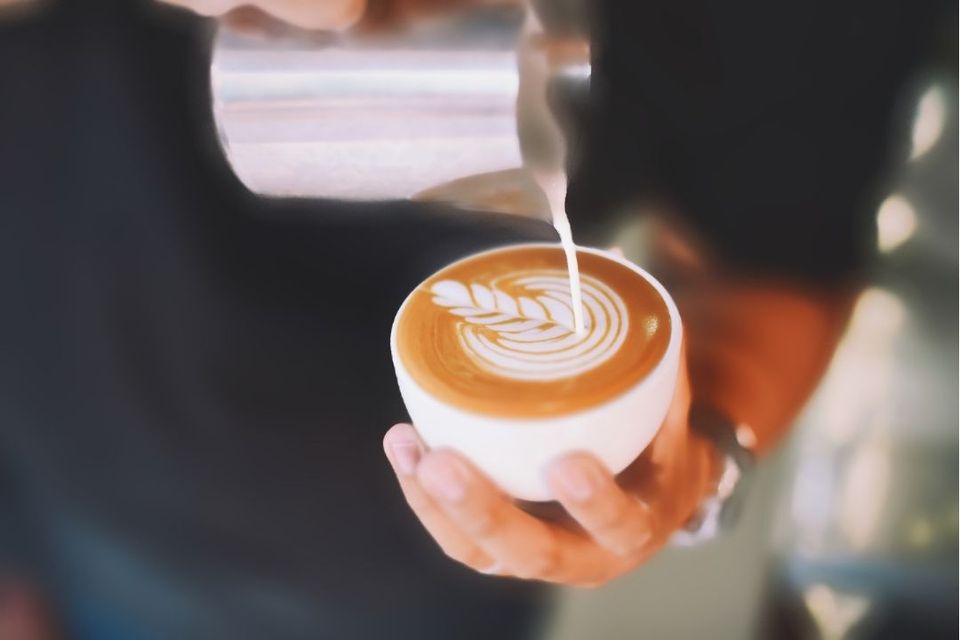 You can buy an espresso machine under $200 that will get the job done, but at the end of the day, you're only going to enjoy using it if the machine will fit your needs.
In our search for the best espresso machine under 200 dollars we found ourselves overwhelmed with options. With all the choices it's hard to decide which espresso machine is the best. We have narrowed down and picked out some of the top rated models from our research so you can make an informed decision about your next espresso machine.
How We Choose
With so many choices out there it's difficult to know which product to buy. How do you know if the espresso is going to meet your needs or which product is the right choice for you? With all that in mind we decided to focused our research on portable espresso machines on the go, a professional series, a budget model and a top rated model for you to choose from.
If none of these work for your specific needs we've compiled the ultimate guide to buying your espresso machine. We've taken the time to make all the considerations and made it simple for you to choose. We looked at the features, design, size and other details you need to make sure your next espresso machine works for your lifestyle.
What to know - Buyer's Guide
When it comes to buying an espresso machine, you want to make sure it does exactly what you need it to do. The last thing you want is to invest in a machine that isn't reliable or the quality you expect, so we've put together a list of things to consider.
Categories of Espresso Machines
This is arguably the most important part of choosing you espresso machine, there are 3 different categories of Espresso Machines: Manual, Semi-Automatic, and Automatic. And of course the category will most certainly affect your price point.
Manual - As the term suggests this type of machines requires more hands on involvement. It is operated by pushing and pulling a lever. The pre-infusion step in manual espresso machines is what gives the coffee grinds time to absorb water and become saturated with it. When you pull the lever on a manual espresso machine, it creates pressure that forces the water through the coffee grounds and into your cup below. This action is sometimes described as pulling a shot, which originates from this type of manual espresso machine.
The manual espresso machines does give you a lot more control over each cup but may lack consistency. Best used for a professional barista or a connoisseur.
Semi-automatic - Semi-automatic espresso machines are a popular choice for home espresso lovers because they create great espresso with automated processes that allows some customizations, while still providing consistent quality results.
All you need to do is to make sure you have water in the machine, grind and tamper the beans, select your desired settings. It's easy to use for beginners and can be found at a reasonable price range.
Automatic - An automatic espresso machine is designed to produce espresso beverages, such as lattes, cappuccinos, or other espresso-based beverages. An automatic espresso machine is extremely easy to use and produces consistent results. The machine automatically grinds beans, mixes water and coffee grounds, heats the water and steam, and then dispenses the espresso into a cup or mug. These are relatively hands-off machines and allow very minimal customization of the beverage.
Pods are considered super-automatics where your options to customize are even more restricted. But they are highly convenient with literally putting in the capsule in the machine and pressing a button to produce consistant results each time.
It is a good idea to go with a machine that is suitable to your level of use, as it will likely be your daily driver for many years.
Pressure
Thought coffee was supposed to make us relax and release pressure. Well the force pushed through a machine can determine if you brew will come out strong, mild or bitter, a lower pressure will result in a weaker brew. The force is measured by Bar (metric unit representing 100,000 pascal).
To keep this simple, 9 Bar of pressure is needed for the best cup of espresso, but this level needs to be consistent through the brewing process to produce the best extraction. So most of the time you would need a machine that can come up to a higher atmospheric pressure to keep a constant of 9 Bar at the brew head.
Design vs. Functionality
On top of the operability of the machine, you want to choose a machine that's going to fit well in your kitchen. Espresso machines are more than just getting your morning coffee, they're also some what a statement. You would want to make sure it has a design that's going to look great and add some character to your space.
But all joking aside, there are functional design that you might want to also consider like having a milk steamer/frother or built-in grinder. Some machines have these features as added attachments while others are built-in. The difference comes in as cost and preference.
Size
When it comes to purchasing a coffee machine, there are a few important factors you need to consider. This includes the size of the machine itself, the serving size of each cup you'll be able to produce and how much room you have in your kitchen.
If you have limited counter space and a small kitchen then a compact capsule style automatic machine might fit your needs. It will be a single serve but the process is quick and results are consistent. But if you have a massive kitchen or you're a espresso connoisseur then you might want to fill it with a stylish manual machine with all the fancy features like grinders and frothers.
Durability and Ease of Use
No matter what you buy, it's going to be a major investment. You want to make sure that the espresso machine you buy will last for many years. Most manual or semi-automatic machines will last for 20+ years if maintained properly and high quality automatic machines should last you 10+ years.
And finally, you want to make sure that your espresso machine that matches your level of comfort and your love of making coffee. If what you care about is that you have a cup of ready made espresso you might want a machine that is as easy to use as possible.
However, if what you enjoy is the process of making the espresso and playing around with the customization of the cup, then a manual machine might be what you're looking for.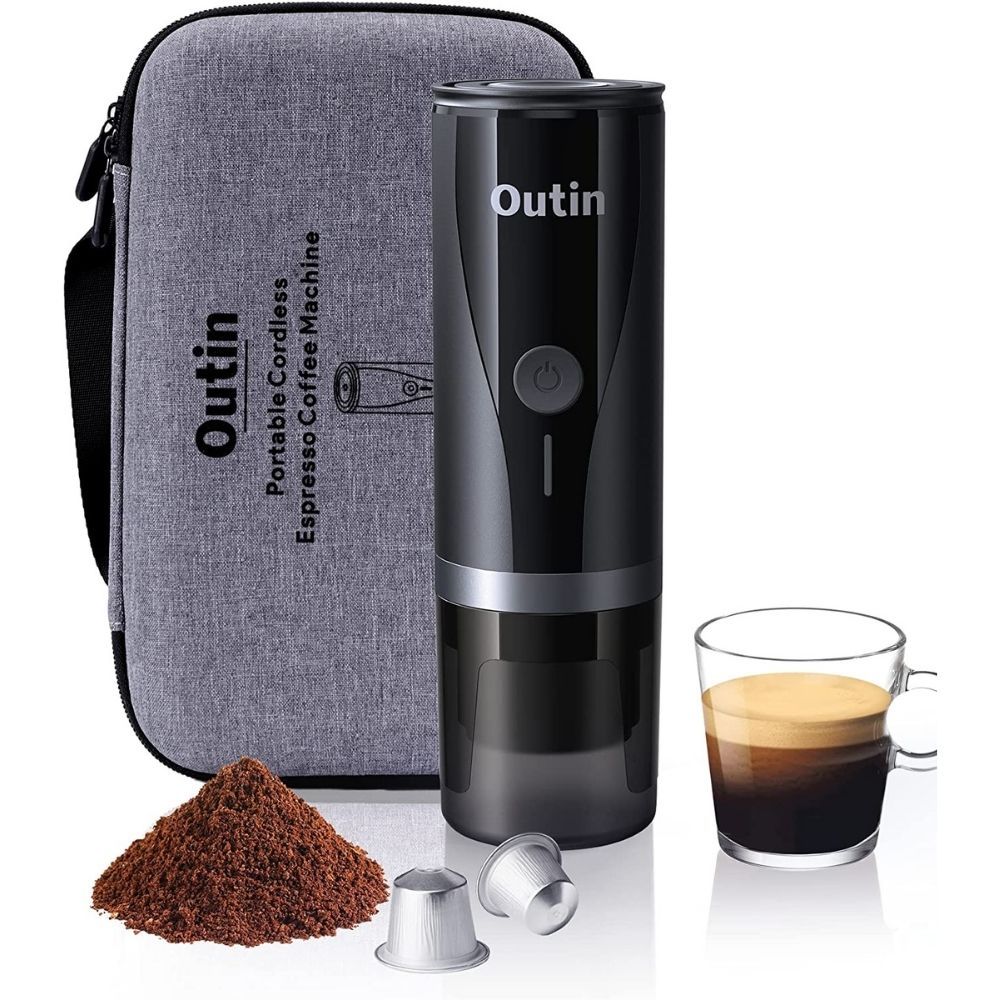 What stood out to us
Whether you are on vacation, taking a road trip, camping, or simply on-the-go, you'll always have your favorite beverage with you. The Outin is a fully automatic, compact portable espresso machine that makes coffee in minutes.
You can make hot brew or cold brew in this tiny machine, and not only that you can brew from a simple pod or fresh coffee grinds. Simply place your ground coffee, coffee pods or coffee capsules in the filter basket, attach the lid and press. It's like bringing your own barista along with you where ever you go. Enjoy your fresh brewed coffee in no time.
Specs and Features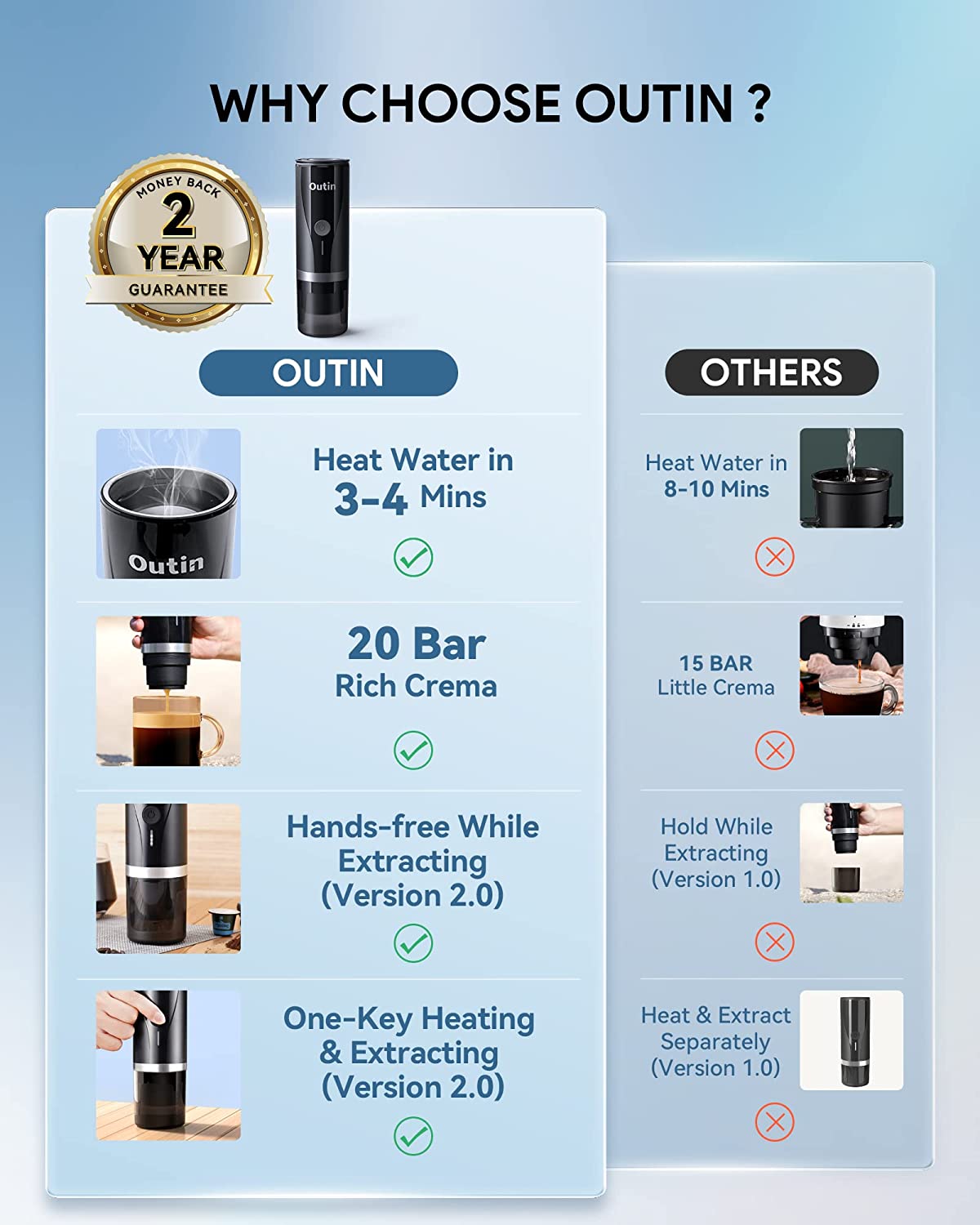 Portable
Long Battery Life (7800 mAH rechargeable batteries)
12V and 24V USB & car charging option
Leak-proof
Portafilter
Heats from cold in 3-4 minutes
20 Bars of pump pressure
1 button operation
Hands-free extraction
Works with ground coffee and coffee capsules
Easy to clean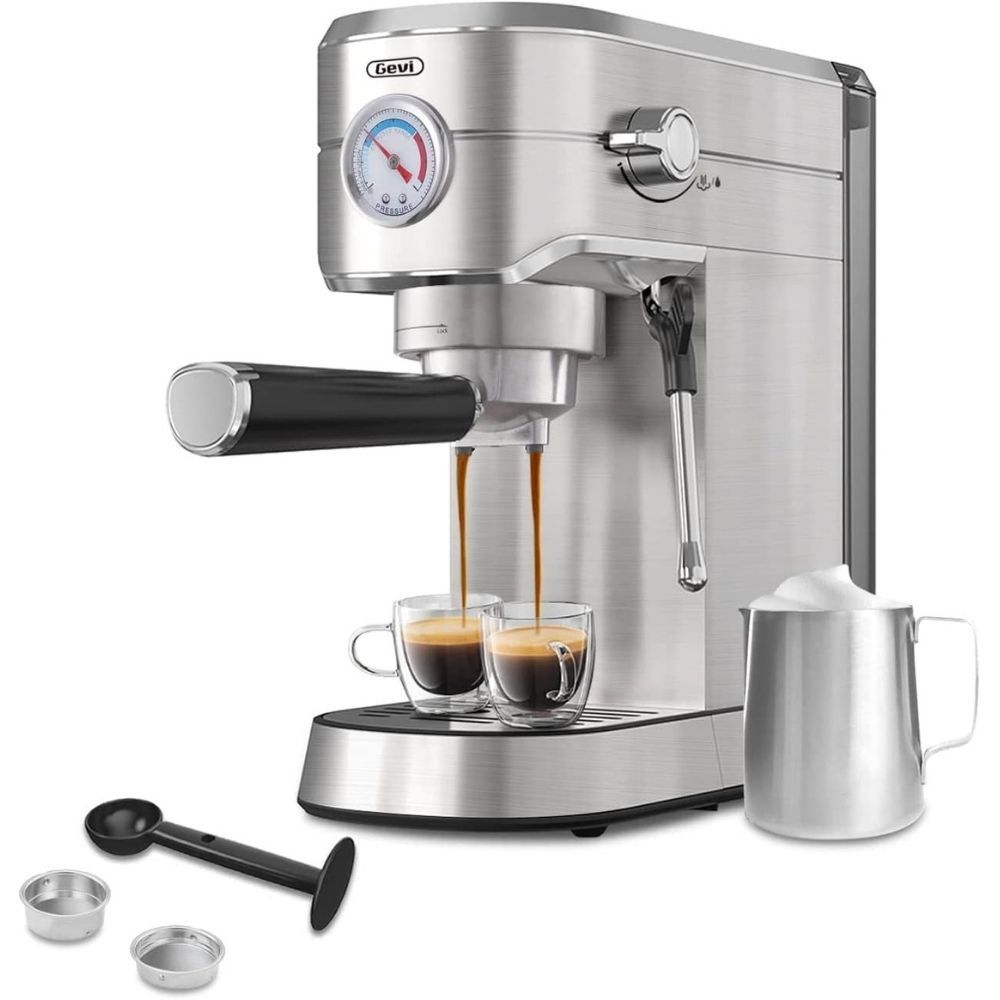 Best Professional Grade Espresso Machine
Gevi 20 Bar Compact Professional Espresso Coffee Machine with Milk Frother/Steam Wand
Check Deal on Amazon
What stood out to us
The Gevi 20 Bar compact professional espresso coffee machine is perfect for people who want quick, great-tasting coffee. It only takes 25-45 seconds to make a cup of espresso and it's easy to clean.
This espresso machine is equip with a steam wand that lets you make the perfect latte or cappuccino. And with a built-in pressure gauge, you'll be sure to have you espresso brewed with the right temperature. The machine is designed to make it easier to make espressos at home or in the office. It's easy to use and clean with removable parts. You will be able to produce the perfect latte or cappuccino using this machine.
Specs and Features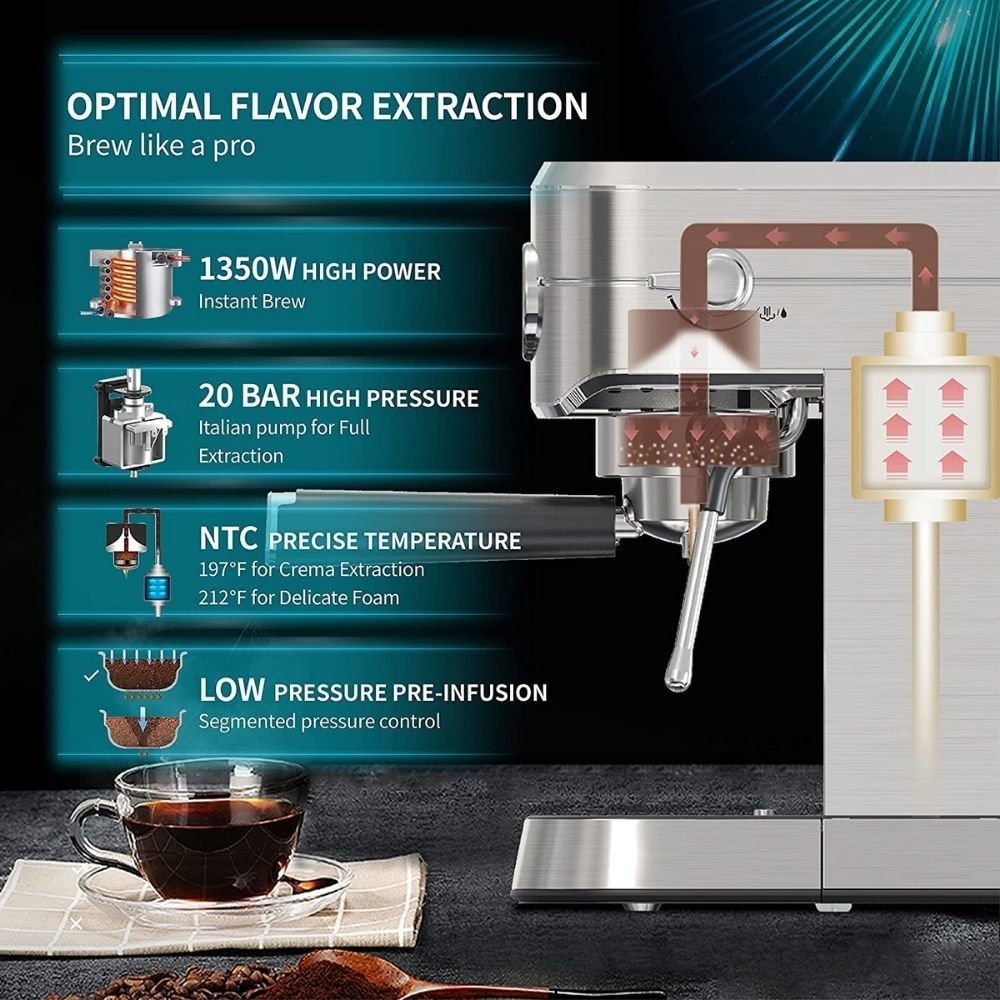 Advanced Thermoblock Fast Heating System
Professional Italian ODM Pump
20 Bar system
Works with ground coffee and coffee capsules
Froth Nozzle
Stable steam system
Customizable to single or double shots
Spoon & Tamper
Ground Coffee Portafilter
Pressure Gauge
51mm Stainless steel extraction head
1350 W motor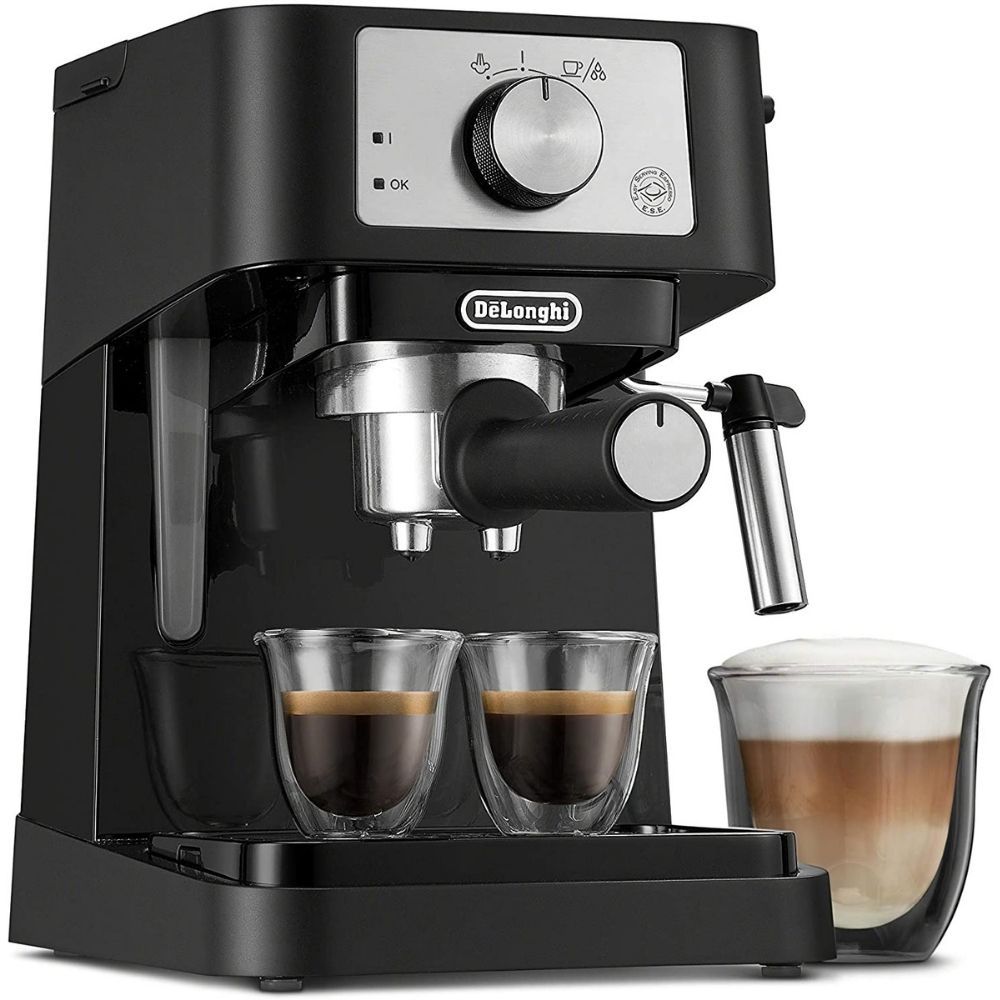 Best Budget Espresso Machine with Milk Frother
De'Longhi Stilosa Manual Espresso Machine, Latte & Cappuccino Maker
Check Deal on Amazon
What stood out to us
The De'Longhi Stilosa manual espresso machine is a must-have appliance for all those who love the taste of espresso. This machine will give you the best experience as you enjoy the rich flavor of espresso at home and with a built-in frother you can make lattés and cappuccinos with ease.
The Stilosa has an ultra compact design that fits perfectly on any kitchen countertop. It has a 15 Bar pump which ensures your coffee will brew at the perfect temperature. You have the option to customize and adjust the temperature and strength of your espresso shots to enhance the brewing experience. This machine is made with a robust stainless steel boiler for durability and includes a portafilter and two filters.
Specs and Features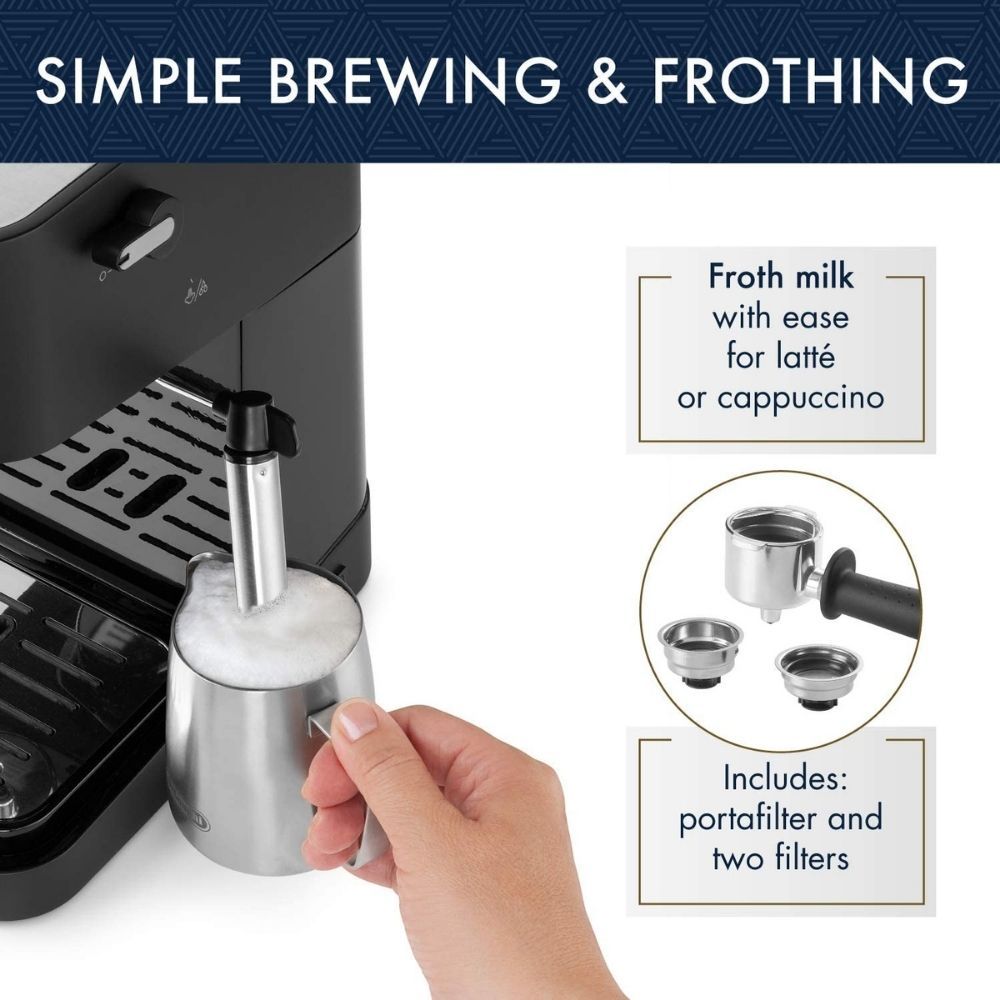 15 Bar pump pressure
Filter for Single and Double Espresso
Milk Frother
Stainless steel boiler
Portafilter
Measuring Spoon and Tamper
2 level cup holder
1100 W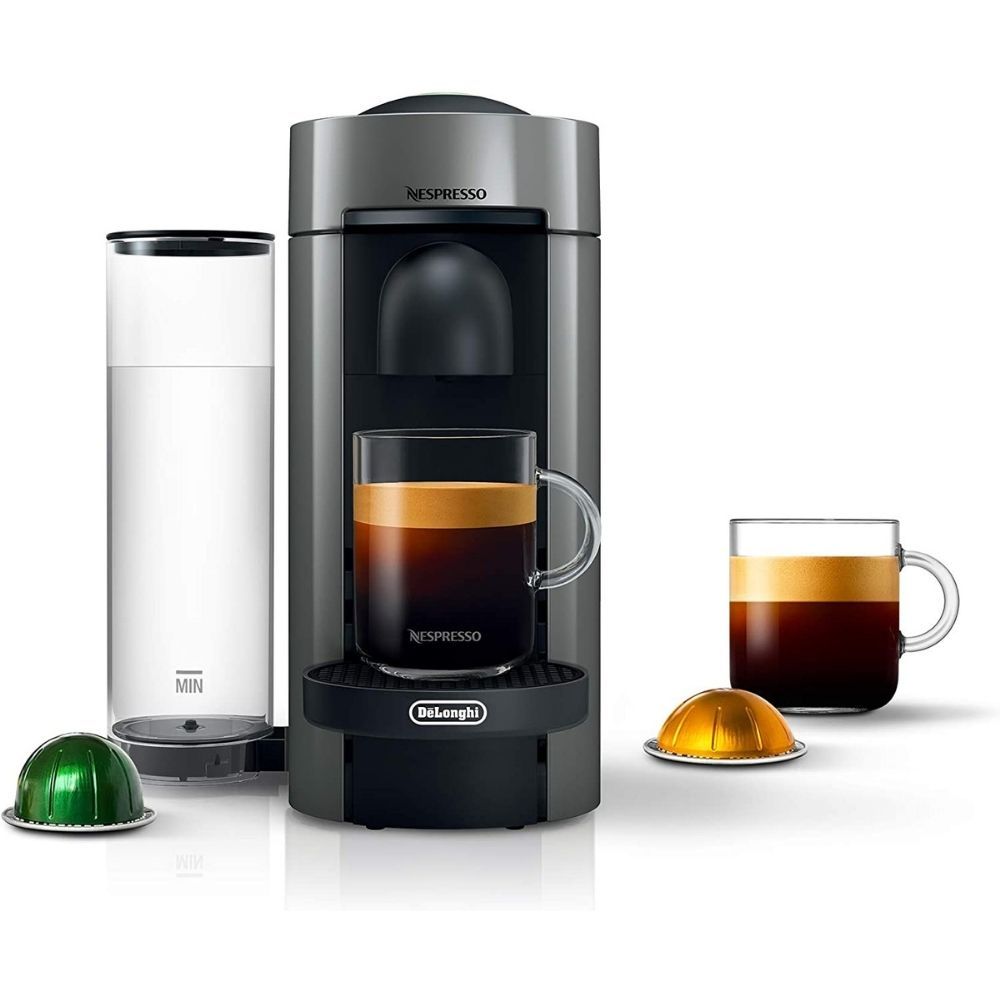 Highest Rated Espresso Machine
Nespresso Vertuo Plus Coffee and Espresso Maker by De'Longhi
Check Deal on Amazon
What stood out to us
If you want to make great coffee look no further, the Nespresso Vertuo Plus Coffee and Espresso Maker by De'Longhi is a super-automatic espresso machine for the espresso lover. There are many reasons why the Nespresso Vertuo Plus is one of the best coffee machines on the market. It is easy to use and heats up quickly with an affordable price. Whether you want a single shot or double shot, you have a choice of brewing 4 different serving sizes with just a touch of a button.
The Vertuo uses a centrifusion technology that uses barcode to customize every capsule of espresso or coffee. It also has an adjustable removable 40 oz. water tank that makes for easier storage. You can conveniently produce a variety of beverages using this machine.
Specs and Features
Adjustable 40 oz water tank
One touch brewing system
Automatic capsule ejection and storage
Centrifusion technology using barcodes: customized brewing time, temperature & pressure.
Adjustable coffee size
FAQ for Espresso Machine under $200
There are so many espresso machines under $200 to choose from, it is hard find the right one. It is a good idea to invest in a quality espresso machine, as you want something that lasts and can handle heavy use.
On top of the buyers guide above, we've created a list of frequently asked questions to help you make the best decision on your purchase.
Can a cheap espresso machine make good espresso?
It is possible to get an inexpensive espresso machine and that still can produce great espressos and coffees. Check out our buyers guide above for some specs you might want to know before doing so.
Is it worth it to get an espresso machine?
Yes, especially if you're a coffee lover. You can make your own coffee at home and have more control over your coffee. Depending on the type of machine you're getting, you can have customize your coffee to your taste.
Can I make regular coffee with an espresso machine?
Of course you can but the reverse might not be possible. For more on coffee machines you can check out this article. Coffee maker under $100
Which espresso machine does Starbucks use?
The machine used by Starbucks to brew coffee is called Mastrena. Developed by a Swiss company Thermoplan AG exclusively for Starbucks.
Do all espresso machines have the ability to make froth or have a steamer?
A lot of espresso machines today have a steam wand that makes espresso froth. You can also buy a standalone frother. An espresso maker with a steamer pretty much has all the features that you need to making great coffee at home.
How do you make lattés with an automatic espresso machines?
Most automatic machines do not come with a steamer. You will need to get a separate frother or steamer and add the milk after the coffee is done brewing.
Best Espresso Machine under $200 for you!
An espresso machine is a fantastic investment if you are a coffee lover and like to drink coffee regularly. Brewing coffee at home can be fun when you have a quality machine that fits your price range. With the right purchase you don't need to be a barista or spend lots on expensive machines to be making quality coffee, which means it's a great way to save money and time.
Whether you're looking for an automatic, portable, capsule or a barista-level espresso machine, we've got you covered. We've spent hours reading thousands of reviews online from verified customers and gathered what you want to know most.
*This site contains affiliate links. I may earn a small commission through links in this post.