Best Coffee Makers Under $100: Great Brew for Great Value!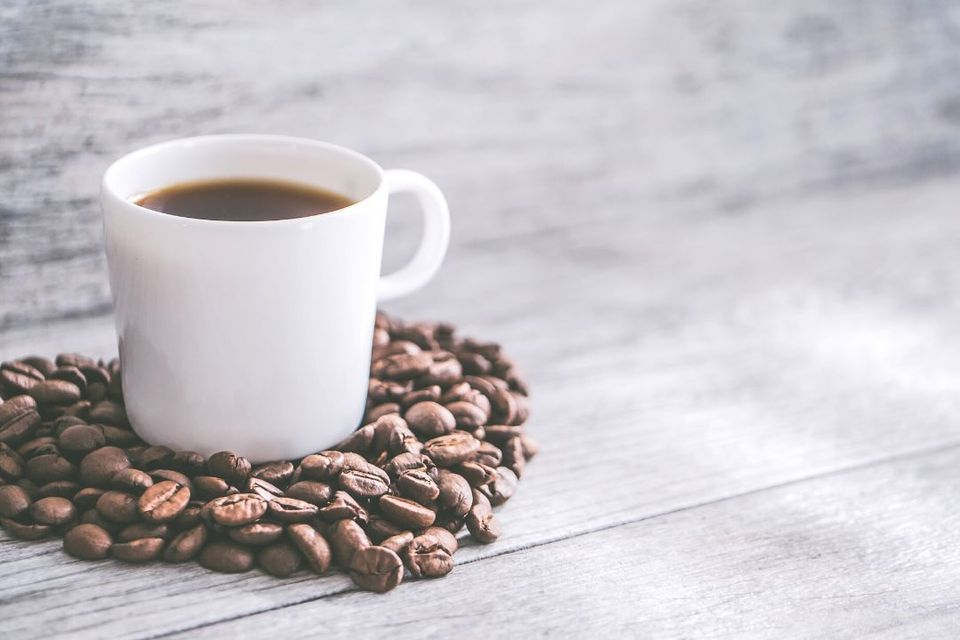 If you are looking for a simple, affordable coffee maker for your home, you've come to the right place. We want to empower every coffee lover to have access to high quality coffee without breaking the bank. Coffee has become a very important part of starting off the day right. And a good coffee maker will make a difference.
How we Choose
Why settle for a machine that makes mediocre coffee when you can own one that's perfect for you? You don't have to worry about the taste of your coffee or wait around for your morning cup to steep. In fact, you can control precisely how much caffeine you get in each serving of coffee, allowing you to drink less or more without sacrificing the taste or quality of your cup.
We looked at hundreds of different models, scoured countless user reviews and then put together our list of the top french press, cold brew, single serve and programmable coffee makers. We chose the coffee makers with the highest ratings and the best reviews. Now, you can taste the best coffee you've ever had, with these coffee makers for less than $100.
Let's get to know the coffee machines.
What is a French Press coffee maker?
A French Press (also known as a cafetière, cafetière à piston, caffettiera a stantuffo, coffee press, or coffee plunger) is a coffee maker that uses a filter to keep the coffee grounds out of the coffee. It comprises of a glass or plastic cylindrical beaker with a plunger that has a filter made with fine stainless steel wire or nylon mesh that fits snug in the beaker which separates the grounds. The quality of this filter will determine how smooth your coffee will turn out.
What is a Cold Brew coffee maker?
A cold brew maker is a popular choice among coffee lovers because it is simple and easy. It is a great way to prepare iced coffee. Cold brew coffee is made by steeping coffee grounds in cold water, then straining out the grounds with the filter. The cold brew method results in a smoother, creamier taste than coffee brewed with hot water.
What is a Single Serve coffee maker?
Single serve coffee makers have become very popular these days. They are designed to create one cup/serving during each brew. It is a great way to save money and be environmentally friendly especially when you use the reusable pods.
Most of these coffee systems uses their own proprietary pre-packaged pods so unfortunately they're not interchangeable. However, they are a great way to ensure that you get a consistent cup of coffee each morning and take the hassle out of making coffee any time. It is also easy to make different flavor for each cup resulting in less wasted coffee.
Which Coffee Maker is Best for your Home?
This will really depend on how often you need to make coffee, what type of coffee you enjoy, how many people drink coffee at your home and how many different tastes you need to satisfy at one time. We have picked four of the most popular categories of coffee makers that are less than $100 for you to consider and make an excellent start to your day.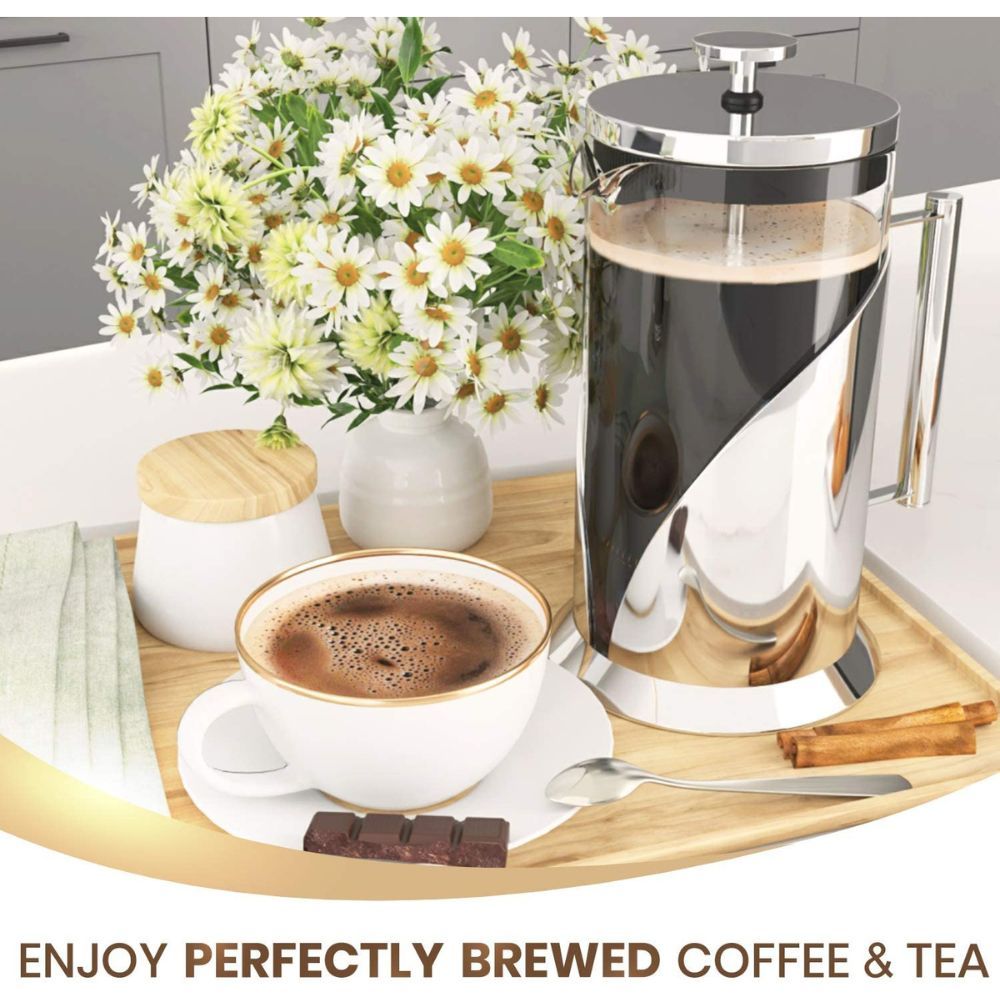 Best French Press under $100
Check Deal on Amazon
What Makes This Special
For those who want to save money, this French press coffee maker is a great choice. The Cafe Du Chateau is made from borosilicate glass, which is an inert material that can withstand high temperatures and doesn't react with other materials. This french press also has a 4 level filtration system that ensures you coffee comes out smooth and rich and the grounds are finely separated. It is easy to clean and dishwasher safe.
The Cafe Du Chateau is a great addition to your kitchen, because it looks elegant yet stylish. If you like to make delicious coffee, then this is the one for you.  With a large capacity of 34 oz and a lifetime warranty, what more can you ask for?
Specs and Features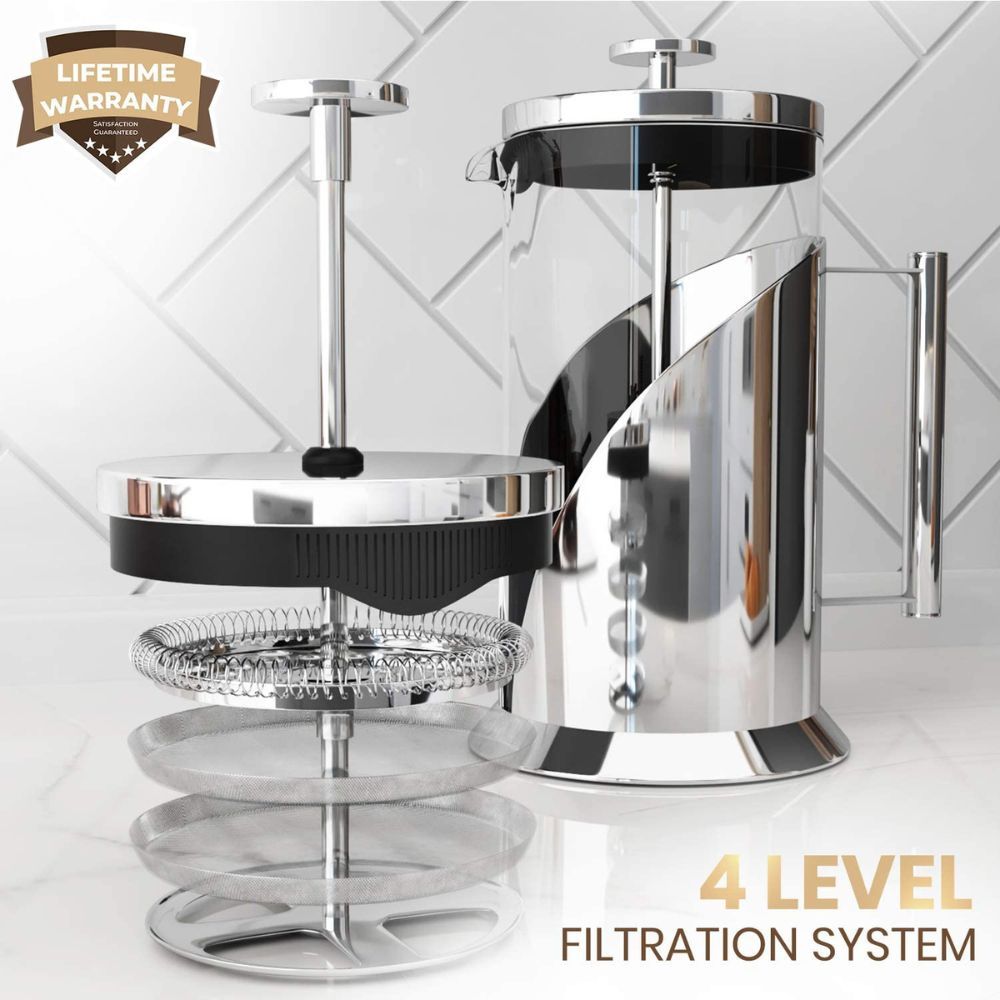 8 cup capacity
Lifetime replacement warranty
Borosilicate glass carafe
4 level filter system with 2 stainless steel screens
Rust and corrosion resistant stainless steel
Dishwasher safe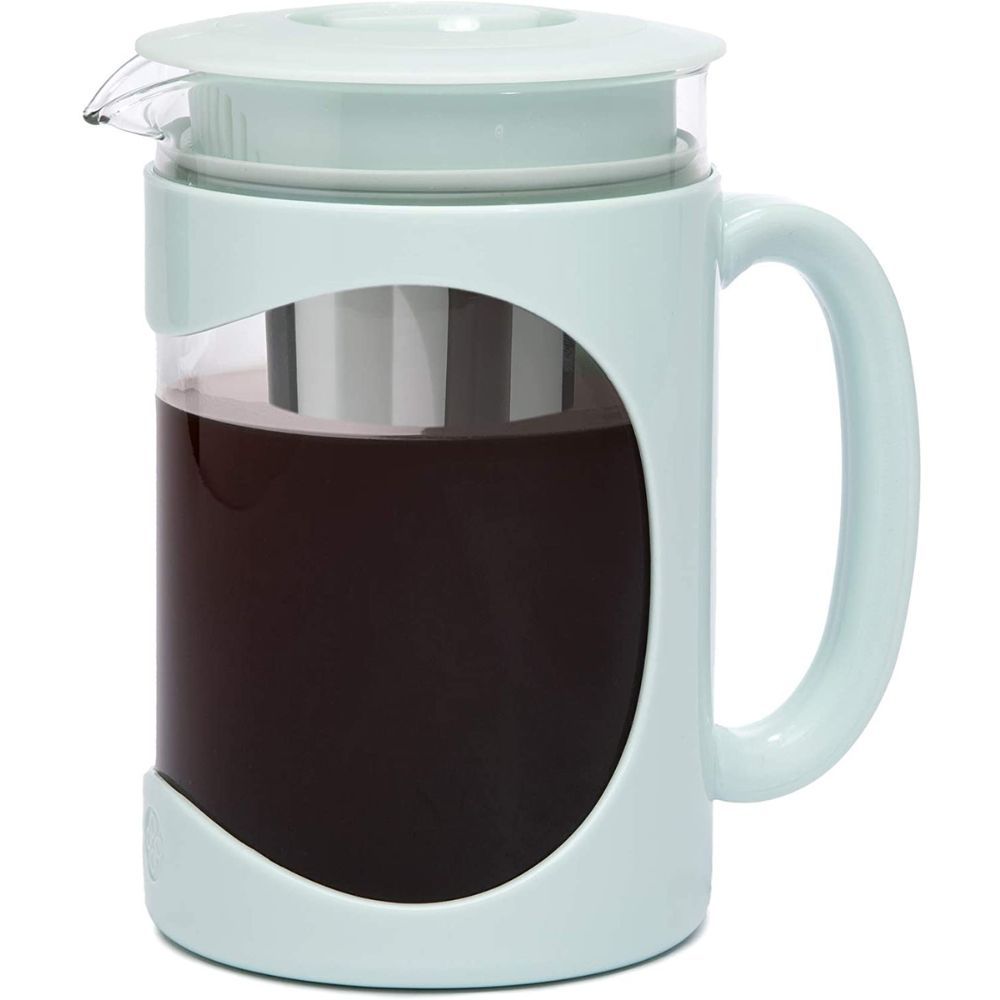 Best Cold Brew Maker
Check Deal on Amazon
What Makes This Special
The Primula Burke Deluxe is very affordable cold brew coffee maker that has color choices to match your personality.  Love that it has a glass carafe that allows you to see how much coffee you have in the container. It has a 6 cup capacity and it fits in most refridgerator compartments. Its removable mesh dishwasher safe filter makes it easy and convenient to clean up. And it's tight-sealed lid will keep your brew fresh longer and an adjustable spout to make sure that you don't spill any of your coffee.
The ice/cold coffee lovers paradise. Cold brew produces a much more flavorful coffee that is less acidic than hot coffee. And you can easily make it yourself in four simple steps.
Specs and Features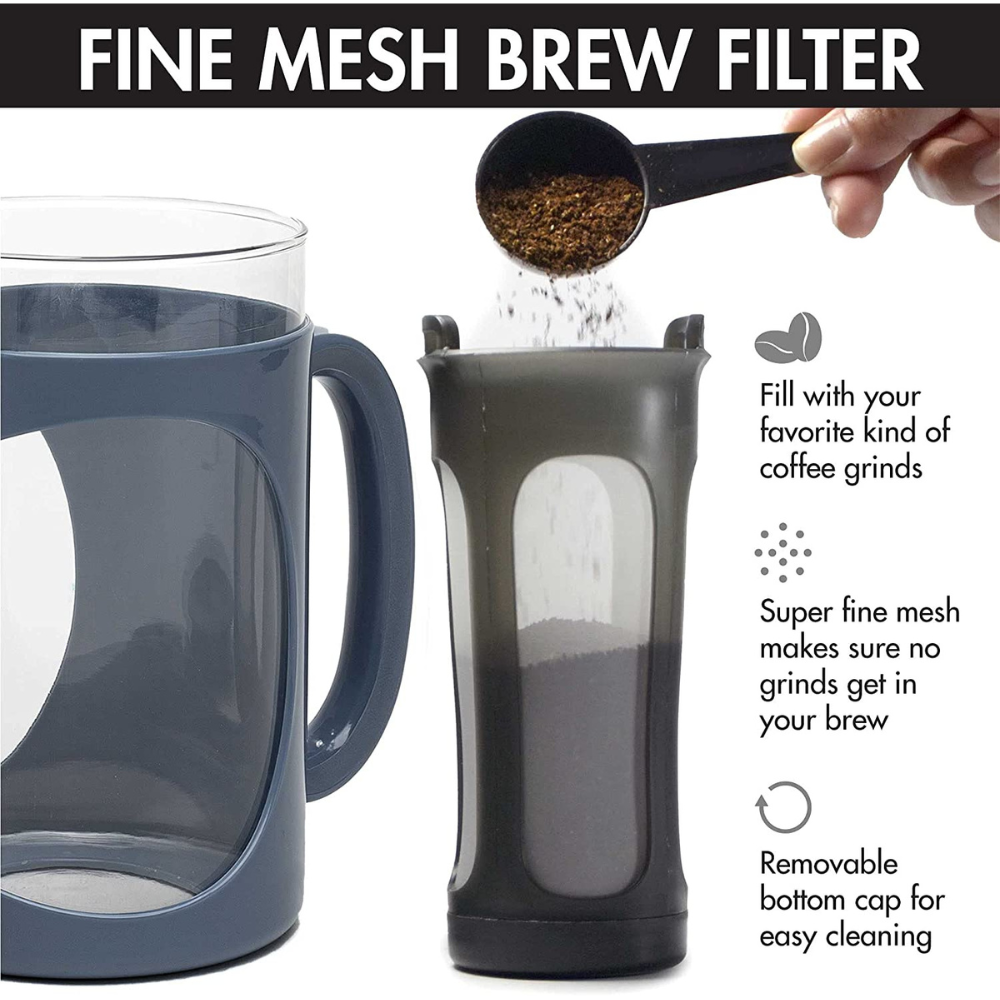 6 cup capacity
Dishwasher Safe
6 colors to choose from
Leak proof lid
Fine mesh brew filter
Stores in most refrigerators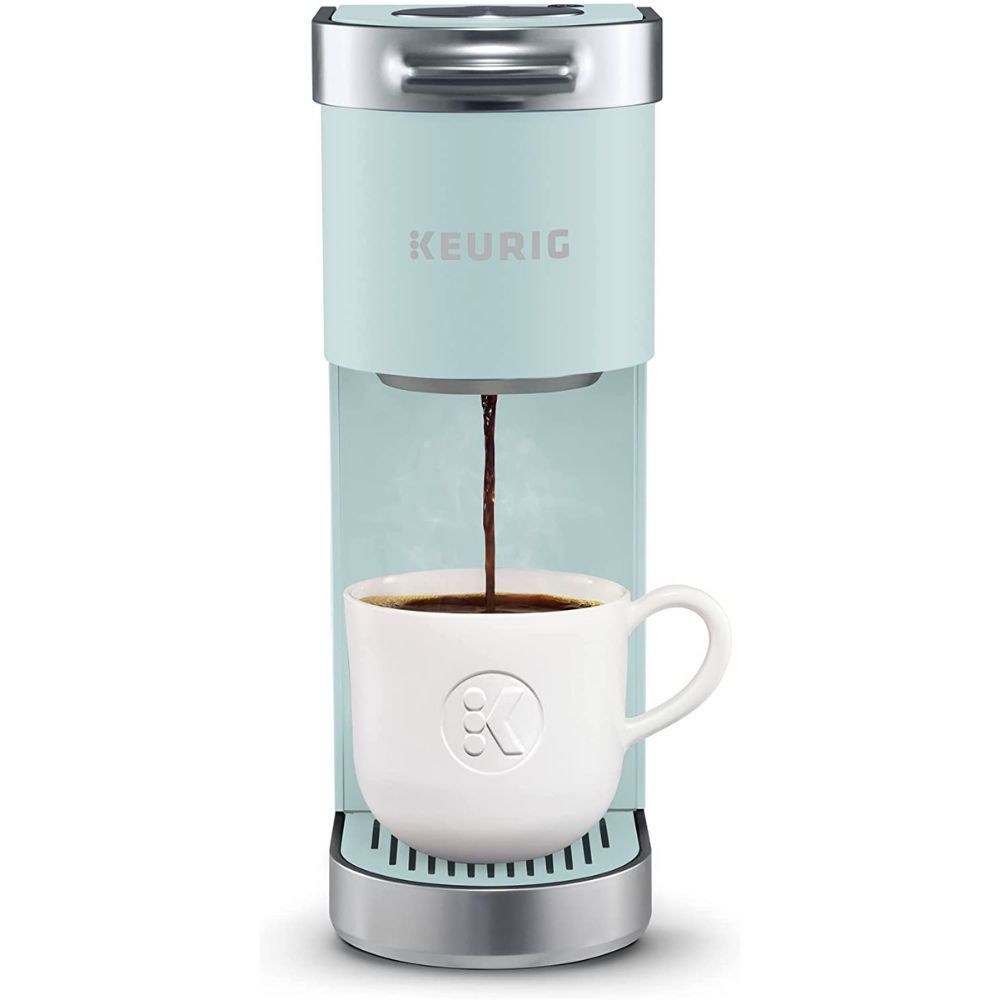 Best Single Serve Coffee Machine
Check Deal on Amazon
What Makes This Special
The Keurig K-Mini Plus single serve coffee maker is the perfect size for any space or occasion. At 5 inches wide, you can definitly find a space for it in the kitchen. The multi-color choices of this compact stylish Keurig coffee maker adds personality and a beautiful accent to any counter.
Don't discount the functionality of this tiny coffee maker, it can make your perfect single serve coffee with the intensity you want. Making coffee is just as easy as adding water, put in your favorite pod and press the magic button.
Simply the best single serve coffee makers you can buy with one of the most trusted names in coffee, Keurig machines are known for their quality, reliability and value.
Specs and Features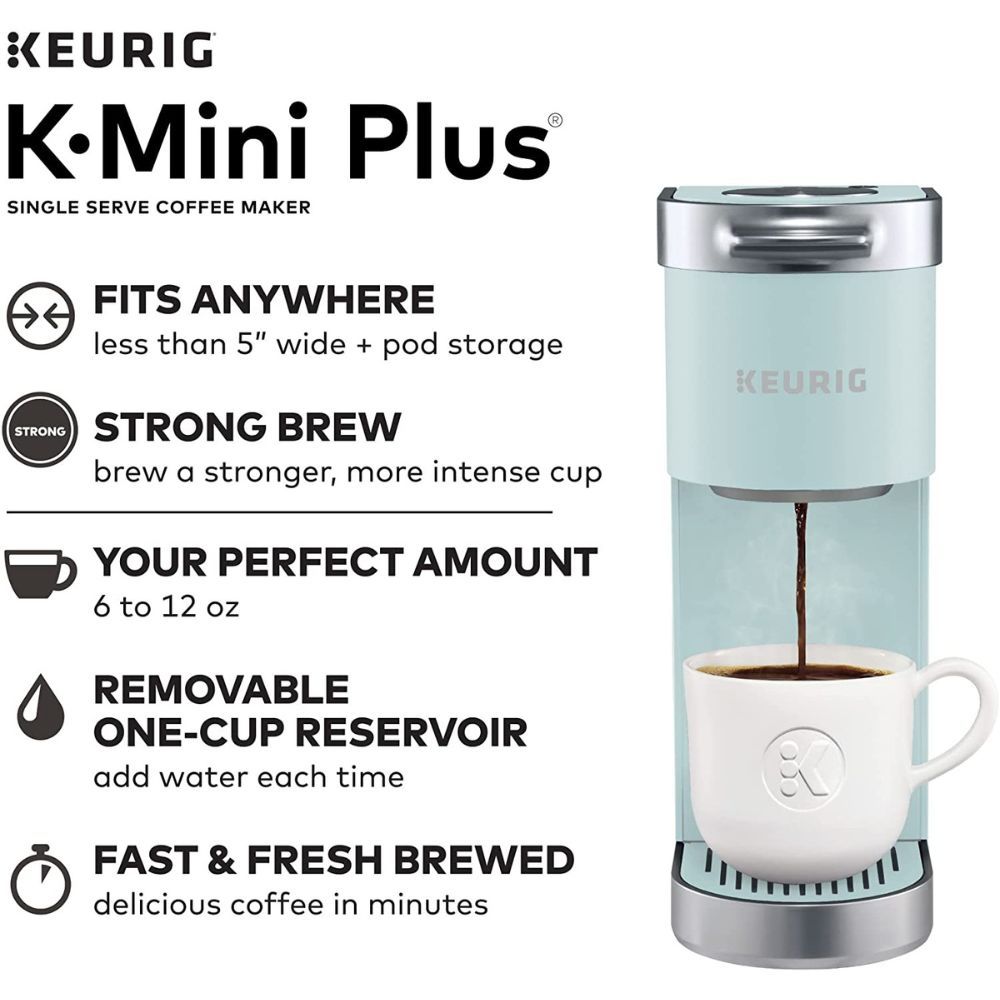 Fits anywhere
Strong brew
Perfect single serve amount
Removable one cup reservoir
Built-in storage
Multiple color options
Storage of 9 K-cups
Travel mug friendly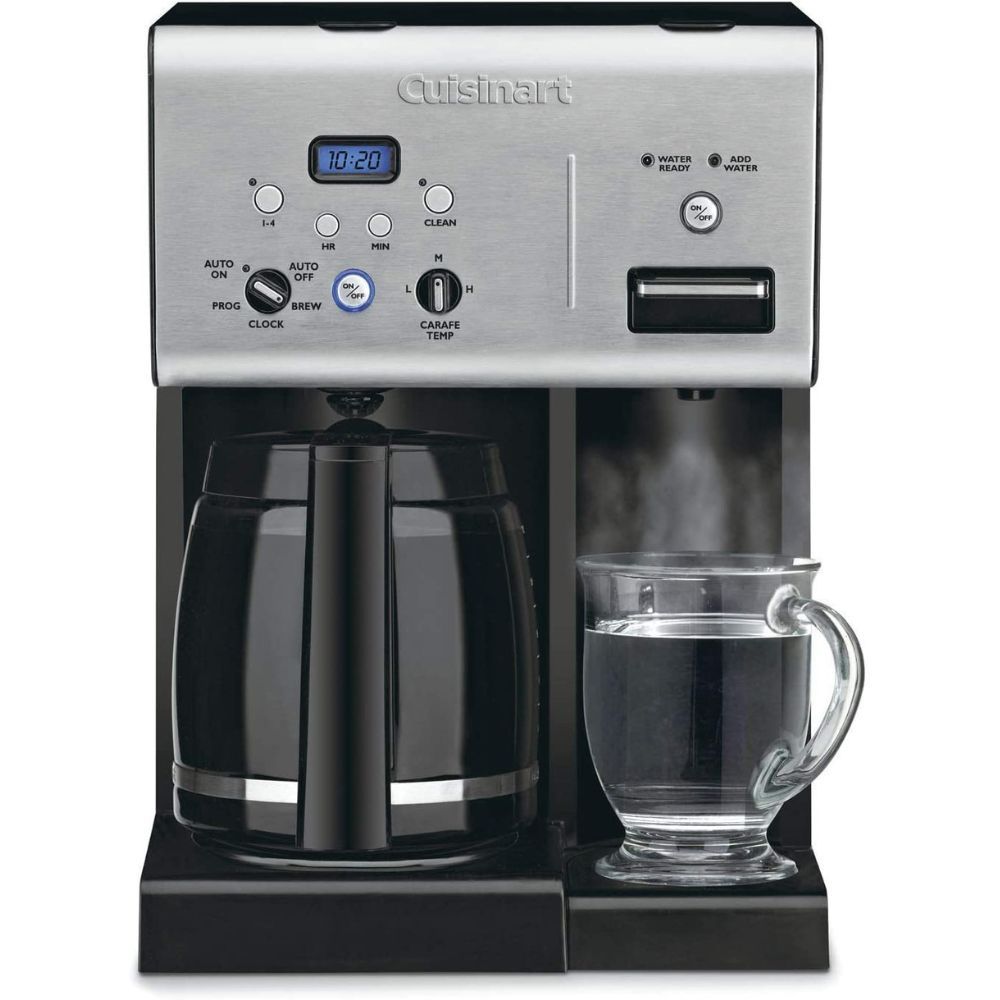 Best Programmable Coffee Machine
Check Deal on Amazon
What Makes This Special
The Cuisinart CHW-12P1 programmable coffee Machine is an affordable programmable coffee maker that can brew up to 12 cups of coffee. It is a great option for anyone who wants to automate their coffee brewing routine and save some time in the morning with auto-on, auto shutoff and self-clean features.
The programmable coffee machine has a digital display that allows you to set the number of cups you want to brew, the amount of time you want the coffee to brew, and control the strength of your coffee. It also includes an on demand hot water dispenser to make your instant noodle, oatmeal, hot cocoa instantly. The programmable coffee machine has a three-year warranty and designed to make it easy to get your favorite drinks.
Specs and Features
12 cup capacity
54 oz water reservoir
1-4 cup setting
Separate Hot Water System
Fully Automatic: auto-on, auto shutoff, self clean
3 Carafe Temperature Control
Charcoal water filtration
3 year warranty
FAQs for Coffee Makers under $100
For all the coffee lovers out there, you've got a tough decision to make: which coffee maker will best suit your needs? It's easy to get overwhelmed by the number of options and the plethora of features. And you need a coffee maker that is going to make sure that you have the most delicious and perfect cup of coffee every single time you make it.
We've created a list of frequently asked questions to help you choose the best Coffee Makers under $100 that meets your needs. Everybody has different needs and this list will help you narrow down which best fits the functionality most important for you.
What is the difference between a budget and expensive coffee maker?
Budget coffee makers often do not have the features you would expect from a more expensive coffee maker. Some budget coffee makers may not have a timer, which can be very frustrating. Other budget coffee makers may have a poor quality filter. However, there are many budget coffee makers that are excellent choices. The best coffee maker for the money should be able to make your favorite beverage quickly, easily and without a mess.
A more expensive coffee maker typically include more bells and whistles. Some may even have built in grinder, milk steamers and options to make different types of beverage. The parts are also likely made of more durable, high quality materials.
Do different coffee makers make better coffee?
This is something that is very subjective, but it is definitely true that some coffee makers are better than others in certain functions and features that may make the coffee richer or smoother. It also depends on the quality of beans/grinds you put in.
Do budget coffee makers work?
Yes, but not all budget coffee makers are made equal. Some may work for a few years, while others will die in a matter of months. It is important to know what type of coffee maker you are purchasing before making a purchase. You need to be sure that you are getting a quality product that makes your favorite coffee.
How often should you replace your coffee maker?
This really depend on how often it's used, how well it's made and if you prefer to upgrade to a machine that includes more options like having a built-in coffee bean grinder or automatic controls that your current one doesn't have. Unfortunately, coffee makers does not usually last forever. It will eventually need to be replaced when it does not work the way it should.
Do expensive coffee maker make better coffee?
It is a matter of opinion. Some people believe that expensive coffee makers make better coffee. Others believe that cheap coffee makers make better coffee. Both may be correct, however, expensive coffee makers usually comes with more features to control the process a little better. The truth is that coffee makers do not always determine the quality of the coffee. The quality of the coffee depends on the quality of the beans and the grounds. The quality of the beans depends on where the beans come from and how they are processed.
Is cold brew coffee stronger than hot coffee?
Cold brew coffee is much stronger than hot coffee. This is because the cold temperature allows the coffee grounds to absorb more flavor.
Does french press make smoother coffee?
Many say it does make smoother coffee but, it does not make a better cup of coffee. If you are using a french press, make sure to use a high quality filter. A high quality filter is important to make a better cup of coffee.
Are coffee pods worth it?
Yes, they are super convenient, and it makes brewing easy. You also get to try different kinds of coffee, which is always fun.
Which type of filter is best for brewing coffee?
There are three main types of coffee filters for your grounds, paper, cloth and metal. And depending on your preference whether durability, cleaning or the price is the most important. Metal is definitely the most durable, paper is likely the cheapest and easiest to clean and cloth is in the middle.
Do you recommend brewing your coffee grounds twice?
Not really. Brewing you coffee grounds twice will reduce the quality although you can reuse the grinds if you so choose.
How do you roast you own coffee beans?
Best Coffee Maker under $100 for you!
With all the different Coffee Makers under $100 on the market, it can be a tough decision to figure out which one is right for you and how it can start your day right. Whether it is french press, cold brew, single serve or a regular programmable coffee maker, we've got you covered. We've spent hours reading thousands of reviews online from verified customers and gathered what you want to know most.
*This site contains affiliate links. I may earn a small commission through links in this post.