Camping Just Got Easier: The 5 Best Dutch Oven for Camping Trips!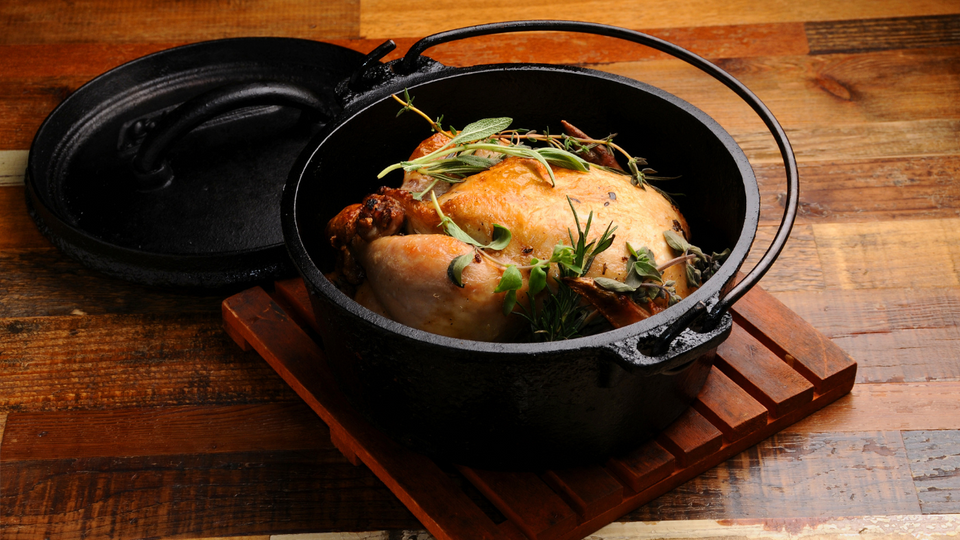 Are you growing weary of the usual camping meals? If so, you may want to consider incorporating a cast-iron dutch oven into your meals.
Originally designed in the Netherlands during the 18th century, these durable cooking pots have been yielding delicious dishes for over three centuries. From hearty stews and chili, to cakes and pies, dutch ovens are incredibly versatile when it comes to crafting tasty outdoor treats.
Furthermore, their superb temperature distribution makes them ideal for deep frying and even preparing homemade ice cream!
So if you're looking to shake up your meal routine while venturing outdoors, don't forget that with a high quality dutch oven at hand almost anything is possible!
In this blog we will be looking at 5 best dutch oven for camping and we will also present you with a buying guide in case you don't like our choices.
How we choose the best dutch oven for camping?
When it comes to camping, few pieces of equipment are as useful and versatile as the Dutch oven.
Whether you're cooking a light meal or a hearty stew over an open fire, having the right Dutch oven can make all the difference in your outdoor culinary experience. But with so many different types of Dutch ovens available on the market today, how do you know which one is best for you?
To help answer that question here are some factors to consider when buying the best dutch oven for camping!
Capacity
When it comes to choosing the right Dutch oven for your needs, capacity is a major factor worthy of consideration.
If you are often cooking for sizable gatherings that range from 8-12 individuals, then the most suitable option is one with 9 liters (9.5 quarts). For households or couples, on the other hand, a 5.7 liter (6 quart) pot would likely be an appropriate size.
Meanwhile, if you like to take camping trips solo and lighten your load as much as possible, a 2 liter (2 quart) could suffice nicely.
Shape
When it comes to Dutch ovens, the depth and shape of a pot can have an impact on what dishes best suit its use. While deeper Dutch ovens are superb for one-pot meals or roasts, shallower designs make wonderful baking vessels for bread and cakes.
Factors like this will often impact your decision as to which type is right for you based on the bulk of recipes that you plan to cook.
When considering the base design there are two types of bells - rounded and flat bottomed - which offer different advantages depending on how they'll be used in cooking.
A flat-bottomed model is perfect if you intend to place it onto a grill while their feet slot through the holes, but those with a round bottom make excellent choice when preparing large joints of meat as they don't fit well directly onto stovetops or grills.
Versatility
When looking for the best dutch oven for camping, versatility is key – make sure that any model you choose can be used both indoors or outdoors without issue!
This will ensure maximum convenience when switching between different environments as well having flexibility regarding how it's cooked (over an open fire, stovetop etc)!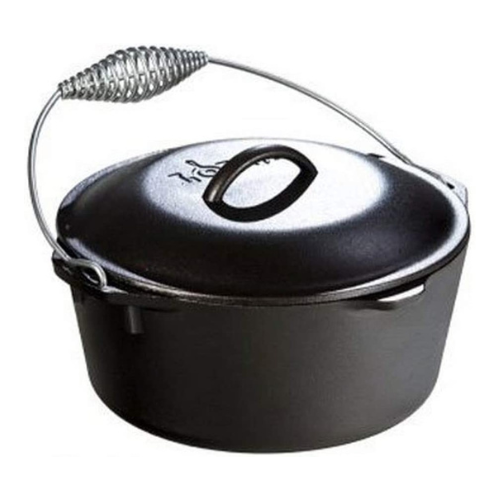 Quick Specifications
It has a 10-1/4-inch diameter and 4 inches deep.
The 5-quart cast iron Dutch oven is seasoned and ready to use.
Tight-fitting cast-iron lid keeps foods moist.
Why we love it?
Camping is not complete without the Lodge Dutch oven. This 5-quart cast iron Dutch oven comes pre-seasoned and ready to use, so you don't have to worry about any extra preparation or seasoning required before using it. The special coil on the handle is designed for easy lifting of this heavy and durable cooking pot, preventing any accidental slips that could cause danger while camping out in nature.
The tight-fitting lid also ensures your food stays moist as you cook with this durable dutch oven over campfires or charcoal grills while enjoying a beautiful outdoor experience.
The construction material of these dutch ovens guarantees even heating and optimum energy efficiency so you can save time preparing meals outdoors compared to other traditional cooking equipment used in camping settings like foil pouches or disposable trays.
What should you know?
Lodge Dutch Ovens are a classic staple for camping. They make preparing meals on the road easy and convenient, with their 10-1/4-inch diameter and 4 inch depth providing plenty of room to cook hearty meals like stews, soups, roasts, casseroles and desserts.
In order to ensure that your Lodge Dutch oven will last you through many camping trips it is important that you take care of it properly; always hand wash with a stiff brush and hot water (never dishwasher). This will help remove all residue from cooking so your food doesn't become contaminated or spoiled.
When using your Lodge Dutch oven for camping there are multiple ways in which you can prepare delicious meals: use them in the oven, on the stove top at home or out camp site, on the grill or even over a campfire! You can also use them to sear, sauté, bake broil braise fry and even grill—talk about versatility! So if you're looking for an easy way to cook up some tasty backwoods cuisine look no further than the trusted Lodge Dutch Oven.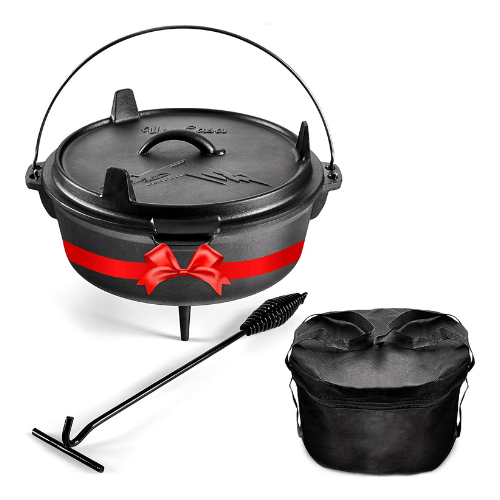 Quick Specifications
It has a capacity of 6 Qt.
It is durable, pre-seasoned, & easy to maintain.
This outdoor cookware cast iron dutch pot doubles as an oven with coals on top.
Why we love it?
Uno Casa Dutch Oven for camping is the perfect solution for outdoor cooking. This cast iron dutch oven with lid has long legs and handles that let you sit or hang it over a fire, making life easy when out and about in the wilderness.
The Uno Casa dutch oven makes outdoor cooking a breeze due to its dual purpose ability of being able to act as an oven when coals are placed on top. This allows you to make more complex dishes such as stews and soups without having to worry about losing any heat or smoke. It also comes pre-seasoned so there is no need for seasoning prior to use, which greatly increases its longevity, allowing you get more bang for your buck!
What should you know?
If you are looking for the perfect Dutch oven to take with you on your next camping trip, then look no further than Uno Casa's 6qt cast iron Dutch Oven.
More than just its convenience features, this durable cast iron dutch oven is also designed to withstand high temperatures so it can safely hang from a tripod atop a fire pit when preparing meals over hot coals or wood burning fires.
Its ability to evenly distribute heat throughout its contents means chefs get maximum flavor potential out of every ingredient used in their dish too - something that wouldn't be possible otherwise without such quality construction material like solid cold rolled steel by Uno Casa!
The dutch pot is extremely durable given its heavy-duty construction made from high-quality cast iron. Its enamel coating prevents rust from forming over time while still retaining heat exceptionally well. Not only does this make cleaning up after meals much easier but also improves food quality as flavors are retained better than other materials would be able to achieve.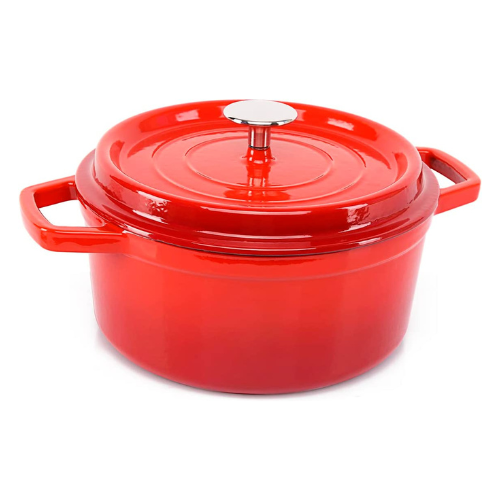 Quick Specifications
The inner wall of the cast iron dutch oven with lid is covered with cast iron pores.
Its double handle, can bear more weight and is easy to use.
The cast iron pot can be used as a lid and another as dutch oven.
Why we love it?
Outdoor Plus Dutch Oven is a great tool to have when camping. This cast iron pot is perfect for cooking, an ideal size for group meals and can also serve as a makeshift oven when needed.
The unique feature of this dutch oven is its one time pouring modeling method, which makes it flat and easy to store in any backpack or luggage. This allows you to take the most out of your camping experience by using less space and getting more use out of the same item!
The cast iron pot heats evenly on all sides while cooking so you don't need to worry about burning food or having hot spots in certain areas. It also comes pre-seasoned with craft oil, making it not only durable but nonstick as well. You can prepare delicious meals without worrying about sticking or spilling over onto other items nearby!
What should you know?
Dutch ovens are an essential item for any outdoor person or camper who loves to cook. They are perfect for outdoor cooking over a fire, and they offer a very unique experience that can't be matched anywhere else.
The Outdoor Plus Dutch Oven is the perfect tool for campfire cooking. It features a large cast iron design with high walls and lid, allowing you to easily sear, fry, bake, grill and broil foods right on the open flame of your campfire. The inner wall of the cast iron dutch oven has pores which absorb heat evenly throughout its surface while also retaining moisture so that food doesn't dry out during the process of cooking. This ensures your meals will come out succulent every time!
One great thing about this Dutch oven is it can be used on various surfaces including grills, induction stove tops or even directly over an open flame at your campsite – giving you more versatility in how you choose to prepare your meal when camping outdoors.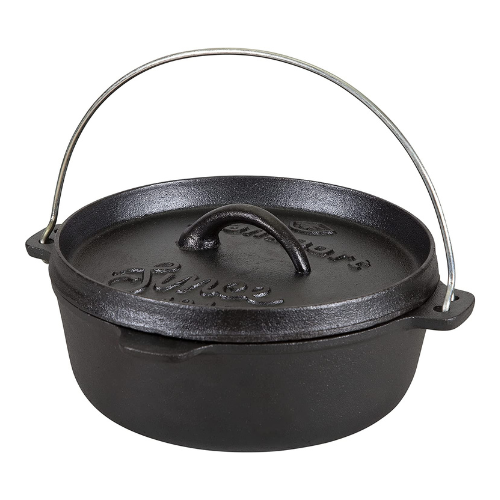 Quick Specifications
It has a capacity of 2 quarts.
It is oven and dishwasher safe.
It is made up of pure cast iron that has been factory seasoned.
Why we love it?
Camping is a great way to get away from the hustle and bustle of city life. One important camping tool that's essential for making meals outdoors is a Dutch Oven. Stansport Dutch Oven offers a great choice when it comes to outdoor cooking needs.
This particular oven has no enamel coating, which makes it perfect for those who want an oven with superior heat conduction and durability compared to traditional Dutch ovens that have non-stick coatings like Teflon or plastic materials.
Instead, this Stansport Dutch Oven is made from pure cast iron that has been factory seasoned with vegetable oil during production, so you can use it right out of the box without having to season the inside before your first cookout! The cast iron also ensures even heating throughout the vessel itself when on top of your stove burner as there are no legs on its bottom.
What should you know?
When it comes to camping, one of the most important pieces of equipment you will need is a Dutch oven. The StanSport Dutch Oven for camping is the perfect solution for outdoor cooking on your next excursion!
This durable model features a capacity of 2 quarts and the porcelain-enamel finishing makes it oven and dishwasher safe. Not only does this make clean up easy but also helps with heat distribution across the entire surface. This allows for evenly cooked meals without having to constantly move food around in order to ensure even temperatures.
The added handle further adds to the convenience of this model. Not only does it make lifting and transferring easier, but it also provides a secure grip when handling hot items. This is especially useful if you are cooking over an open flame or with charcoal briquettes.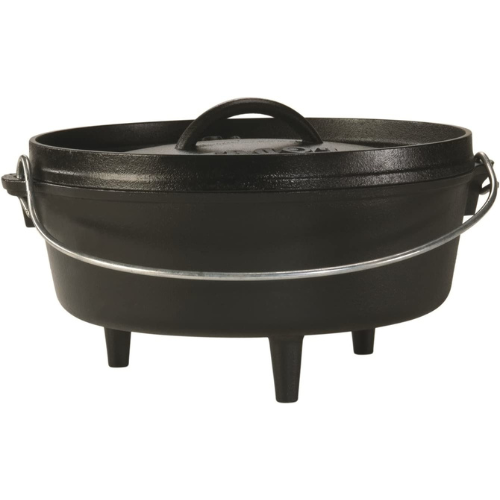 Quick Specifications
It has a capacity of 4 Quarts.
It is made up of seasoned cast iron.
Cast iron lid inverts for use as griddle.
Why we love it?
Lodge Dutch Ovens are ideal for campfire or fireplace cooking! These 4-quart ovens are made of seasoned cast iron, so they're ready to use right away – no need to season it first. The included lid has a raised edge around the circumference and can be inverted for use as a griddle, perfect for frying up bacon and eggs in the morning.
The Lodge Dutch Oven is versatile enough for baking, roasting and stewing; you can even bake bread in it over an open fire! Its heat-resistant handles make it easy to lift out of the flames when you're done cooking, too. And its heavy weight ensures that your food cooks evenly and consistently in this classic piece of cookware loved by generations who have gone camping before us.
What should you know?
Lodge Dutch Ovens are a great option for camping. These ovens are made in the U.S.A., so you can be assured of their quality and craftsmanship. With an inside diameter of 10-inches, they have plenty of room to cook whatever your heart desires while on your camping trip. The 3.5-inch depth makes it very easy to clean afterwards as well!
The Lodge Dutch Oven also offers a satisfaction guarantee that is sure to put your mind at ease when making this purchase for camping equipment. Whether you're just getting started in dutch oven cooking or need something reliable for your next adventure, these products will not disappoint because they stand by them with their promise of satisfaction!
Plus, since this Dutch oven is pre-seasoned with vegetable oil formula that adds natural nonstick properties without synthetic coatings or chemicals, cleanup is easy! The only thing required after each use is wiping off any remaining residue with a cloth - no harsh scrubbing necessary.
FAQs about the best Dutch oven for camping
A Dutch oven is a versatile cookware item that can be used for both indoor and outdoor cooking. It's perfect for campers who don't have access to all the modern-day kitchen appliances, as it allows them to slow-cook meals with coals or wood fires. Here are some FAQs on finding the best Dutch ovens for camping:
What size of Dutch oven should I get?
The size of your Dutch oven will depend on how many people you plan to serve. A 4-quart model is ideal if you're camping alone or with just one other person, while a 6–8 quart option should suffice if there are two or more campers in your party.
Why should you not heat empty Dutch oven?
Cooking with cast iron can be a great experience, as long as you take the necessary precautions. For example, it is important to never preheat the skillet when empty - doing so could cause cracking in the enamel and may even create an unsafe situation.
You should always drizzle your oil into the pan before switching on the stove-top burner; this will help ensure that it won't heat too quickly or burn any of your food while cooking.
The same principle applies when making no-knead bread using a cast iron Dutch oven; if you place a cold pot into a hot oven, it has potential to crack due to thermal shock and could become damaged beyond repair. Remember: always start by adding some olive oil first!
Can you ruin an enameled Dutch oven?
When searching for a Dutch oven, you will likely find that most are made of enameled cast iron.
This sturdy and non-stick material is great to cook with but has one major disadvantage: it can easily be scratched with metal utensils.
To ensure the finish remains intact and your food tastes delicious, consider using silicone, plastic or wooden implements instead. Doing so will help guarantee your Dutch oven continues looking and performing its best for many years to come.
Conclusion
In conclusion, investing in a quality dutch oven will be a worthwhile purchase if you're looking to enjoy outdoor cooking.
The durable and versatile piece of cookware can help make your camping trips more enjoyable by equipping you with the ability to produce hot, delicious meals that are sure to have everyone asking for seconds.
The five best Dutch ovens for camping featured here provide all the necessary features and functionalities needed, along with varying degrees of insulation and look & feel, so pick the one which speaks most strongly to you!
*This site contains affiliate links. I may earn a small commission through links in this post.