Mastering Mixology: The 5 Best Whisks for Home Chefs
Are you an avid cooking enthusiast looking for the best kitchen accessory for whisking? Look no further! In this blog post, we'll be taking a look at five of the best whisks currently on the market.
Whether you're looking to make cake batter with ease or whip up some delicious scrambled eggs, these whisks will get it done quickly and effectively.
So let's dive in and take a closer look at each product to help you find your perfect match!
How we choose the best whisks?
Are you looking for the best whisk to add to your kitchenware collection? Having difficulty in selecting one from the abundance of options available? There are a few basic factors that you ought to consider when buying whisks.
We'll cover these key aspects and provide suggestions for choosing the perfect whisk for your needs in this blog post. Get ready to explore all the features and choices necessary for selecting the best whisks!
Size
When it comes to buying whisks, size is important. Depending on the type of recipe you're cooking or baking, having the right size whisk can make all the difference in achieving great results.
For example, if you plan on using your whisk to beat egg whites or cream mixtures that require air bubbles and stiff peak formation, then a large balloon whisk will be ideal since its design allows more control and incorporates more air into these mixtures.
On the other hand, if you plan on using your whisk as an emulsifier when making mayonnaise or hollandaise sauce where you need smaller whisks that fit snugly into narrower containers so their movement isn't restricted by larger whisks that won't fit completely in them – then opting for a small flat whisk might be better suited for this job instead.
Material
When buying a whisk, it's important to consider the material that it's made of as this can affect performance and durability.
Metal whisks are typically more durable than plastic ones but may be heavier in your hand due to their weightier construction.
Plastic whisks offer lightweight convenience but might not stand up to heavy-duty use over time.
Wooden whisks should also be considered due to their natural heat insulation capabilities; they don't get hot like metal ones do which makes them great for beating egg whites or anything else requiring slow or delicate stirring.
Shape of wires
When it comes to cooking with whisks, the shape of the wires matters just as much as their quality.
A whisk's shape affects how quickly and evenly it can mix ingredients together, so having a wire shape that is suited for your specific baking needs is essential. For instance, flat whisks are great for making pancake batter because they have thin wires that easily incorporate dry ingredients into liquids.
On the other hand, balloon whisks are good for whipping cream or egg whites since its wiry coils create more air bubbles and thus give you higher peaks when you whip something. The right whisk will make your baking easier and more efficient, so taking a few minutes to consider what type of wire will work best for your recipe can go a long way in the end!
Type of handle
Handles come in various materials including wood, plastic and metal. Wooden handles tend to absorb water quickly and may become slippery when wet; however they have a classic look that looks good in any kitchen. Plastic handles also absorb water but are easy to grip even when wet; plus plastic doesn't rust like metal does so your whisk will stay looking new for longer.
When choosing a handle for your whisk, think about what features best suit your needs: whether it's aesthetically pleasing or will provide extra comfort during use. Consider how often you'll use your whisk too – if it's something you plan on using frequently then investing in one with an ergonomic design could be beneficial in the long run!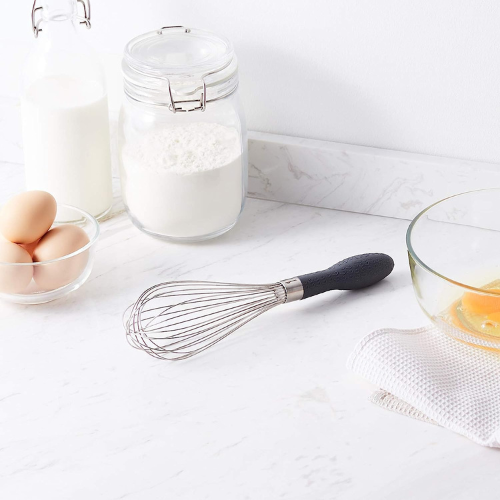 Quick Specifications
It has a solid gray handle that ensures a secure hold.
It features a popular balloon shape for optimal whipping.
It is dishwasher safe for ideal cleaning.
Why we love it?
The Amazon Basics Whisk is the perfect set of tools for everyday kitchen use! This 3-piece wire whisk set includes 9-inch, 10-inch, and 11.5-inch sizes so you can choose the size that's just right for your needs.
Its balloon shape design provides optimal whipping results and its solid grey handle ensures a secure hold while you work with each piece. The comfortably contoured handle fits nicely in any hand, making it easy to maneuver when ingredients need to be mixed together quickly and efficiently.
This versatile whisk has a plethora of uses from mixing batters to scrambling eggs or creating sauces and gravies so you'll never be without the proper tool when needed!
What should you know?
The Amazon Basics Whisk is a must-have tool for any kitchen! This stainless steel whisk ensures that you can whip up delicious sauces and smooth mixtures with ease.
This handy gadget features a non-magnetic, 18-8 grade SS construction, making it ultra durable and rust resistant. The ergonomic handle provides extra comfort while the sturdy yet flexible wires offer powerful whipping action. Plus, this whisk is absolutely dishwasher safe for easy cleaning every time.
Whether you're an amateur cook just starting out or a master chef looking to add to your arsenal of utensils, the Amazon Basics Whisk has you covered! And best of all, it's backed by an Amazon Basics limited one-year warranty so you know that your purchase is worry free!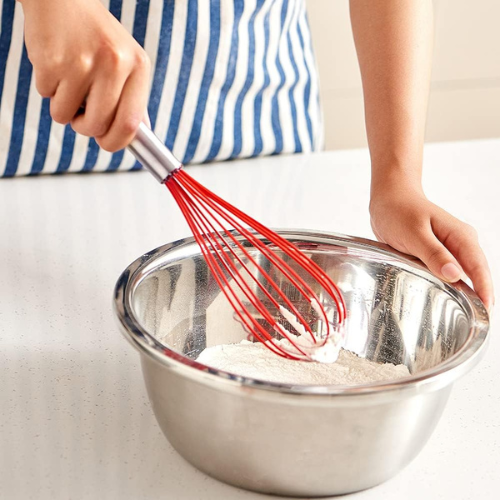 Quick Specifications
It is dishwasher safe.
It has wire whisk with silicone coated won't scratch your stainless steel or non stick coated pans pots set.
It comes with a 2 year warranty.
Why we love it?
Are you looking for the perfect whisk set to make quick work of any beating chore in your kitchen? Look no further than Jillmo's Whisk Set!
This 3-piece set is designed with comfort and convenience in mind. It comes equipped with 8.5 inch, 10 inch, and 11.5 inch whisks that are sized perfectly for about any job in the kitchen. The unique shape fits comfortably on your fingers so you can whisk away without discomfort or fatigue.
Each piece is made from stainless steel wires and coated with silicone to protect your pans and pots against scratches or damage - ensuring they last a long time - while giving smooth, even results every time!
With its superior craftsmanship, this kitchen whisk set is sure to become an indispensable tool for anyone who loves cooking or baking at home.
What should you know?
Are you looking for a whisk that's both quiet and long-lasting? Look no further than Jillmo Whisk! This incredibly durable kitchen tool is perfect for preserving the lifetime of your cookware as well as reducing noise.
The Jillmo Whisk features a clear hard sealer at the point where the wires insert into the handle, helping to ensure its longevity. Plus, it's dishwasher safe so it can be easily cleaned when needed.
Plus, they even promise a 2-year free warranty on this set! So why wait? Get your hands on one of these amazing whisks today and enjoy quieter cooking with peace of mind!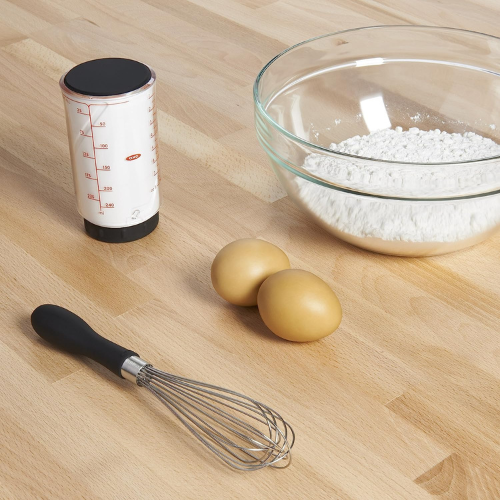 Quick Specifications
It features a soft, comfortable, non-slip handle.
Its hybrid shape works for just about everything.
It has polished stainless steel wires.
Why we love it?
Take your culinary creations to the next level with the OXO Whisk! This innovative kitchen tool is designed to be versatile and multi-functional, perfect for whisking, blending, and beating ingredients. The narrow shape fits perfectly in any bowl or container while its distinctive handle design sits comfortably in the palm of your hand.
The polished stainless steel wires provide effortless stirring and whipping as you go along while keeping everything hygienic and clean. And when it's time to put it away? The removable wire head can easily detach from its soft-touch handle for compact storage or easier cleaning.
Whether you're looking for an all-in-one whisk for light baking tasks or need something more intensely durable, OXO Whisk has got you covered!
What should you know?
Are you looking for a kitchen tool that can make all your cooking tasks easier? Look no further than the OXO Whisk! This high-quality whisk is perfect for mixing sauces, dry ingredients, white sauces, gravies, batters and eggs. Its hybrid shape also works great for just about everything in the kitchen.
The non-slip handle makes this time saving tool extremely comfortable to use and its soft grip allows you to whisk with ease without getting tired quickly. This durable whisk from OXO will definitely be one of your favorite kitchen additions!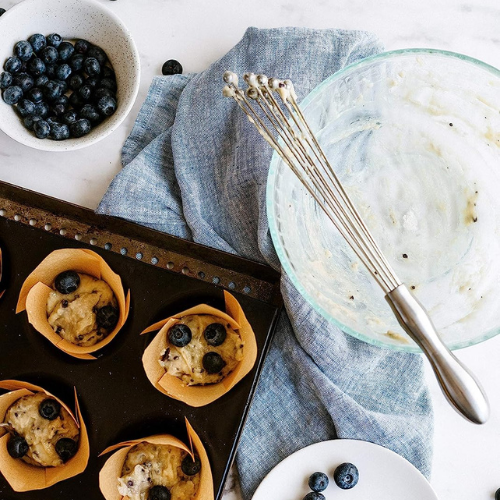 Quick Specifications
Flat whisk design takes up less space in your drawer.
Its high quality stainless steel construction resists rust and corrosion.
Its ergonomic handle provides comfort while mixing.
Why we love it?
Are you tired of struggling to get the perfect fluffiness and creaminess with your traditional whisks? If so, then PomeloHome Whisk is the perfect tool for you!This stainless steel ball whisk uses innovative technology to allow for effortless mixing.
Its ergonomic handle provides comfort as you mix, while its overall balance allows it to rest easily in a bowl containing ingredients. So now you can whip up light and fluffy eggs or a smooth and creamy sauce without having to put in too much effort!
The great thing about this whisk is that it gets the job done quickly, efficiently, and effectively every single time. Plus, it's designed with durability in mind so that you can use it again and again over years of cooking experiences.
What should you know?
Are you looking for a kitchen tool that will save space in your drawer and help you mix ingredients with greater ease? Then the PomeloHome Whisk is just what you need!
This flat whisk design is made of high quality stainless steel to resist rust and corrosion. It allows you to reach right to the edge of the pan or pot where traditional whisks cannot, so there's no more worrying about leaving behind clumps of unmixed ingredients. Plus, its compact size makes it perfect for storage in tight spaces - making it an excellent addition to any kitchen.
Whether you're stirring sauces or mixing batters, this versatile whisk by PomeloHome gives ultimate control over every ingredient blend - ensuring delicious results every time!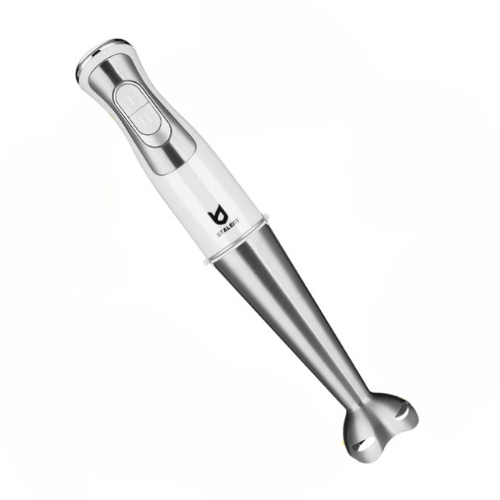 Quick Specifications
It is dishwasher safe and BPA free.
Detachable attachments are easier to clean.
It comes with 8 - speed + turbo for milk shakes, soups or baby food.
Why we love it?
Do you want to prepare delicious and healthy food with less effort? Utalent's Hand Blender is the perfect kitchen tool for all your needs!
This powerful hand blender comes with detachable attachments, making it easier and more convenient to clean. Plus, this blender is both dishwasher safe and BPA free, ensuring real peace of mind as you cook or blend.
The 8 speed + turbo setting can handle any task - from preparing smoothies or soups to baby food - quickly and easily.
So if you're looking for a reliable hand blender that can do it all without breaking the bank, then look no further than Utalent's Hand Blender!
What should you know?
Take your culinary skills to the next level with Utalent's Hand Blender! This powerful and multi-functional immersion blender makes quick work of blending, chopping, whisking, pureeing and more. It features a stainless steel mixing wand with 4-blade system for efficient food preparation - making it perfect for smoothies, soups, mashed potatoes and other dishes.
But what really sets this hand blender apart from others is its low noise and shake technology. Its motor has been designed to make it quieter than your average hand mixer while also eliminating excessive vibration when in use. Plus, it comes complete with a milk frother attachment as well as an egg Whisk so you can whip up delicious treats in no time!
Utalent's Hand Blender is sure to meet all your kitchen needs without the headache of loud motors or irritating vibrations - giving you exactly what you need to master your cooking creations!
FAQs about the best whisks
Are you looking for the best whisks to add to your kitchenware collection? Well, you have come to the right place!
In this blog section, we will look at some of the most frequently asked questions about whisks and how they can help make cooking easier. Keep reading to learn more!
What types of whisks are available?
There are two main types of whisks: balloon whisks and coil whisks (also known as French whips). Balloon whisks have larger loops that are great for blending heavier ingredients like doughs or mashed potatoes while coil whips have smaller wires with tighter coils which work best for lighter mixtures such as egg whites or whipped cream. There are also speciality electric hand-held mixers with attachments specifically designed for whisking tasks in mind!
Are there different sizes of whisks?
Yes! The size depends on how much you will need to use it — larger versions can be useful if you're making large batches while smaller ones may be better when cooking something quick and simple where less stirring is required. Larger versions often come with interchangeable heads so they can do multiple tasks (like beating eggs) without needing extra tools!
Is silicone whisk better than metal?
Silicone whisks have been gaining in popularity for their many advantages over metal whisks. Although metal whisks are more traditional and commonly found among home cooks, silicone whisks offer a range of benefits that make them the better choice for many baking and cooking tasks.
One major advantage of silicone whisks is that they're much easier on non-stick cookware than metal ones. Metal tools can scratch or damage delicate surfaces such as those found on high-end pans, but since silicone whisk heads are soft and flexible, you don't need to worry about this problem with them.
Additionally, silicone is heat resistant up to 446°F so using a silicone whisk at higher temperatures won't cause any warping or discoloration like what may happen with some metal models. This makes it ideal for stirring things like hot sauces or melted chocolate without fear of damages to your cookware or ingredients being affected by a reaction between metals and food particles.
Conclusion
In conclusion, having the right whisk can make all the difference when it comes to kitchen needs.
Whether one needs a balloon or flat whisk, or is searching for an affordable plastic options or investing in a higher quality stainless steel one, there are several varieties that offer great performance and results.
We hope this guide helped you find the best whisk for your cooking and baking needs! Happy shopping!
*This site contains affiliate links. I may earn a small commission through links in this post.