Brewing Bliss -The Five Best Tea Infusers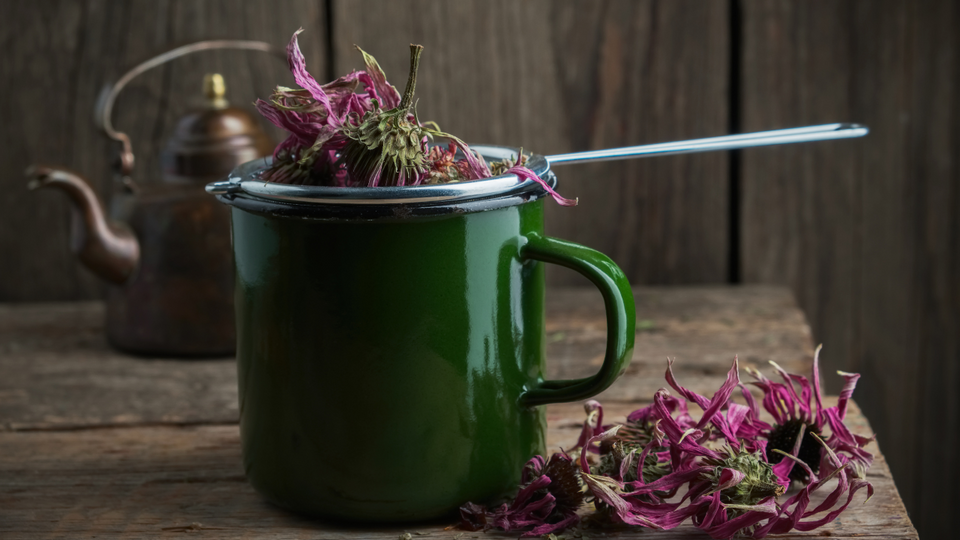 Deciding between tea bags and loose leaf can be a difficult choice. But what if you could have the best of both worlds - convenience and deliciousness? It turns out, with the right infuser you can! Infusers come in many materials, ranging from mesh stainless steel to more unique options like those found on this list.
They make brewing a cup of loose leaf just as easy as using a bagged one – so why not give it a try? Go beyond the ordinary with your favorite loose leaf tea and an interesting infuser – treat yourself to something special each time you take that first sip!
In this article we will let you know about the 5 best tea infusers in the market along with a buying guide in case you don't like our choices.
How we choose the best tea infusers?
Are you looking for ways to make the perfect cup of tea every time? One way to do this is by investing in a quality tea infuser. With so many different varieties and styles on the market, however, it can be difficult to know which one is right for you.
In this blog section, we'll discuss four factors that you must consider when shopping for the best tea infusers.
Size
When it comes to making a truly flavorful cup of tea, size matters. While steeping your tea, the more space the leaves have around them inside the mug or pot allows for an even distribution of flavor throughout hot water. This is why large infusers are generally better than small ones – they provide this crucial extra bit of wiggle room that leads to a superior result.
Tea balls are often overlooked when it comes to effective brewing since people assume their limited space doesn't lead to good flavor, but this isn't necessarily true; in fact, compared with most standard-issue tea bags which often contain lower quality dust and broken leaves, using a smaller tea ball will still yield better results.
Similarly, if you're looking for an accompanying teapot with an integrated infuser then paying attention to size can be worthwhile as larger ones tend to spread out flavors more efficiently– though nothing quite beats being able to let your leaves swim freely before straining at the end– although admittedly this process is messier and time consuming.
Ease of use
While tea bags are certainly convenient, there is a great alternative – infusers. Switching to an infuser can be daunting for avid tea drinkers as they worry about additional brewing time and clean up tasks. Contrary to popular belief, though, certain models of tea infusers make the process incredibly easy!
To know if they're worth switching to, look into how easily it opens and closes and seals shut; this is the best indication of its ease of use. As a pro tip: avoid any with silicone parts since those usually require more effort when assembling compared to other styles such as filter baskets or simple tea balls.
Hole Size
When selecting the best infuser for your favorite type of tea, size matters — not just in terms of the physical size of the infuser but also in terms of how large its holes are. If you don't get the right sized holes, your loose leaf tea may be too fine and slip through them, clogging up each sip and leaving you with a giant mess plus an entirely useless infuser.
Knowing which teas tend to have larger or finer leaves can help guide you when choosing between different types of infusers: green, oolong and black teas generally contain larger pieces while red and herbal varieties often include smaller bits. Tea balls typically boast small mesh holes, whereas egg-shaped sifters or even silicone strainers offer much bigger openings.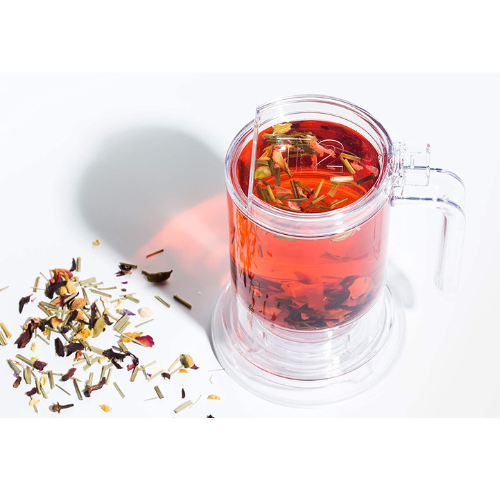 Quick Specifications
It has a capacity of 450 milliliters.
It is dishwasher safe.
It has a clear teapot that allows you to see the brewing progress.
Why we love it?
If you're looking for an easier and healthier way to enjoy loose tea leaves, look no further than the T2 Tea Infuser. It makes brewing your favorite cup of tea a breeze! This easy-to-use infuser ensures that you get the full health benefits of your loose tea leaves with its perfect blend of flavor and aroma.
The unique design allows for all kinds of leaves, from traditional green teas to herbal blends, chai spices, or even flavored teas like rooibos.
The infuser has two parts—a silicone base and a stainless steel basket that sits inside it to hold the loose leaves. And because it is made from high quality materials, it's safe to use in a dishwasher without any worries about discoloration or rusting.
What should you know?
Brewing a perfect cup of tea is an art, but with the T2 Tea Infuser, it's just so easy! It has an extremely beautiful design and will look fantastic on your tea table, no matter which color you choose.
The best part about this tea maker is that it screens out all the tea leaves to give me a perfect cup of tea every time - free from any stray bits or clumps. Plus its simple cleaning mechanism makes it much less messier than using those annoying little teabags.
The double mesh structure ensures that even the finest particles are completely filtered out so I get nothing but pure flavor in my cup without worrying about extra strays or solids ruining my experience. In other words, I can enjoy impeccable quality just like how I'd have if brewed at home with loose-leafs only minus all the fuss and mess associated with using them directly.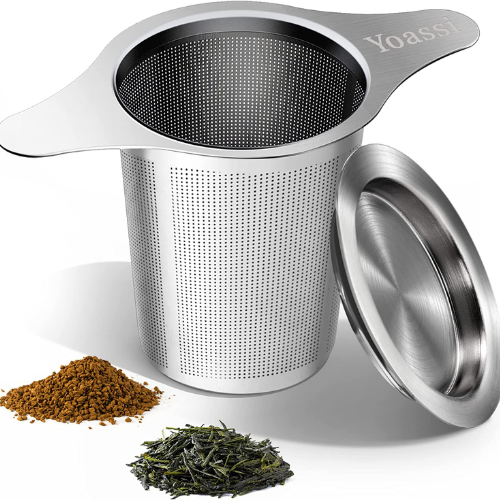 Quick Specifications
It is made of 8/18 food grade stainless steel.
It contains no harmful chemicals.
It features tons of holes allow water to flow more freely.
Why we love it?
This amazing infuser has a bigger capacity that ensures your tea has plenty of room to circulate, allowing all its full flavor and aroma to fully combine with the water. With this extra space, the leafs get to move around freely in the liquid so their taste can be released more effectively into your cup.
The lid on this wonderfully designed tea infuser also keeps all of those wonderful steeping goodness from evaporating too quickly. You can steep your favorite brew just right without worrying about losing any of those luscious flavors along the way!
Plus an added bonus is that the incredibly fine holes help keep even very small-leaved teas inside! That means no messes or fussing around when cleaning up – it's just one smooth experience each time you make a cup of deliciously flavored tea using your Yoassi Tea Infuser!
What should you know?
The Yoassi Tea Infuser has tons of tiny holes which allow water to flow more freely and helps extract maximum flavor from your favorite variety of teas. And best part – it's made with 8/18 food grade stainless steel that ensures its durability without any harmful chemicals.
Not only does this keep your drink free from odor and unwanted taste but also gives a chance to enjoy every sip in full flavor!
Furthermore, these infusers come in different shapes and sizes allowing you to choose one suiting your preferences.
It has a "no drip" feature which makes sure that matters don't get messy during use; so no mess on the counter-top either! The handle comes with a hook making removal hassle-free when the brewing process is complete.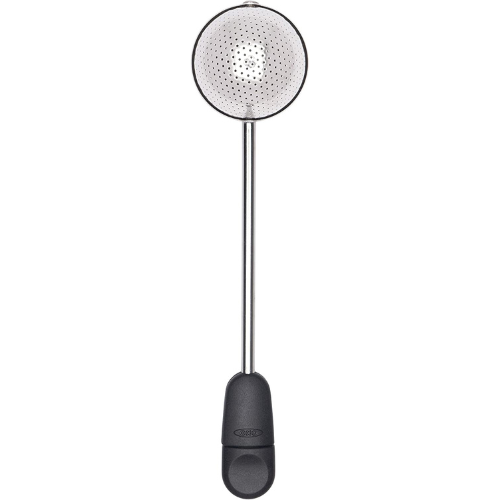 Quick Specifications
It's twisting feature makes filling with a large amount loose leaf tea a breeze.
It's long, stainless steel neck accommodates most cups and mugs.
It features a soft, comfortable, non-slip grip.
Why we love it?
The OXO Tea Infuser's twisting feature makes filling it up with a substantial amount of loose leaf tea a complete breeze; simply twist open at the top cover and you can insert your desired quantity of leaves for steeping.
Its long stainless steel neck helps provide flexibility in terms of accommodating most cups and mugs – be it your favourite coffee mug or glass cup – so you won't have any worries about not having enough space for the infuser itself when placed within the drink ware vessel.
In addition, what adds to this amazing product's value is how it works best when used for whole-leaf variety such as pearl teas, full-leaf green teas and large-leaf black teas since they require more room inside the chamber for them to steep properly - something that classic regular strainers cannot provide well due their typically small size openings compared to that of the Tea Infuser's wider ones which allows larger amounts of leaves without having them spill out during steeping process.
What should you know?
The OXO Tea Infuser is an innovative must-have for anyone who loves to have freshly brewed tea. It has been designed with convenience and ease of use in mind, making it a perfect addition to any kitchen.
One of the most impressive features of this infuser is its soft, comfortable non-slip grip which allows for easy handling without slipping out of your hands. This means that you can enjoy every sip without worry or hassle - no more scolding yourself from burning your hands when holding onto traditional hot kettles!
Additionally, it's also BPA free so you know that there are no harmful substances seeping into your cup of tea.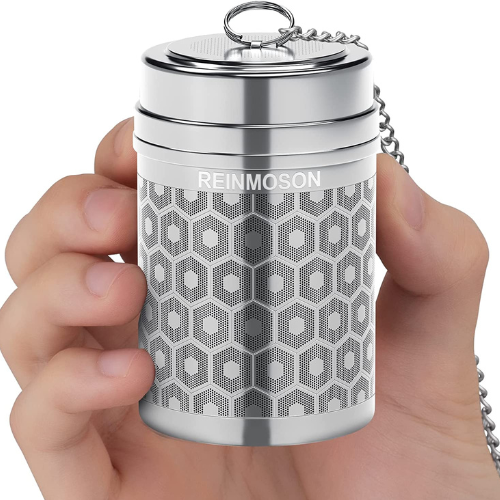 Quick Specifications
It is especially ideal for rooibos and other small tea leaves.
It has a great slim lid design that makes the large tea steeper more suitable for different kinds of containers.
It has a 2" diameter and 2.8" high large tea infuser that can hold over 6 teaspoons.
Why we love it?
Reinmoson Tea Infuser offers an innovative design that allows you to brew large batches of tea in a matter of minutes. With its 2" diameter and 2.8" high, it can hold over 6 teaspoons (6 oz) of loose-leaf teas and has enough room for them to expand, allowing the full flavor and aroma from the leaves to fully release into your drink. As such, it eliminates any worries about over-steeping or bitter undertones in your cuppa.
Moreover, this unique strainer opens up endless possibilities when it comes to making both hot and cold beverages with custom blends of herbs, spices, flowers etc., so don't be afraid to get creative!
Additionally, thanks to its stainless steel mesh construction that prevents rusting or staining; cleaning is incredibly easy as well! Get ready for delicious sips every single time with Reinmoson Tea Infuser - The ultimate way for true tea-lovers out there!
What should you know?
When it comes to making tea, there are many options out there. However, the Reinmoson Tea Infuser is truly one of a kind! This innovative loose leaf tea device is especially ideal for Rooibos and other small tea leaves.
The Reinmoson Tea Infuser has been updated with a slim lid design that makes the large teapot steeper more suitable for different kinds of containers. The extended 7.7" chain with S-handle allows users to securely attach the infuser onto any rim from mugs, cups, teapots or whatever else you may be using! Unlike twist lids, this thread top lid screws on simply and securely every time you use it.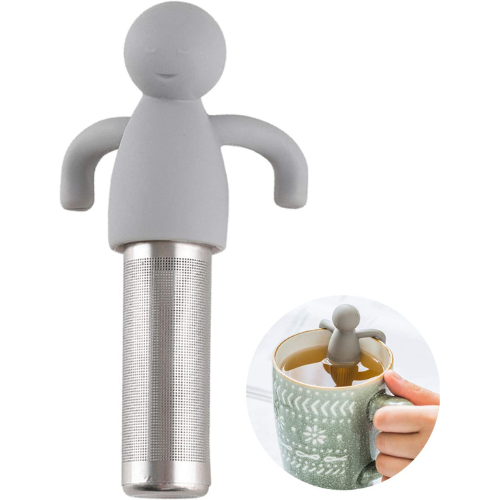 Quick Specifications
It has a food grade 304 stainless steel fine mesh.
It has an organic BPA-free silicone arms.
It is extremely easy to clean and is dishwasher safe.
Why we love it?
If you're a tea enthusiast looking for the perfect way to make your favorite cup of tea, look no further than the Leden Tea Infuser! This revolutionary product is made with resilient silicone arms and a stainless steel mesh that tightly holds in even the finest loose leaf teas.
The extra fine mesh ensures that your tea will be deliciously smooth and flavorful without clumps or sediment.
The flexible silicone arms are designed to fit most any teapot or mug size, so you can easily steep your desired amount of tea. Plus, when it comes time to clean up, this infuser couldn't be easier - just rinse off or put on the top shelf of your dishwasher! This is truly one of the best tea infusers in the market.
What should you know?
Made from food grade 304 stainless steel with organic BPA-free silicone arms, the Leden Tea Infuser is non-toxic even after long exposure in hot water. The fine mesh helps ensure that no bits of leaves are left behind, leaving you with an aromatic and flavorful cup of tea every time. Plus, its charming design will fit right at home on your kitchen counter or dining table!
The secure clasp allows you to firmly attach the lid onto the body securely so it won't slip off while brewing. And when it's done steeping, simply flip open the lid to retrieve your tasty brew without having to worry about messes or spills. The ergonomic design makes this little guy super easy and comfortable to use as well as super convenient for cleaning out once you're through using it!
FAQs about the best tea infuser
The best tea infusers are a great way to enjoy the fresh flavor of quality loose leaf teas without having to compromise on taste, convenience or consistency. If you're just starting out with tea-drinking, and don't know how to use your new infuser properly, this blog section is for you!
Here is an essential guide to FAQs about the best tea infusers that will help you get started in no time and craft yourself some perfect cups of deliciousness.
Do I need different kinds of tea infusers for specific types of teas?
Yes, you might need different kinds of tea infusers for specific types of teas. For example, some teas require larger infusers because they are made with bigger leaves or herbs, while finer tea blends may require smaller strainers.
There are also specialized infusers designed specifically for certain types of teas like green and white teas. From traditional metal to modern silicone varieties – there's a wide range available to meet your preferences when brewing the perfect cup every time!
Are all tea infusers easy to use?
No, not all tea infusers are easy to use. Some models may require more effort and dexterity to properly assemble and insert into a mug or teapot. Additionally, some tea infusers have intricate designs that make them difficult to clean thoroughly after each use.
Are there any health benefits associated with using a specific type of tea infuser?
Not necessarily, but depending on the type of tea infuser you use, there may be some health benefits associated with it. For example, loose-leaf tea infusers can offer a more flavourful and robust cup of tea than pre-bagged teas since they allow for greater oxygenation of the tea leaves. This can help to release more antioxidants from the tea leaves into your cup which have many health benefits such as boosting immunity and reducing inflammation. Additionally, ceramic or glass infusions are less likely to contain harmful chemicals like BPA that are found in plastic infusers.
Conclusion
In conclusion, best tea infusers are a great way to enjoy tea without having to mess around with metal strainers or bags. By using the right type of infuser, you can easily and quickly brew your favorite teas.
The 5 best tea infusers mentioned in this blog provide an excellent combination of convenience, affordability, quality, ease-of-use and durability that make them ideal for any lover of fine tea. Investing in one of these great options can help make sure you get the optimal flavor from your favorite teas.
*This site contains affiliate links. I may earn a small commission through links in this post.