Make Cleaning Your RV a Breeze with these 5 Best RV Vacuums!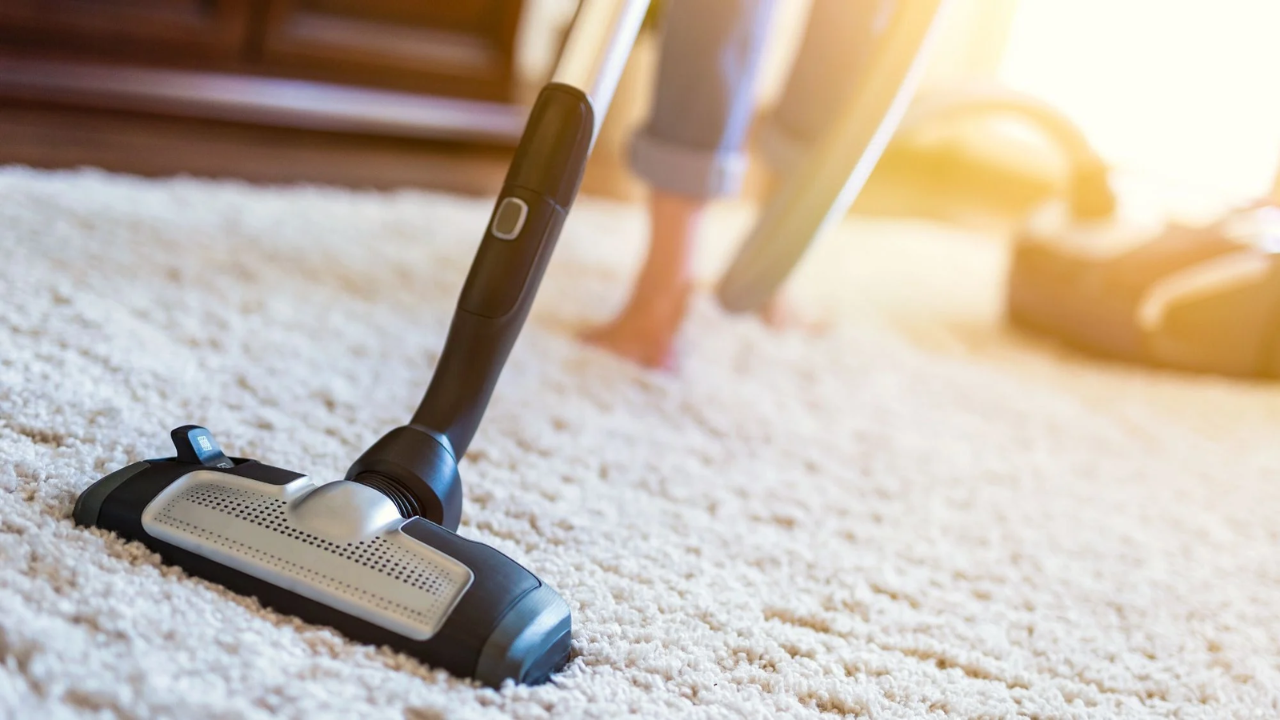 The open road is calling you for an epic RV adventure. You've packed all the essential gear, filled the freshwater tank, and settled into the driver's seat, ready to embark on a journey of a lifetime. But wait—in your excitement to hit the road, did you remember to pack one of the most important tools for keeping your RV clean and comfortable? A quality vacuum, designed specifically for RVs, is essential for removing dirt and debris on floors, upholstery and even vents.
Choosing the best RV vacuum isn't as simple as grabbing whatever is on sale at your local store. You'll need a vacuum that is designed for the unique challenges of RV living, such as limited storage space, multiple floor types from carpet to vinyl, and high suction for picking up sand and grit.  In this article, we'll review five best RV vacuums to help you choose the perfect model for your needs.
Whether you're looking for a compact yet mighty canister vac or a cordless stick vac with fade-free power, we've got you covered. A clean RV is a happy RV—so read on to find your ideal travel companion!
How we choose the best RV vacuums?
Are you looking for the best way to keep your luxurious RV spotless and free of dust, dirt, and debris? A powerful RV vacuum is a must-have when it comes to maintaining a clean space while camping. However, with so many different models on the market today, choosing the right one can be tricky.
In this blog section, we will discuss the key factors to consider when shopping for an RV vacuum that meets all your needs.
Size/Weight
When it comes to buying an RV vacuum cleaner, size and weight are important considerations. This is because the size of your RV will determine what kind of vacuum you can fit inside, as well as the portability of the machine.
If you have a smaller or cramped space in your RV, then a lightweight model may be best for you. On the other hand, if you have plenty of room to spare in your Motorhome, then a heavier duty model might be more suitable.
Weight also plays an important role when it comes to portability and storage. A heavy vacuum can quickly become very cumbersome if you need to move it around often or store it away when not needed — something that's especially true with RVs which tend to lack dedicated storage spaces for bulky items like vacuums.
If this is something that's likely going to affect you on your travels, then a lightweight model would be ideal since they tend to take up less space and are much easier (and faster) to pack away after use.
Cord Length
Buying an RV vacuum is an important investment for any RV owner. When making this purchase, it's essential to consider the length of the cord. This is because the longer the cord, the easier it will be to clean hard-to-reach areas within your vehicle without having to constantly move plugs or search for extensions. Longer cords can also make jobs faster and increase efficiency when cleaning a large area since you won't have to worry about constantly changing outlets or wires getting tangled up.
Additionally, some vacuums come with extra attachments that allow even flexible cleaning in tight spaces while still utilizing a long cord length so you don't need additional accessories such as extension cords and adaptors.
Ultimately, by considering cord length when purchasing your RV vacuum cleaner you can ensure that you get one which best suits both your budget and requirements.
Suction Power
Choosing the right RV vacuum cleaner is important in order to ensure that your RV stays clean and free from dirt, dust, and debris. One of the key factors to consider when selecting an RV vacuum cleaner is suction power.
With strong suction power, a vacuum can effectively remove dirt and debris from carpets, furniture and other surfaces in your RV. This helps keep your living space looking clean while also reducing allergens which can cause respiratory issues if left unchecked.
Additionally, some vacuums come with special attachments designed specifically for cleaning hard-to-reach areas like those under sofas or beds which cannot be reached by a regular vacuum head alone.
Filtration System
When it comes to purchasing an RV vacuum, one of the most important things to consider is a filtration system. A good quality filtration system can make all the difference when it comes to effectively cleaning your vehicle.
Without a proper filtering system, dirt and debris can easily be missed, resulting in poor air quality and even damage to surfaces if left uncleaned for too long.
Additionally, having a proper filter will not only improve the suction power but also reduce dust allergies caused by airborne particles.
Investing in an RV vacuum with a reliable filtering system can help ensure that you get maximum efficiency from your machine and protect your health in the process!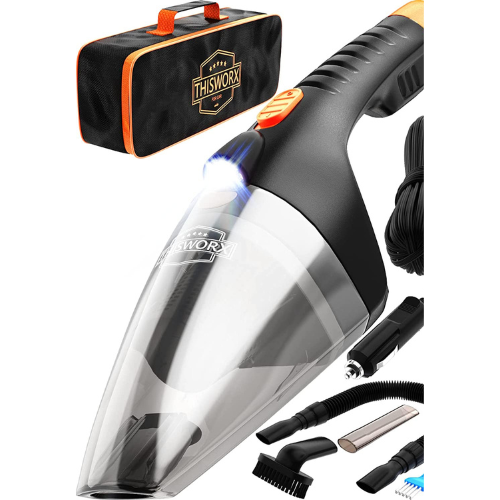 Quick Specifications
110W cleaning power & 9.17 Amps, a sleek design with integrated LED light and a washable double filter.
3 attachments (flathead, extendable, or brush nozzle) for detailing, carry bag, and a filter cleaning brush.
Compact lightweight design (2.6 lbs), large dust bin capacity ready for ash/dust/spills.
Why we love it?
ThisWorx RV vacuum is the perfect choice for anyone looking to clean and detail their Recreational Vehicle (RV) in a convenient way. With 110W of cleaning power and an impressive 9.17 Amps, this small yet powerful machine can easily tackle virtually any mess you may have in your RV.
This vacuum has been designed with a sleek design that includes an integrated LED light, a washable double filter, and three attachments (flathead, extendable or brush nozzle). That's not all - it also comes with a carry bag so you don't have to worry about storage issues.
The most appealing quality of this vacuum is its lightweight and compact design which weighs just 2.6 pounds making it easy to manoeuver around tight corners inside an RV as well as store away quickly when done using it.
What should you know?
ThisWorx RV vacuum is designed with one-the-go use in mind so any tough cleaning job can be done easily. With its quality 110w motor, the vacuum has strong suction that ensures it removes dust and dirt from even hard to reach areas. This powerful suction comes from the cyclonic force this vacuum provides which separates out large particles before vacuuming for a better clean.
It also features an excellent HEPA filter which is one of the most effective filters on the market today; trapping detailed particles such as pet hair and other allergens that otherwise would remain after using lesser vacuums. Any RV owner will appreciate having this top of line solution for all their cleaning needs!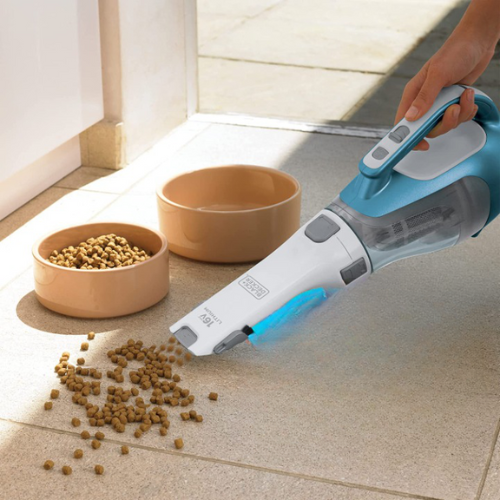 Quick Specifications
Rotating slim nozzle at 180° angle to access tight spaces between couch cushions, shelves etc.
Flip-up brush tool ideal for dusting and vacuuming upholstery items easier than before.
Cyclonic Action spins dust and debris away from the filter for more consistent suction power.
Why we love it?
The Black+Decker RV Vacuum is designed specially for RVs as it has been created specifically to help keep your vehicle tidy with minimal effort. Since its multi-surface use allows you to seamlessly vacuum carpets, car interiors, furniture and even high-traffic areas like kitchenettes or hallways – this device will serve you well when tackling dirt regardless of its location.
Furthermore the design acts ergonomically so that users may bend over less frequently due to an on-board extension feature which makes vacuuming a more pleasant experience each time you use it!
This combined with its lightweight and portable nature allows anyone of any age or size access it easily from one room to another without having extra strain on their back. Plus since there cannot be any wall mounting too then this task becomes simpler still by not needing hardwares such as screws!
What should you know?
The Black+Decker AirSwivel Ultra Lite RV Upright Vacuum is the perfect addition to any RV. Whether you're in a camper van or your own custom-made home on wheels, this vacuum will make keeping your living space clean and dust free easier than ever before.
It's light weight and sleek design makes it ideal for maneuvering around tight spaces such as between couch cushions, shelves etc. The swivel head can rotate 180° to access these hard-to-reach places with ease, while its extended reach hose allows you to get further into corners and edges unseen by other vacuums.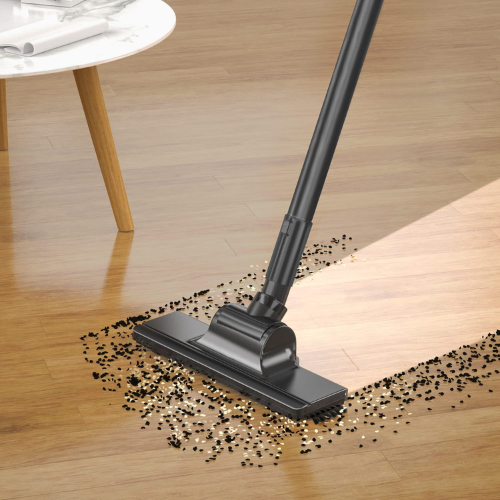 Quick Specifications
High suction power of 17,000Pa.
Cyclonic Technology Separates dust particles as small as 0.1 microns.
Lightweight 3.3 pounds for one-handed use.
Why we love it?
SOWTECH RV vacuum is the perfect tool to help you keep your home clean and dust-free. With a powerful suction power of 17,000Pa and cyclonic technology that can separate particles as small as 0.1 microns, this product ensures maximum cleaning efficiency in no time!
Plus, it comes with 6-in-1 combination for different cleaning needs - you get a handheld vacuum cleaner with floor brush, square brush, mattress tool, crevice Tool etc. making it suitable for all types of surfaces.
This makes SOWTECH RV vacuum the ideal choice for keeping any area neat and tidy without having to put in too much effort - it offers convenience while ensuring that all dirt and dust are removed instantly!
What should you know?
If you're looking for an efficient and lightweight vacuum cleaner that can clean all corners of your RV, then the SOWTECH RV Vacuum is the perfect choice for you. It only weighs 3.3 pounds which makes it easy to use with one hand, making vacuuming much simpler.
The fact that it uses a corded function also allows for unlimited vacuuming time as there is no need to recharge batteries as often when using other handheld vacuums. This means less interruption while cleaning your place and getting more done quickly!
It also comes with an extra long cord that allows cleaning all corners of any room without having to switch outlets each time.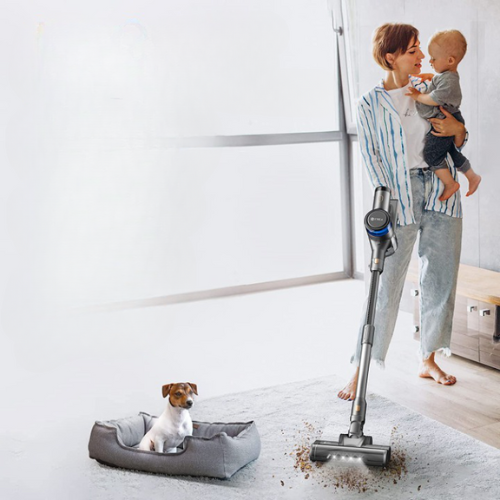 Quick Specifications
400W state-of-the-art brushless motor, 100,000rpm generating 28Kpa/ 150AW strong suction.
Led display shows battery level, suction power mode and dust detection.
Brush head rotates by 90°/165° for easy corner cleaning.
Why we love it?
The UMLo RV vacuum is a powerful and advanced cleaning solution for your home. This small yet mighty machine boasts a robust 400W state-of-the-art brushless motor that reaches speeds of up to 100,000rpm and generates an impressive 28Kpa/ 150AW of suction. With this level of power, the UMLo RV can easily remove dirt, debris dust pet hair and other messes quickly and efficiently.
This versatile machine is also compatible with hardwood floors, low pile carpets as well as middle pile carpets giving you full coverage for all floor types in your house. It's compact size allows users to manoeuvre around furniture or tight corners with ease while the long cord keeps vacuums running at peak performance no matter how far away from an electrical outlet it may be.
What should you know?
The UMLo RV vacuum is the perfect choice for residential cleaning needs. It's lightweight and portable design makes it ideal for easy movement around the house, while its advanced suction power allows you to effectively remove dirt and dust with ease.
Unlike other vacuums, the UMLo RV features a unique LED display which allows users to check battery level, as well as being able to switch between different suction power modes and get alerts when dust is detected in an area that may be hard to reach.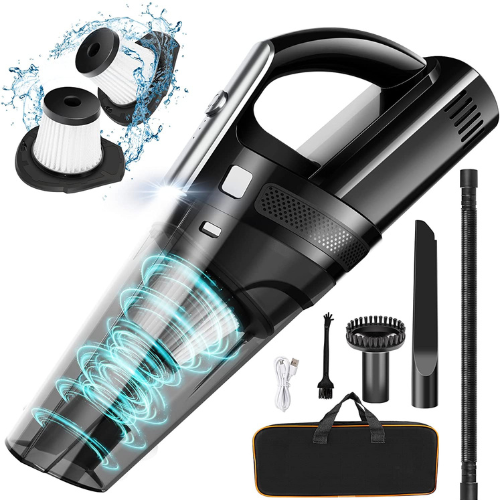 Quick Specifications
Handheld cordless vacuums come with 3 different attachments - crevice tube, brush nozzle, soft long tube.
Ultra-powerful motor delivers 8000 Pa suction power for all-round cleaning.
Cordless design and LED light aids in maneuverability and visibility of hard to see places
Why we love it?
SAKOLD RV vacuum is a cordless handheld vacuum designed to make cleaning much easier. It comes with 3 different attachments - crevice tube, brush nozzle and soft long tube that enables you to tackle any kind of dirt. Its ultra-powerful motor delivers an enormous 8000 Pa suction power which helps in getting rid of all sorts of messes with little effort.
The cordless design and LED light provides amazing maneuverability and visibility so you can easily reach even the darkest corners without having to move heavy furniture or appliances around every time.
Thanks to its compact size and lightweight structure, it also makes storing simple – now no more bulky vacuums taking up too much space in your closet! With SAKOLD RV Vacuum say goodbye to stressful cleaning days!
What should you know?
The SAKOLD RV vacuum is the perfect tool for keeping your RV clean! It is designed with a powerful lithium battery that provides up to 25 minutes of suction power at two levels. This makes it ideal for regular cleaning needs like sucking up pet hair, cat litter, paper debris and crumbs.
The suction power provided by this vacuum will make sure these kinds of messes will be gone quickly and effectively from any surface in your RV. In addition, the lightweight design allows you to easily move it around wherever you need to get spotless results without breaking a sweat.
No matter how big or small the mess may be, there's no doubt that this handy little device will help keep your vehicle looking pristine on the inside all year round!
FAQs about the best RV vacuums
Still confused on how to choose the best RV vacuums? Well, the next FAQ section will surely solve most of your queries regarding this topic!
Can you use a vacuum in an RV?
Using a vacuum cleaner in your RV is an easy and effective way to keep the interior of your vehicle clean. Vacuums can help pick up dirt, dust, and debris from carpets, floors, and furniture. They are also a great tool for cleaning hard-to-reach areas such as under furniture or cabinets. It's important to choose the right type of vacuum for the job, however; upright models are best suited for larger areas while smaller handheld vacuums work better for tight spaces that require more precise cleaning. With regular use of a vacuum cleaner on your RV, you can extend its life and keep it looking like new!
What is a central vacuum in an RV?
A central vacuum in an RV is a powerful device used to clean and maintain the interior of a recreational vehicle. It works by using a suction hose that is connected to a central motor located outside the RV. The hose can be used for cleaning both hard surfaces, such as walls and floors, as well as soft furnishings like carpets and upholstery.
The vacuum has its own built-in dust collection bag or container so that all dust and debris can be easily disposed of afterwards. Having one installed in your RV will save you time spent vacuuming and make it easier to keep your home away from home feeling invitingly clean at all times!
Is there anything I need extra attachments for when vacuuming my RV?
Depending on your model, many modern cordless vacuums come with convenient attachments specifically designed for cleaning upholstery and carpets as well as into tight corners – all without having to change out any pieces! If your machine doesn't come with these items included then additional brushes or nozzles may be needed in order to reach those hard-to-reach spots in your vehicle's interior nooks and crannies (e..g crevices between seat cushions).
Conclusion
In conclusion, the above-mentioned RV vacuums are some of the top products in their category. They all provide excellent suction power and portability that is perfect for busy RV adventurers. Whether you're looking for a wet/dry, handheld or upright vacuum cleaner – there is certainly something here that will fit your needs!
All five models have earned strong recommendations from consumers, so you can rest assured knowing each one will do an exceptional job cleaning up any messes encountered on the road.
*This site contains affiliate links. I may earn a small commission through links in this post.