Skip the Chemicals: Check Out These 5 Best Non-toxic Bakeware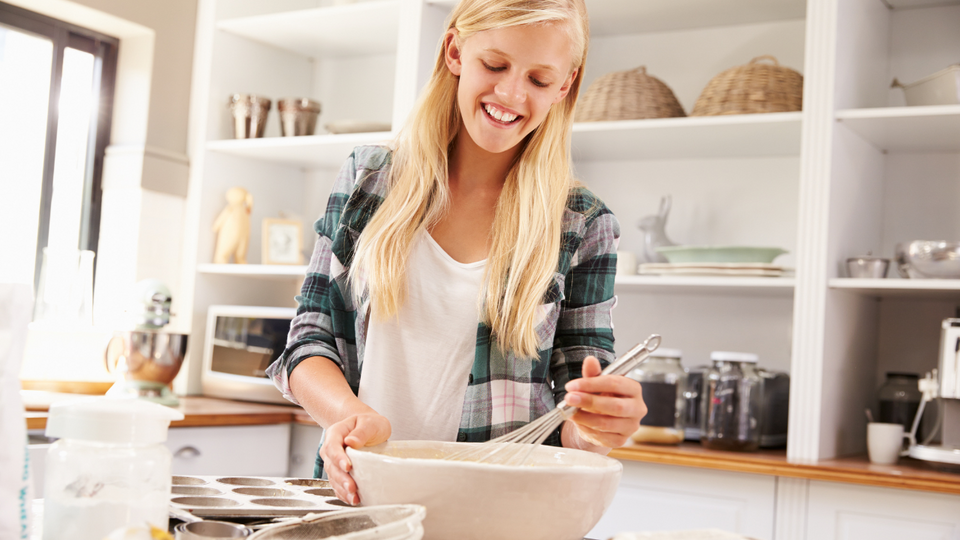 Long gone are the days when bakeware was made exclusively with toxic materials that could be harmful to both your health and our planet. These days, you can find a wide range of non-toxic options on the market that will still give you delicious baking results without compromising your kitchen's cleanliness or safety.
But how do you make sure the cookware in your kitchen is truly non-toxic?
In this blog post, we're going to break down everything you need to know about shopping for chemical-free bakeware and offer up five of the best non-toxic bakeware products currently available.
Whether it's ceramic, silicone, stainless steel or something else entirely – there should be something here for everyone. So let's get started!
How we choose the best non-toxic bakeware?
Are you concerned about the safety of traditional bakeware potential health side effects? It's time to upgrade your kitchen arsenal with non-toxic bakeware! But before you buy, there are a few important factors to consider.
In this blog section, we'll cover everything from materials and colors to safe coating options for all kinds of treats—from cakes and cookies to savory dishes like lasagna.
Material
Non-toxic bakeware is made from materials that won't leach chemicals into your food as you cook or bake. By buying non-toxic bakeware, you can ensure your meals are safe and healthy for you and your family. It's also important to consider the material when purchasing non-toxic bakeware, as not all materials offer the same levels of safety.
Some metals may contain high levels of lead while others will absorb more heat than necessary which could cause burning or uneven cooking.
Make sure to buy baking pans and dishes that are non-reactive (non-porous) such as stainless steel, ceramics, glass or enameled cast iron which will keep their shape even after years of use in high temperatures making them excellent choices for long term use.
Be sure to read labels carefully before making any purchase so you know exactly what type of material each item is made from!
Size
When it comes to baking, having the right kind of bakeware is essential. Not only do you need bakeware that is high quality and durable, but you should also consider the size of your bakeware when looking for non-toxic options.
The size of the pan or dish you use can have a big impact on how your food cooks. A pan that is too small may result in uneven cooking, while ones that are too large might cause items to be over cooked.
Different recipes usually call for specific sizes of pans, so it's important to find something with the measurements that work best for your baking needs.
Durability
Durability is an important factor to consider when buying non-toxic bakeware. Non-toxic cookware and bakeware are made from materials that don't contain harmful toxins, such as metals like aluminum or lead. However, if the material isn't durable enough to last for a long period of time, it won't be able to protect you from the hazardous materials in its construction.
Durability also plays an important role in ensuring your baking items remain safe and healthy during use. Low quality and poorly constructed bakeware can warp or crack while being used in high temperatures or exposed to hot oils/food ingredients which can cause them to leach out chemicals into foods they're cooking with. Quality baking products will withstand these conditions without any harm done towards your health and safety over extended periods of time.
Ease of cleaning
Having non-toxic bakeware is an important step when it comes to baking, as it ensures that your food remains safe and healthy. But just as important is considering how easy the bakeware is to clean.
Non-stick surfaces can be incredibly convenient for releasing baked goods, but they often require special cleaners or specific instructions to ensure that they retain their coating. Non-toxic ceramic or glass options may not have a non-stick surface, making them at first more difficult to use than metal with a coating.
However, these materials are usually much easier - and safer - to clean after use because you don't need to worry about scratching off their finish or otherwise damaging the material itself with harsh chemical cleaners.
This makes them a better choice in terms of ease of cleaning compared with metals coated in non-toxic coatings like silicone and Teflon .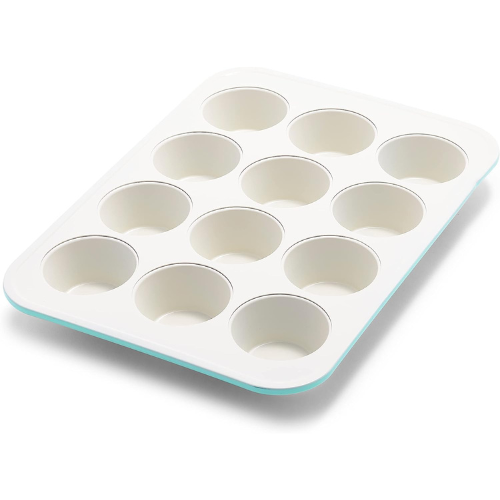 Quick Specifications
Free of PFAS for effortless cooking and quick cleanup.
It is crafted from heavy-duty steel for fast and even heat distribution.
Its reinforced rims enhance strength and stability.
Why we love it?
GreenLife Non-toxic Bakeware is an excellent choice for those looking to make healthier cooking decisions while still maintaining the convenience of nonstick cookware.
Its PFAS-free ceramic nonstick coating makes it easy to both cook and clean up afterwards without worrying about potential toxins leaching into food. It's also crafted from heavy-duty steel, which helps ensure that heat is distributed quickly and evenly throughout the entire pan or baking sheet.
And its reinforced rims help boost its strength and stability, making it a durable option for home cooks who depend on their bakeware every day. With GreenLife Non-toxic Bakeware you can feel confident that you are getting the best performance with no sacrifice in health benefits.
What should you know?
Introducing GreenLife Non-Toxic Bakeware, the perfect companion for all your baking needs.
This bakeware is made with a special sand-derived coating which is free of PFAS, PFOA, lead and cadmium, making it ideal for healthier meals. It's also designed to be endlessly versatile so you can use it for sweet and savory bakes alike.
Thanks to its sturdy construction, this bakeware can withstand heats up to 200 C and could even be taken straight from the freezer into an oven (which makes prepping those last minute dishes that much easier). As a precautionary note though - hand wash only! Not only will this help prolong its lifetime but also protect that non-toxic coating as well.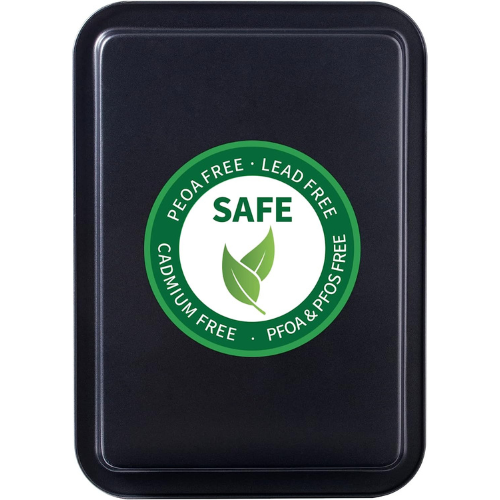 Quick Specifications
It uses 0.6mm thickened quality carbon steel.
It has a non-toxic & non-stick coating.
Its non toxic baking sheet pans with smooth rolled-rim edges and moderate edge width.
Why we love it?
Are you tired of baking with outdated, poor-quality cookie sheets? If so, Amazqi Non-toxic Bakeware is here to help. This three-piece set features non-toxic and nonstick cookware that offers hassle free baking every time.
The 0.6mm thickened quality carbon steel ensures results from the very first batch of cookies all the way to the last! The heavy duty carbon steel also helps promote uniform heat distribution, making sure your pies and cakes bake evenly.
This is an ideal pick for those who are looking for healthier options because they're designed with a safe and non-toxic coating! Plus, these cookie sheets can easily handle heavier foods such as chickens, roasts, ribs or turkey for light meals or large family gatherings alike!
What should you know?
If you're looking for an excellent baking sheet set that is safe and non-toxic, then look no further than Amazqi Non-Toxic Bakeware.
With its amazing five-layer coating process, which provides superior non-stick performance with no worries about PFOA & PFOS exposure. It is also extremely durable and does not rust or warp easily so you can use it for a longer period of time.
The great thing about this bakeware set is the smooth rolled rim edges, making it easy to grip without any discomfort and wider edges provide exceptional strength and stability when transporting from room to room in your kitchen.
On top of all those features, this bakeware product highly heats conducting perfectly while quickly releasing food once baked. As well as the super user friendly clean up saving you time and effort when cleaning dishes after every bake session!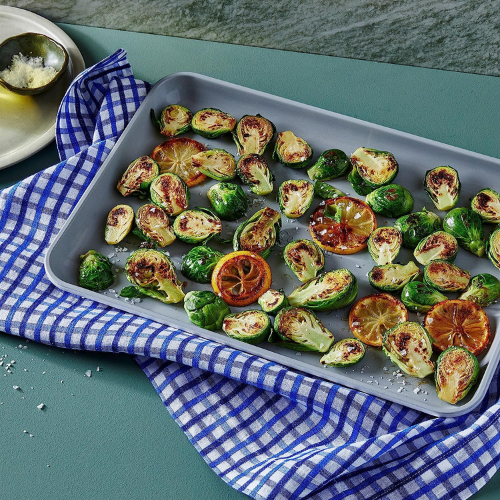 Quick Specifications
It is free of PTFE, PFOA, PFAS, lead, cadmium.
It can withstand oven temperatures up to 550ºF.
This non-stick baking sheet requires less prep and cleaning for a flawless clean.
Why we love it?
Caraway Non-toxic Bakeware is an exceptional product that offers you a convenient way to bake without compromising on style. This collection of sleek non stick baking sheets are both aesthetically pleasing and carefully crafted, enabling you to get the perfect results with minimal effort.
These chemicals can be hazardous when used with heat or stored over long periods of time; however they will not be present while using these baking sheets which makes it safer for use around your family members (especially kids). Additionally this means less prep time before baking as well as significantly reducing scrubbing after to ensure a spotless clean up - something we all aspire for!
What should you know?
Caraway Non-toxic Bakeware is an amazing addition to any kitchen! With a sol-gel processed fine ceramic coating material formed from a low curing temperature, it can withstand oven temperatures up to 550ºF. This means you don't have worry about your bakewares getting damaged while baking in the oven!
In addition, Caraway Non-toxic Bakeware allows for a much healthier option than traditional nonstick surfaces. As the name implies, it is completely non-toxic and PFOA/PFAS free! You can now enjoy baking with peace of mind knowing that no harmful chemicals are coming into contact with your food.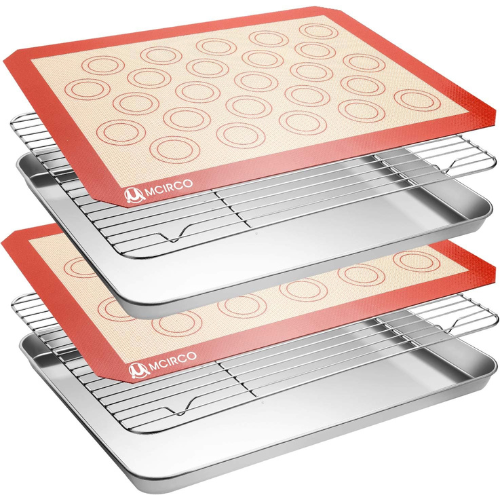 Quick Specifications
Highly mirror polished reducing risk of food sticking.
4 raised feet to allow even cooking, cooling and roasting.
Easy to hand wash or dishwasher safe.
Why we love it?
MCIRCO non-toxic bakeware is the perfect choice for cooking and baking at home. Featuring mirror-polished stainless steel, these baking sheets provide an easy release of food so it never sticks nor makes a mess in your oven. The smooth roll rims make them comfortable to grip as you transfer food from one pan to another, and their deep sides prevent juices from running everywhere.
Additionally, each grill oven rack is supported by four raised feet which provide better air circulation when using over a heat source. This helps cook food evenly without burning or drying out edges, resulting in perfectly cooked meals every time!
Not only that but all materials used are eco-friendly and didn't contain any hazardous chemicals during the manufacturing process—keeping both you and your family safe while enjoying delicious homemade recipes!
What should you know?
MCIRCO Bakeware is a fantastic kitchen tool that is providing delicious results with each use. This non-toxic bakeware offers unique features for every level of baker, from beginner to expert.
The sheet baking pans and cooling racks are made of food grade heavy duty stainless steel that won't rust or corrode over time. It also has a coating on it making them dishwasher safe and easy to clean after use.
The other great feature is the non-stick baking mat which helps provide an even distribution of heat while baking whatever sweet treats you may have in mind! It can withstand temperatures ranging anywhere from -40°F up to 500°F, so it's perfect for all sorts of recipes!
Plus, this reversible silicone and reinforced fiberglass mat provides excellent durability without picking up odors or stains like many others do.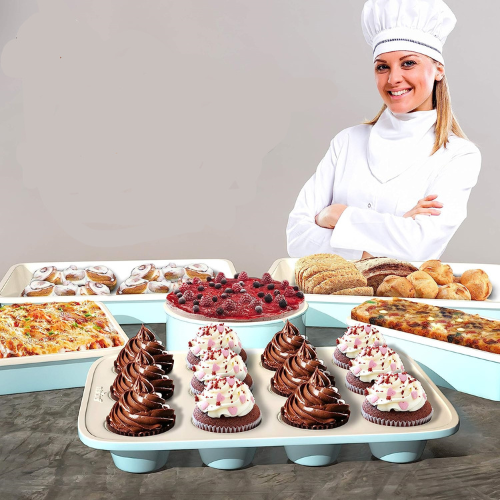 Quick Specifications
4 raised feet for better air circulation for even cooking and roasting.
Highly mirror polished to reduce risk of food sticking.
Food-grade silicone and reinforced fiberglass nonstick baking surface withstands -40°F to 500°F.

Why we love it?
Nutrichef Non-toxic Bakeware is the perfect cookware choice for baking enthusiasts. Its heavy duty steel construction helps give it a longer lifespan while also preventing warping in high heat situations, which can lead to uneven cooking results.
The materials used in Nutrichef bakeware are non-toxic and don't produce any unpleasant odors like some cheaper alternatives, making it safe and healthy to use in your kitchen. And thanks to its sturdy build and food grade carbon steel structure, you can be sure that these pans will last you through many batches of delicious treats.
What should you know?
Nutrichef Non-toxic Bakeware is the perfect solution for all your baking needs. This high quality bakeware set is made from heavy duty carbon steel, ensuring the pans remain strong and sturdy through regular use.
Plus, the heavyweight construction helps to prevent warping common in thinner aluminum or stainless steel materials. The unique features that make Nutrichef Non-toxic Bakeware stand out include its non-toxic and non-odor qualities as well as being oven safe.
It's PFOA and BPA free material also makes it an attractive option for those concerned about potentially hazardous chemicals migrating into their food during transferring from pan to plate. The intense heat created when using your nutrichef bake ware  will not alter its ingredients or leave unwanted residue during cooking! With effortless clean up you will be able to enjoy more time with friends and family while baking delicious foods with ease!
FAQs about the best Non-toxic Bakeware
We understand that you may have some questions about what non-toxic bakeware is, and how it can help improve your baking experience. This section will cover some of the frequently asked questions (FAQs) about non-toxic bakeware so that you can make an informed decision when selecting best non-toxic bakeware for your kitchen.
Why should I use non-toxic bakeware?
By using non-toxic bake ware in your kitchen there are many benefits to be had.
Firstly, this type of cookware means that you don't need to worry about toxins potentially leaching into your food as you prepare it. This not only makes the food taste better, but also helps protect your health in the long run.
Secondly, many non-toxic materials are designed to last longer than those made with toxic components which can lead to a more economical choice in the long run.
What is the best non-toxic bakeware on the market?
This is difficult to answer as everyone has different preferences when it comes to bake ware and there is no 'one size fits all' solution here. However, we recommend Teflon or Anodized Aluminum cookware for their durability and easy cleaning properties – both of these are considered safe for use around high temperatures and have a non-stick coating that makes food preparation easier and less messy. If you prefer something more natural then bamboo wood or ceramic would be good options too.
Is non-toxic bakeware more expensive?
Not necessarily; non-toxic bake ware can range in price depending on the material and quality. However, it is true that higher quality materials can come with a slightly higher price tag – this should be weighed against the long term benefits of an eco-friendly cookware solution as well as improved safety and durability of your meals.
Conclusion
In conclusion, the above-mentioned best non-toxic bakeware are great alternatives to traditional cook and bake ware.
Not only do they provide a safe option for preparing meals, but they also help to reduce the amount of toxins entering our bodies and the environment.
Making small changes like switching out your traditional bakeware for non-toxic options can make a huge difference when it comes to ensuring that you and your loved ones have access to safe, healthy food prepared in a healthy way.
*This site contains affiliate links. I may earn a small commission through links in this post.