Match Made in Heaven: Discover The 5 Best Matcha Whisks To Use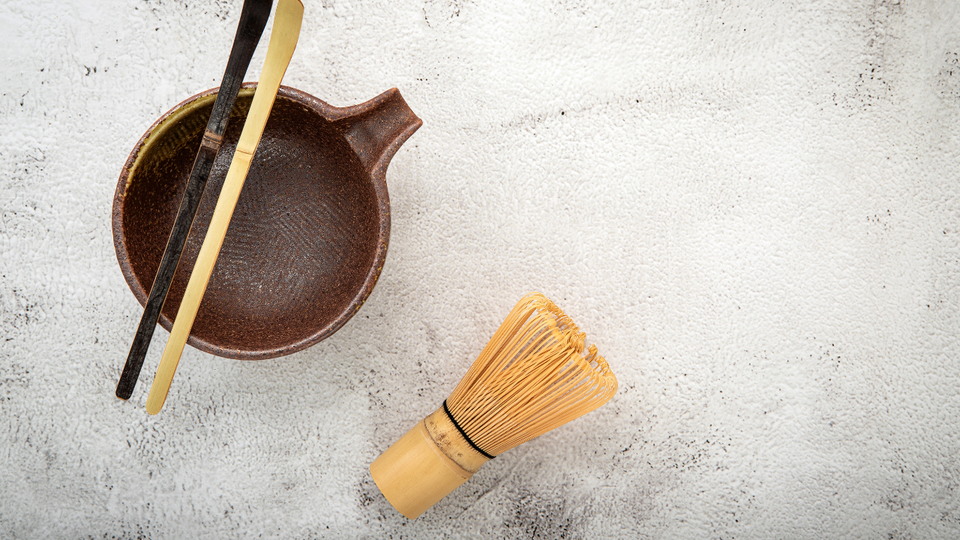 Matcha is a special type of tea with origins in Japanese culture. It is made from shade-grown green tea leaves that are ground into a fine, vibrant green powder. This differs from other varieties of teas as it's not brewed by exposing dried leaves to hot water, rather the powder is whisked directly into heated water to create an incredibly smooth and creamy beverage.
Notably, matcha has become increasingly popularized as an ingredient in many foods such as lattes, smoothies, ice cream and cake; however its most traditional use remains drinking 'ceremonial grade' matcha which requires specific utensils for preparation such as bamboo whisks and scoops often used during the formal ceremony associated with traditional brewing methods for this tea type.
Nevertheless if you don't have access to these particular tools at home 'culinary grade' matcha can still be enjoyed without too much fuss!
In this article, we will be looking at 5 best matcha whisks and we will also have a look at a buying guide to help you find the best one for your needs.
How we choose the best matcha whisk?
Are you searching for the ideal matcha whisk to enhance your matcha preparation experience? Selecting the perfect whisk can be challenging due to the various types available, all of which can impact the quality of your matcha.
In this informative blog post, we'll discuss crucial factors to consider when choosing the right matcha whisk to ensure you get the most out of your matcha preparation. We'll cover everything from size and shape to material and style, providing valuable insights into what makes a great matcha whisk.
Read on to discover the essential components of a high-quality matcha whisk tailored for an optimal matcha experience!
Material
If you're looking to make the perfect cup of Matcha, it's important to consider what material your whisk is made from. Matcha whisks are traditionally made from bamboo and are an essential tool for preparing authentic and delicious tea ceremonies.
By having a quality matcha whisk, you'll be able to properly blend all of the ingredients without over-whipping or under-mixing, giving you a smooth and creamy cup of Matcha every time!
Bamboo whisks also last much longer than metal whips and can even be used multiple times with proper care. When buying a matcha whisk, it's important to invest in one that will suit your needs best so that you can enjoy your cup of green tea for years to come!
Prongs
The number of prongs or bristles that a whisk has is an important factor to consider when preparing matcha.
The more fine the prongs, the easier it will be to make a smooth and foamy concoction; in fact, you can find available chasen with string counts ranging anywhere from 16 all the way up to 120.
Generally speaking, as the number increases so too does its efficacy in transforming tea powder into water and creating that signature soft peak of foam - making it ideal for beginners to opt for a whisk boasting around 70 prongs.
Shape
Matcha chasen whisks range in shape and design, making it important that beginners consider their selection with care.
Those with a slight curl at the tips are more suitable for creating foam than straight prongs or tines, yet it is still common to notice the chasen's shape naturally opening up and changing as you use it over time - quite normal!
To ensure your whisk retains its rounded appearance, we recommend investing in a whisk holder from the start.
Style
Good quality matcha whisks are essential for preparing the perfect cup of matcha. They are made with bamboo and special shapes that help to achieve a smooth consistency in the tea. However, not all whisks are created equal and style can be an important factor when selecting one.
The shape of the whisk itself plays an important role in the final results of your brew. A good whisk should have soft curvature so it can mix well with matcha powder and make it easier to dissolve into water or milk. The bristles should also be fine enough to aerate the liquid evenly, while also not being too short as this will create clumping and inconsistency in your drink's texture.
Style plays a big role when selecting a whisk because you want something that looks nice but is still practical at the same time. Quality matters more than anything else - look for sturdy ones made from durable materials like bamboo - but there's no harm in choosing something aesthetically pleasing if it meets your functional needs too!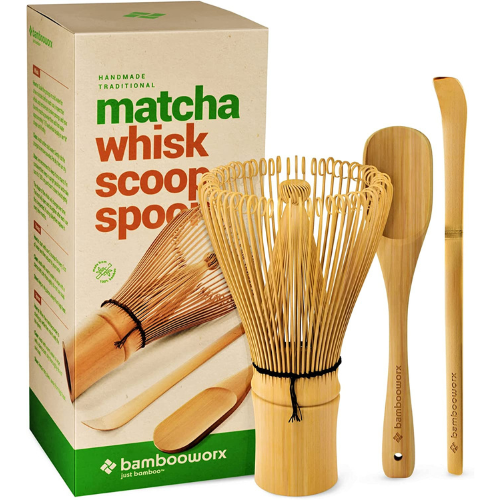 Quick Specifications
Bamboo whisk provides better, more delicious flavor than conventional metal whisks.
All natural bamboo with vegetable oil finish to enhance its durability.
Handcrafted pronged whisk produces the best crema and froth.
Why we love it?
The BambooWorx Matcha Whisk is the perfect tool for getting the most out of your matcha experience. This handcrafted, pronged whisk ensures that you get a smooth and creamy texture with every cup of delicious matcha.
By using this pronged whisk to properly aerate the powder while stirring, it produces rich frothy bubbles that enhance flavor and aroma.
What's more? The included scoop allows you to measure out just enough powder each time so your drink won't be too strong or not flavorful enough. Of course, there's also an included spoon for stirring when the matcha settles down at the bottom of your mug or bowl.
What should you know?
The BambooWorx Matcha Whisk is the perfect tool to make a frothy cup of matcha tea. This pronged whisk has been specially engineered for optimal agitation, creating the best possible cup of tea each and every time. Made from all natural bamboo with a vegetable oil finish to enhance its durability, it's an excellent quality whisk that will be sure to last you for years to come!
Not only does this high quality whisk make an amazing cup of matcha, but it also makes a beautiful gift; either as a luxurious treat for yourself or given as housewarming or birthday present. Your recipient will love having their very own traditionally-crafted Matcha Whisk which is sure to become part of their morning routine!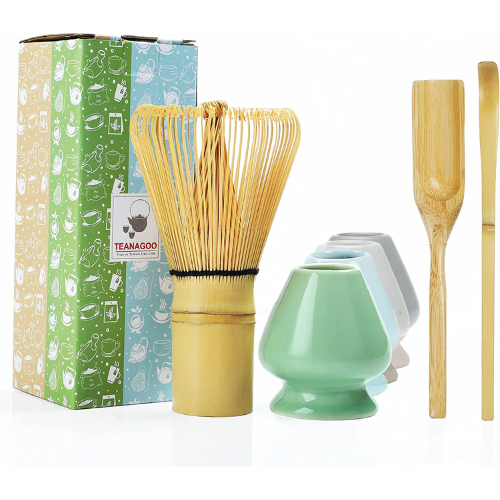 Quick Specifications
Handcrafted whisk with 76 fine tines for optimal agitation and frothing
Porcelain whisk holder made from 100% bamboo with vegetable oil finish to enhance durability.
Spoon for stirring Matcha when it settles or measuring in occasions like matcha cake
Why we love it?
TEANAGOO Matcha Whisk is the perfect tool to help make your matcha experience smoother and easier. It is a handcrafted whisk that has 76 fine tines, which are designed for optimal agitation and frothing of the matcha powder. The unique design ensures that it's easy to dissolve the powder into water completely so you get maximum flavor every time.
The TEANAGOO Matcha Whisk also comes with a scoop attached to its handle, making it convenient for measuring out just the right amount of tea leaves needed in each cup with minimal effort.
What should you know?
TEANAGOO Matcha Whisk is a must-have for the matcha aficionado. It's crafted with quality in mind, opting for a porcelain whisk holder that's made from 100% bamboo materials – perfect for easing into your morning routine. What's more, to ensure its durability and safety while also assuring it won't affect your health, the greens have been treated with vegetable oil finish and leads/cadmium free.
The beautiful design doesn't end there though as this perfectly functional piece of art comes presented in a nice color box packaging which makes it an ideal gift option considering how impressive it can make you look to anyone visiting your home! At only 10cm (4 inches), TEANAGOO Matcha Whisk fits nicely within any kitchen drawers when not being used.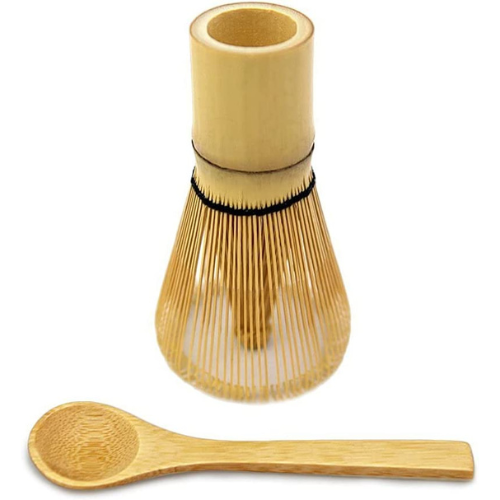 Quick Specifications
Handcrafted and traditional tool to prepare matcha
Made with strong and sustainable Golden Bamboo
Set includes one bamboo Chasen (Whisk) and one small spoon
Why we love it?
Matcha DNA Matcha Whisk is the perfect combination of handcrafted tradition and modern convenience. This traditional tool to prepare matcha is made using strong and sustainable Golden Bamboo, ensuring a long-lasting product that has been crafted with great care. The set includes one bamboo Chasen (Whisk) and one small spoon so all you need to do is whisk your way to perfectly brewed cup of matcha tea!
The detailed craftsmanship ensures that each swirl of the whisk creates a smooth consistency in your drink - for an unbeatable flavor every time. Not only will this traditional tool make sure you're getting the maximum flavor from each scoop of powder but also adds a touch of luxury with its refined design. From the intricate handle detail down to its ornate shoulders, this Japanese style utensil looks as fantastic as it works.
What should you know?
The Matcha DNA Matcha Whisk comes in a convenient clear tube that can be used for storage or display purposes when not in use. The whisk was specifically designed to be perfect for daily preparation of high-quality matcha green tea, with its 4 inch tall handle and 1 inch width being ideal for mixing it evenly together quickly and easily.
The set also includes an accompanying spoon - the Chashaku (teaspoon) – measuring at 4.5 inches long and specially designed with precision etched tines which ensures delicate clumps are broken apart without over-whipping the delicate powdery particles into the liquid form it needs to become before consumption.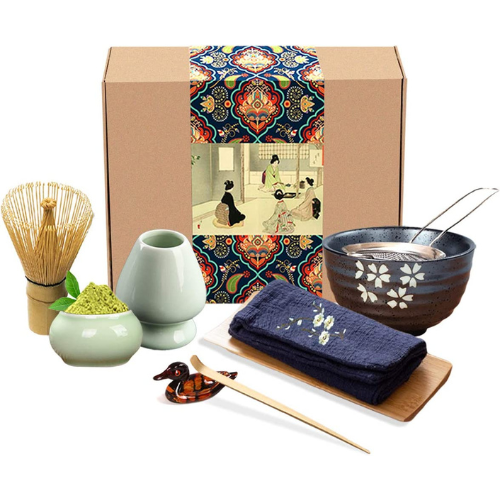 Quick Specifications
Construction of all natural bamboo with vegetable oil finish for increased durability.
Handmade bamboo and pottery craftsmanship.
It is extremely easy to clean.
Why we love it?
The complete set includes a matcha whisk, traditional scoop, matcha bowl, matcha powder caddy, ceramic whisk holder, tea cloth and holders. The use of bamboo gives this set an authentic look that perfectly complements any other items you may have in your collection.
The whisk is designed to give you the best possible taste out of every cup as it ensures that just the right amount of air is introduced into your mixture so there are no clumps or lumps when pouring your hot water over it. The wooden design also helps prevent splattering which allows you to enjoy each sip without worrying about messes created by inadvertent spills!
What should you know?
The Artcome Matcha Whisk is an amazing, authentic Japanese product that really stands out. Not only does it have the perfect design for preparing matcha tea, but its handmade bamboo and pottery craftsmanship are truly remarkable. This special item is sure to make any tea-loving friends or family smile with joy!
Its beautiful Japanese pattern packaging also makes it a great gift option. You can't go wrong when gifting something as unique and meaningful as this Matcha whisk. It's also guaranteed to be of high quality – if you're ever unsatisfied with your purchase, you can enjoy no questions asked refund or replacement policy so that you know it will last through many cups of tasty Matcha tea in the years ahead!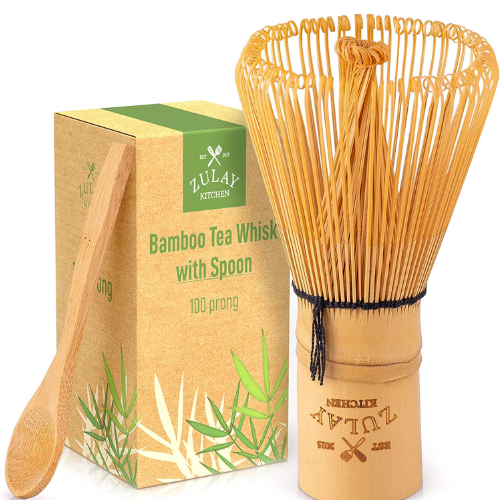 Quick Specifications
100 fine bristled prongs help oxygenate matcha mixture by stirring.
Durable, efficient and long-lasting quality.
Set comes with bamboo matcha tea whisk and bamboo spoon.
Why we love it?
If you've ever had the pleasure of enjoying matcha, then you know how finicky preparing it can be. The process involves whisking together a green powder made from ground tea leaves and water to create a smooth texture that unravels its rich flavor. This is why investing in the right tools are key – like Zulay Matcha Whisk!
One of its advantages is the robust construction with 100 fine-bristled prongs which helps oxygenate matcha mixture by efficiently stirring. It makes sure no clumps remain while blending, creating an exceptionally creamy blend that retains all its health benefits and antioxidants with every sip.
And because it's entirely crafted out of natural Moso bamboo material, there's absolutely zero risk of it affecting either taste or smell in any way.
What should you know?
Are you searching for a beautiful and effective matcha whisk tool? Look no further.
The Zulay Matcha Whisk set comes complete with a bamboo matcha tea whisk and bamboo spoon, perfect for frothing the traditional Japanese green tea drink.Before using it, place the chasen in hot water to soften up the bristles of its prongs for an easier and smoother application when making your cup of matcha.
Plus, this device is so compact that its clear tube container can be stored quickly or taken with you on-the-go without losing shape! For anyone looking to master the art of traditional matcha preparation while also having something practical and attractive, this product could not be more suited.
FAQs about the best matcha whisks
Are you wondering which whisk is best for making your matcha? Look no further; this blog section will cover frequently asked questions about the best matcha whisks, so you can choose the right one and enjoy your perfect cup of tea. Read on to find out more!
Is it OK to use metal whisk for matcha?
While matcha has traditionally been whisked with the traditional chasen, a metal whisk can also be used. It's important to note that some people find it hard to achieve the same frothiness using a metal whisk as they would with a bamboo one and there is also potential for harder clumps of matcha powder due to its coarser texture. However, if you are in need of an alternative or just prefer the convenience of using a metal whisk then it is perfectly acceptable and will still create a beautiful cup of tea. With either type of whisk, make sure you always use gentle and even strokes for best results!
How often should I replace my matcha whisk?
It's a good idea to replace your matcha whisk, also known as a chasen, every few months. This helps to ensure better flavor and consistency in your matcha beverages. When it comes to how often you should replace the whisk depends on two things: how often you use it and how well do you take care of it. If you use it frequently or if you don't clean thoroughly after each use, then replacing your whisk more often may be necessary. On average one should aim for once every three months depending on usage.
Should I wash my matcha whisk after every use?
Yes, you should wash your matcha whisk after every use. Not only will it help keep the whisk hygienic and free from germs, but it also helps maintain its longevity and performance. If left unchecked, dirt and residue can accumulate on the whisk which can lead to an unpleasant flavour in the final cup of tea.
To clean a matcha whisk, simply rinse with lukewarm water. Do not use soap or any harsh cleaners as these may damage or corrode the metal filaments of the brush. After rinsing off any residue, dry off excess water with a soft cloth before storing to prevent rusting or deterioration of the bristles over time.
Conclusion
In conclusion, if you are searching for a and traditional Matcha whisk to make perfect, frothy tea every time then these 5 best matcha whisks listed above can help you do just that.
Whether you prefer an authentic bamboo Chasen matched with a Natsume, or you love the convenience of a stainless steel matcha whisk, there is something here for everyone. Enjoy your delicious cup of green tea made from scratch!
*This site contains affiliate links. I may earn a small commission through links in this post.