The 5 Best Griddle Pans for Cooking Pancakes, Bacons, Eggs and More!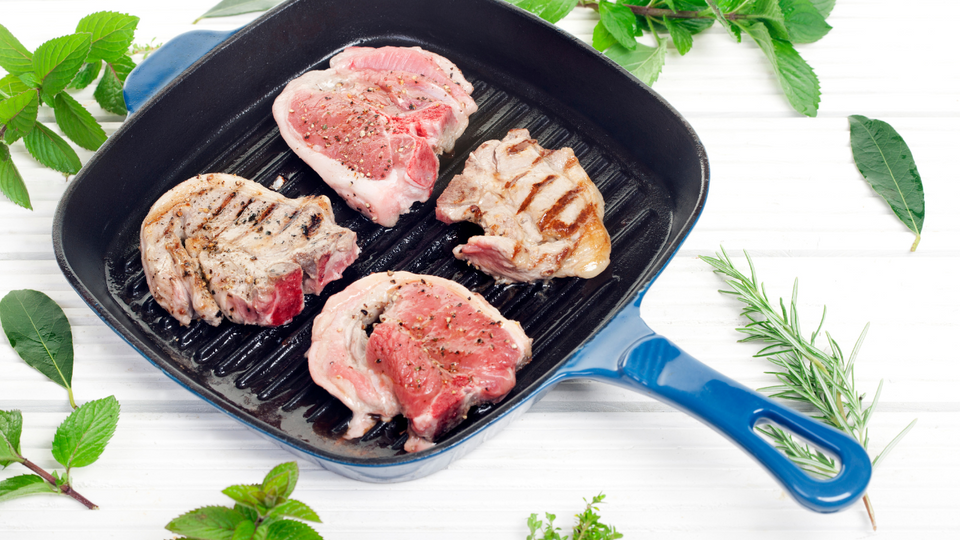 A griddle pan is a flat, round cooking surface that can be used on the stovetop. It usually has raised sides so that food doesn't slide off, and it can be made of various materials including cast iron, aluminum, or stainless steel.
Griddle pans are great for cooking things like pancakes, burgers, grilled cheese sandwiches, and more. So, in short, its a very useful and versatile too for the daily kitchen. But, how to choose the best griddle pan that is versatile and durable yet doesn't burn a hole down your pocket?
Well, that's what today's article is all about. Today, we will list down the 5 best griddle pans that money can buy in 2022. Also, there will be an attached buying guide to further narrow down your decision. So, without further ado, let's get started!
How we choose the best griddle pan?
So, how do we choose the best griddle pan? Well, to boast a bit, we have personally reviewed over a 100 griddle pans from bestsellers on Amazon. And, from those 100, only 5 have made to our final list.
We made our reviews based on three important criterions: size and space, material and coating. So, how do these factors affect your purchase? Well, let's find out!
Size and space
When it comes to choosing the best griddle pan, size and space are the two most important factors to consider. The last thing you want is to end up with a pan that's too small or too large for your needs. If you're unsure of what size griddle pan to buy, it's always best to err on the side of caution and go for a larger option.
That way, if you find yourself cooking for more people than expected, you'll be covered. Conversely, if you choose a smaller pan and then have leftovers, they can easily be reheated in the oven or on another burner. As far as space goes, again think about how much food you typically cook at one time.
If you frequently make big batches of pancakes or burgers, opt for a square or rectangular griddle so there's plenty of room to work. However, circular models are just fine if all you need is enough surface area for a few eggs or grilled cheese sandwiches.
Material
Material is the next most important consideration while choosing a griddle pan. Different materials have different benefits and drawbacks, so it's important to choose one that will suit your needs. Here's a rundown of some of the most popular materials used for griddle pans!
Stainless steel: Stainless steel is durable and easy to clean, making it a great option for busy cooks. It also heats up evenly, so you can cook without worrying about hot spots. However, stainless steel can be prone to sticking, so you may need to use more oil than with other types of pans.
Cast iron: Cast iron is another durable option that heats up well and doesn't stick easily. It's also relatively inexpensive compared to other options on the market. However, cast iron can be heavy and difficult to maneuver if you're not used to cooking with it. Additionally, it requires regular seasoning maintenance in order to prevent rusting.
Non-stick: Non-stick pans are coated with a material that prevents food from sticking, making them ideal for delicate foods or those that tend to stick (like eggs). They're also easy to clean, since you won't have to scrub away stuck-on bits of food. However, non-stick coatings can eventually wear off with use and repeated cleaning, so they may not last as long as other types of griddle pans.
Ease of cleaning
Ease of cleaning is yet another important factor to note while looking for the best griddle pan. After all, who wants to spend hours scrubbing away at a dirty pan?
A good griddle pan should have a smooth surface that is easy to wipe clean and doesn't require any special cleaners or scouring pads. It's also important to choose a pan with raised edges so that food doesn't spill over onto your stovetop.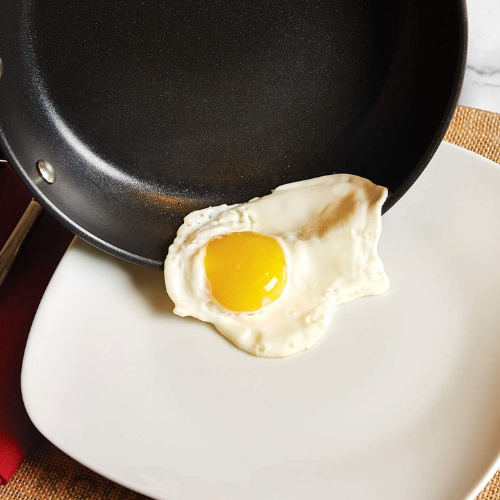 Quick Specifications
Can withstand temperatures up to 500°F
Features 3 layers of PFOA free non-stick coating
Compatible with gas, electric or even ceramic cooktops
Why we love it?
The All-Clad E7951364 HA1 Square Griddle Cookware is the perfect addition to your kitchen. With a heavy-gauge hard anodized surface that prevents uneven heating and three layers of safe and PFOA free nonstick coating for easy release; this square griddle makes cooking a breeze.
Its also oven safe for up to 500°F and compatible with gas, electric, or ceramic cooktops (not induction), making it the versatile choice for any home chef. Meals will slide right off without stirring or using excessive oil thanks to the three layers of nonstick coating.
So, if you are looking for an affordable and hassle free griddling solution, the All -Clad E7951364 HA1 is the ideal buy!
What should you know?
The All-Clad E7951364 HA1 Square Griddle is a high quality cookware item that will last you for many years. It features riveted handles for a safe grip, and is dishwasher safe.
However, All Clad recommends handwashing with mild detergents and nonabrasive pads to preserve the nonstick performance. The griddle also comes with a limited lifetime warranty. So, go ahead and add this beauty to your kitchen collection!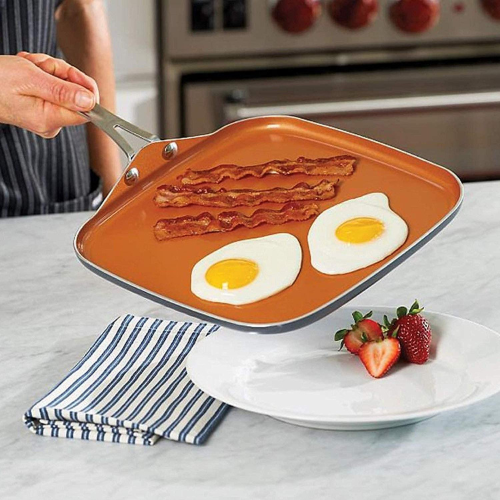 Quick Specifications
PFAS, PFOA and PTHE free
Durable non-stick coating
Highly versatile
Why we love it?
Introducing the Gotham Steel nonstick griddle pan! This ultra nonstick griddle is coated three times with a mineral coating for the ultimate in nonstick performance.
The healthy mineral nonstick coating is free of PFAS, PFOA, lead and cadmium, making it a safe choice for your kitchen. It's even durable enough to withstand metal utensils, spatulas spoons whisks and even electric beaters!
So, if you are looking for the best griddle pan, this one could be a perfect contender!
What should you know?
If you're looking for a top-quality nonstick griddle pan, Gotham Steel is a great option. This pan is dishwasher safe for easy cleanup, and its lightweight design makes it comfortable to use.
Plus, it's free of PTGE, PFOA, and PFOS chemicals that can be harmful to your health. With its excellent nonstick properties, this pan is perfect for cooking pancakes, eggs, bacon, and more!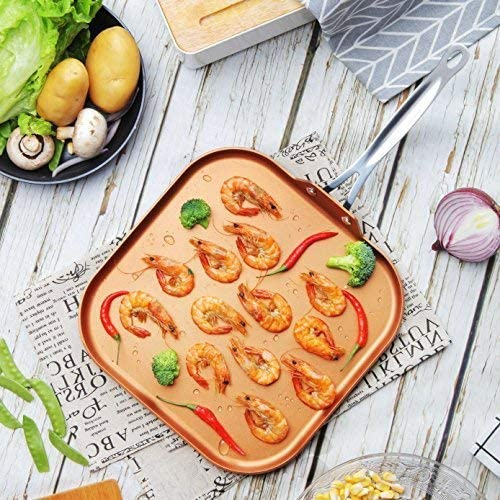 Quick Specifications
Oven safe for up to 350°F
PFOA, lead and Cadmium free
Features thick aluminum cores for even heat distribution
Why we love it?
Looking for a griddle pan that is PFOA/Lead/Cadmium free? Look no further than the COOKSMARK 11-Inch Copper Griddle Pan. This premium nonstick pan has a copper interior surface that is ultra durable and highly scratch -resistant.
The thick aluminum core ensures fast and even heat distribution, making it ideal for everyday use. You can cook omelets, fish, chicken, beef, vegetables, meat & cakes in this versatile pan.
So, if you have long wanted a griddle pan for daily use, this one could be the perfect fit!
What should you know?
The COOKSMARK 11-Inch Copper Griddle Pan is a versatile and durable kitchen tool that can be used on most stovetops, including induction hobs.
It features a comfortable stainless steel handle that stays cool while cooking, as well as a hanging loop for convenient storage. The griddle is also oven safe up to 350℉. This griddle is perfect for cooking multiple items at once, and its dishwasher safe construction makes cleanup a breeze.
Whether you're making pancakes for breakfast or grilled cheese sandwiches for lunch, this COOKSMARK griddle pan is sure to make cooking even more fun!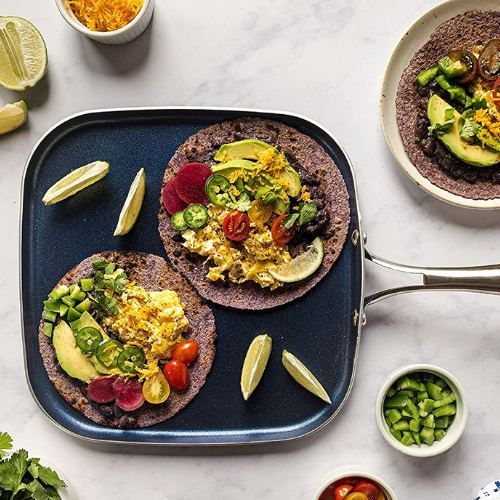 Quick Specifications
Oven safe up to 500°F
The surface is super durable
Comes with a 10 year limited warranty
Why we love it?
Finding a healthier alternative to your usual nonstick cookware? Look no further than the Granitestone Griddle Pan! This unique cooking surface is derived from minerals and reinforced with diamonds, making it free of PFOA, PFOS, lead & cadmium.
It's also super durable, able to withstand metal utensils and even electric beaters while still delivering years of outstanding nonstick use. And because there's no need for oil or butter when cooking on this pan, it makes for a healthier eating experience overall.
So, whether you're whipping up pancakes for breakfast or grilling some chicken breasts for dinner, the Granitestone Griddle Pan is a must have for any kitchen.
What should you know?
If you enjoy cooking pancakes, eggs and bacon or plan on making a quick grilled cheese sandwich, then the Granitestone Blue Nonstick 10.5-inch Griddle Pan is the perfect cookware for you.
This pan has unique Y-shaped handles that lets heat escape and keeps the handle cool to touch. The aluminum composition ensures even heat distribution throughout the cookware with no dead zones or hot spots. Plus, this grill pan is dishwasher safe and can also be placed on any stovetop besides induction – it's oven safe up to 500°F!
And if that wasn't enough, it even comes with a 10 year limited warranty so you can purchase with confidence knowing your investment is protected!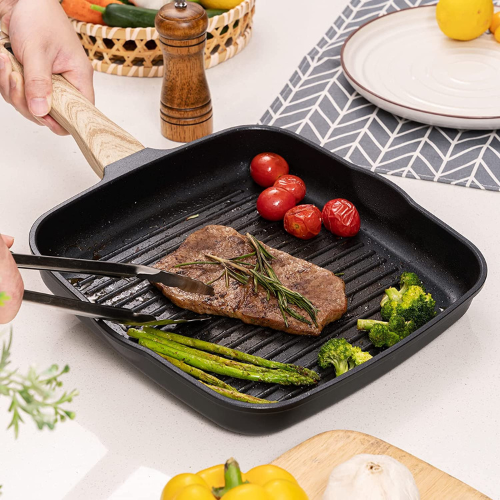 Quick Specifications
Eco-friendly and easy to use
Crafted from high quality cast aluminum
Easy to clean and dishwasher safe
Why we love it?
The Sakuchi 11 Inch Griddle Pan is eco-friendly and perfect for those new to grilling or who want an upgrade from their current grill pan.
Made from high quality cast aluminum with a heat resistant, stay cool handle, this grill pan is also oven and dishwasher safe ensuring easy cleanup. The lack of rivets on the inside make it even easier to clean up after cooking and the hanging ring means you can easily store it away when not in use.
With a 100% PFOA Free construction, this is one health conscious grill pan that will have everyone asking how you managed to get your steak so juicy!
What should you know?
The Sakuchi 11 Inch Griddle Pan is a high quality grill pan that will provide you with many years of service.
The parallel ridges on the grill pan provide more than 50% oxygen contact between food and the pan. This means that your food will be cooked evenly and quickly. The double pour spouts on both sides of the grill can filter out excess grease, making cleanup a breeze.
Furthermore, if there are any problems with the product, you can contact Sakuchi's service team for a refund at any time. This makes it an excellent contender for the title of the best griddle pans!
FAQs about the best griddle pans
Still confused on which griddle pan to choose? Well, we have specially curated this FAQ section about the best griddle pans that will answer some common queries about griddle pans!
What's the best material for a griddle pan?
If you're looking for a griddle pan that will last you a lifetime, then steel is the best material to go with. Steel griddle pans are incredibly durable and can withstand high temperatures, making them perfect for cooking up large quantities of food at once.
Plus, they distribute heat evenly across the surface so you'll never have to worry about hot spots or uneven cooking.
What is the difference between a grill pan and a griddle pan?
A grill pan is a type of frying pan that has raised ridges on the bottom, which allows it to mimic the effect of cooking over an open flame. A griddle pan, on the other hand, is a flat-bottomed frying pan that's typically used for pancakes and eggs.
If you're looking for those characteristic grill marks on your steak or chicken, then a grill pan is definitely the way to go. The ridges help to create deep sear lines that give grilled food its signature look.
Griddle pans are better suited for foods that don't benefit from being seared in the same way. Pancakes, for example, are often cooked on a griddle so that they can evenly brown without developing too much of a crust.
Is a griddle pan better than a frying pan?
If you're debating whether to use a griddle or frying pan for your next meal, it's important to understand the difference between the two. A griddle is a large, flat cooking surface that is typically heated by gas or electricity.
Griddles are often used in commercial settings such as restaurants because they can cook multiple items at once. Frying pans have sloped sides and are usually smaller than griddles. They also have a handle for easy flipping and tossing of foods.
Frying pans are better suited for cooking smaller quantities of food and achieving a more even cook on both sides of the food.
Conclusion
So, there you have it: our top 5 picks of the best griddle pans!
If you are looking to buy one that perfectly suits your needs, look no further than these 5 options mentioned above!
*This site contains affiliate links. I may earn a small commission through links in this post.