Best Gluten Free Bread Machine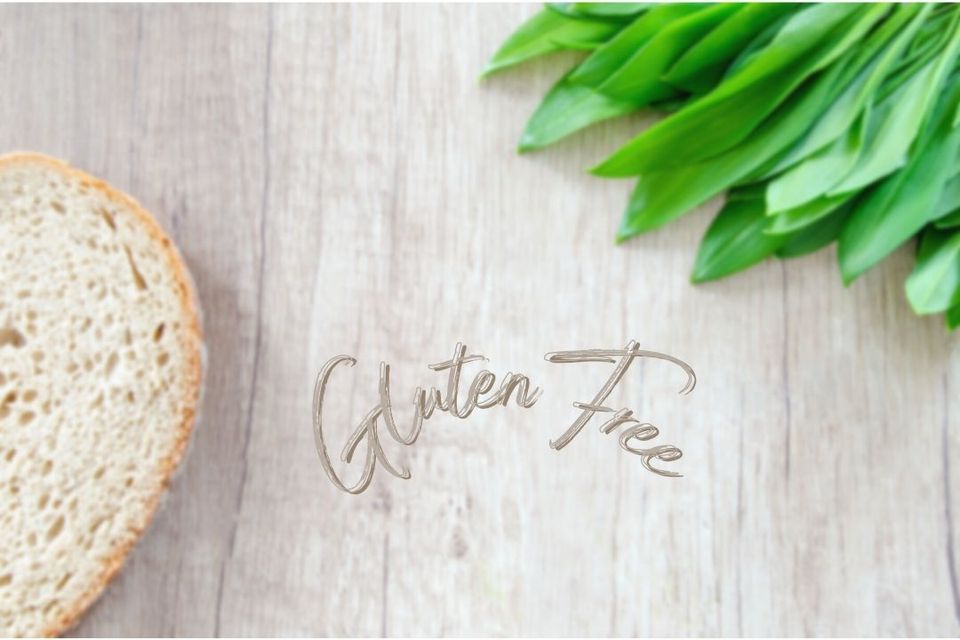 One of the best things you can do for yourself and your family is to make delicious, nutritious gluten free bread. Making wheat free bread can be slightly different from making regular loafs. There are machines with gluten free bread settings and features that we will be looking at. The right machine can save you tons of money and serve up fresh delicious homemade bread, especially if your family needs to go gluten-free.
With the increasing number of people who have Celiac disease or a wheat allergy at a steady pace, the number of people interested in making gluten free bread has also increased at a steady pace. This also gave an opportunity for brands to come up with functions and features that make their products more appealing to or market specifically to the gluten free community.
Benefits of Using a Gluten-Free Bread Machine
There are several benefits to using a gluten-free bread machine. The obvious reason is that you can make fresh aromatic bread whenever you want. You would also be able to select the best ingredients, making your gluten-free bread the tastiest and most healthy for your family.
A gluten-free bread machine can cut you hours spending in the kitchen kneading and keeping watch on the rising dough to a minimal. Making your favorite breads and rolls can be as easy as pouring the right ingredients in the appliance.
You can create your own special recipes or make your favorite type of bread in the right proportion right for your family. Whether you prefer a light crust or a darker crust, most bread makers include a setting for you to customize for your perfect loaf. A quick change of settings on the machine can add different varieties to your meals.
If you have family members that have gluten sensitivities, you can might be able to get a separate pan to eliminate the risk of cross-contamination.
And last but not least, bread machines are very affordable these days and depending on how much you use it, you may be able to save hundreds of dollars a year in grocery bills. A bread maker is an excellent choice for those who want to control the ingredients and make their own healthy, delicious bread at home.
How we made our selection
Homemade bread is fresh and tastes a million times better than store brought breads, especially the frozen gluten-free bread you find at the freezer isle. The best thing about making your own gluten-free bread is that you can customize it so you can make your favorite breads. You don't have to settle for the same kind of bread that everyone else is eating because you can customize it to suit your taste.
When looking for a bread maker, make sure that you are searching for one which includes features that will satisfy your needs. Our team has scoured through many reviews on gluten free bread makers and came up with the following picks that will hopefully help you narrow down the best gluten free bread machine for your needs.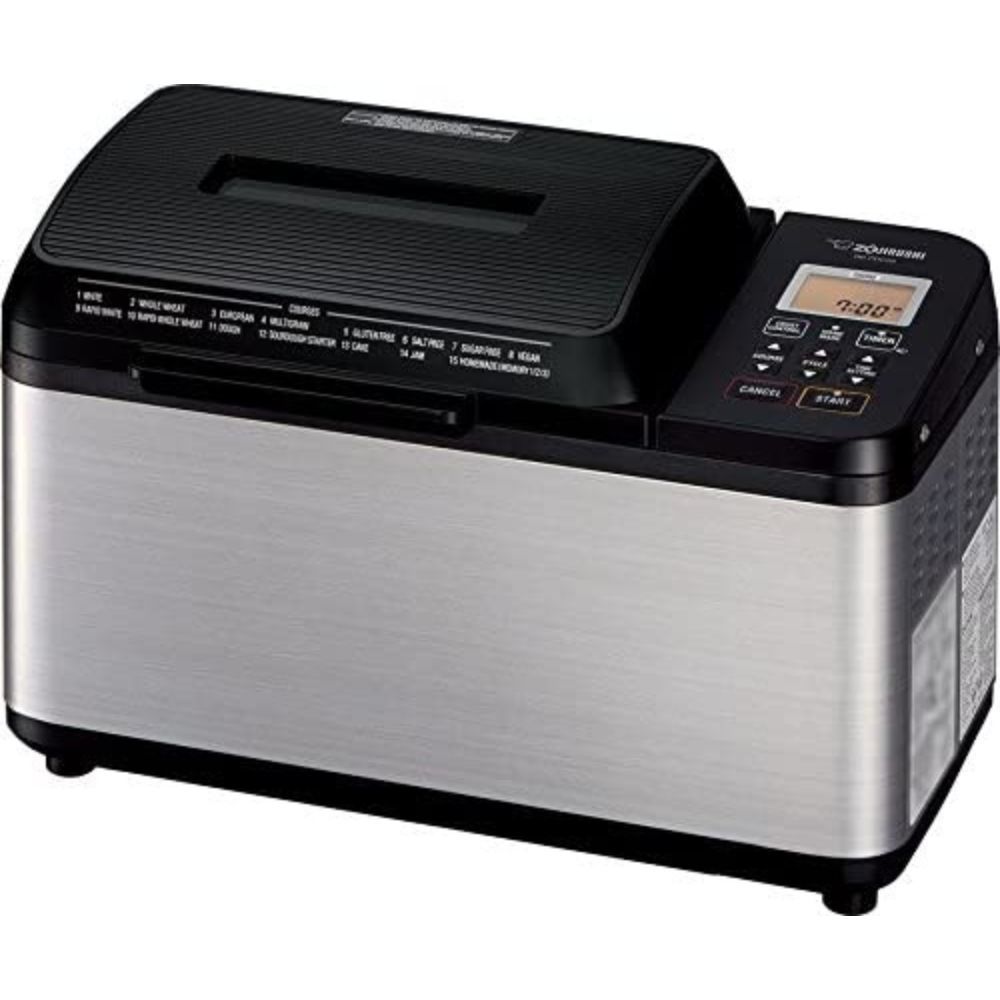 Top Choice
Zojirushi Home Bakery Virtuoso Plus with Gluten Free setting
Check Deal on Amazon
What caught our attention
The Zojirushi Home Bakery Virtuoso bread maker has been engineered to give you the best results every time. The advanced heating element is designed to provide even heat distribution, resulting in a more consistent baking process and superior crust.
Whether you are a beginner or a experienced baker the Zojirushi Virtuoso can help you achieve it with its technical capabilities. The intuitive touch screen display is easy to use, and offers quick access to all the menu options.
The Homemade programmable settings allows you to create your own unique recipes, adjust the knead, rise, crust shade and bake times and you'll have consistant results each time. You can make a variety of things, including whole wheat, pizza, bagels, cinnamon rolls, biscuits, muffins, and much more.
So start baking and enjoying delicious fresh bread without having to block up the whole day. And free yourself from cleaning the mess by letting the break maker do the baking and the dishwasher do the cleaning.
Specs and Features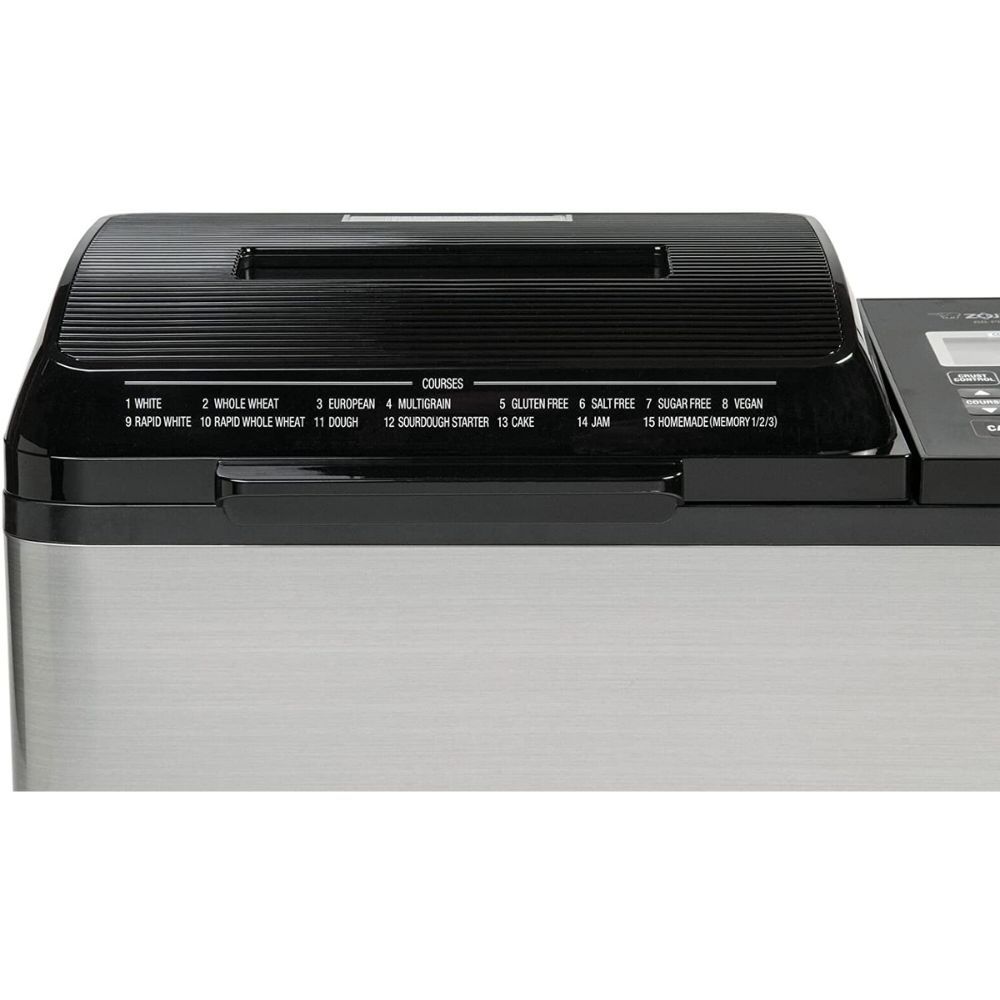 2 lbs capacity
13 hr delay timer
Crust control
Recessed handles for easy transport
LCD display
Rapid setting to have your loaf ready in under 2.5 hrs
Double kneading blades
Dual heaters
Removable nonstick bread pan
Large viewing window
14 Various course preset cycles
3 Programmable preset cycles
3 loaf options
Recipe book included
700 W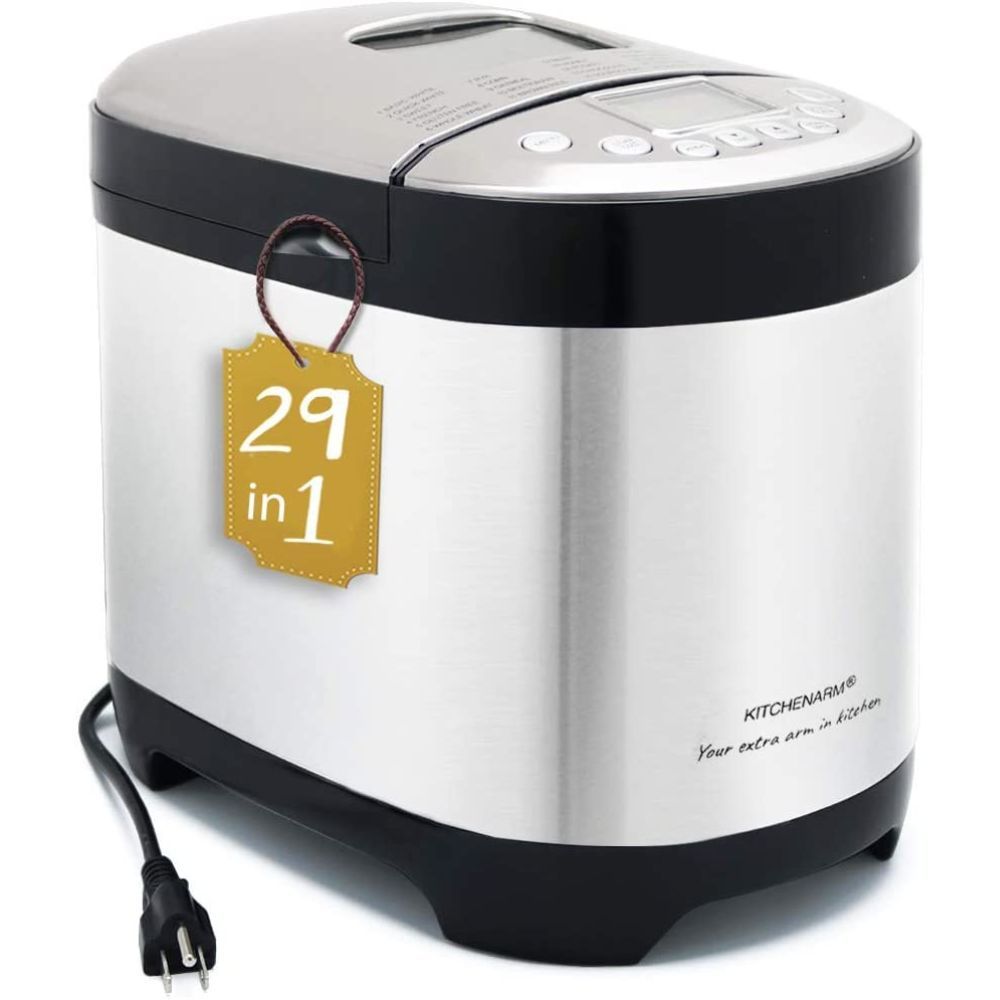 Best Value
KITCHENARM 29-in-1 SMART Bread Machine with Gluten Free Setting
Check Deal on Amazon
KITCHENARM 29-in-1 SMART Bread Machine with Gluten Free Setting
Best value Gluten free bread machine
What caught our attention
The KitchenArm 29-in-1 smart bread maker comes at an affordable price and maximum convenience. This bread machine has 29 different preset cycles for 21 different types of bread, 7 non bread cycles and a custom setting for you to preprogram your favorite recipe.
It allows you to make bread, sourdough, dough, jam, ciabatta, pasta, cake, yogurt, and more with the push of a button. The KitchenArm can also handle fresh fruits and vegetables to make your perfect zucchini bread or banana bread.
You just need to put the ingredients in the machine, choose the desired pre-program settings and wait for your perfect bread.  No need to knead, monitor the rise, or make a mess in the kitchen. The KitchenArm 29-in-1 Smart Bread Maker is the perfect quick solution to a busy home that provides a great healthy alternative to store bought bread.
Specs and Features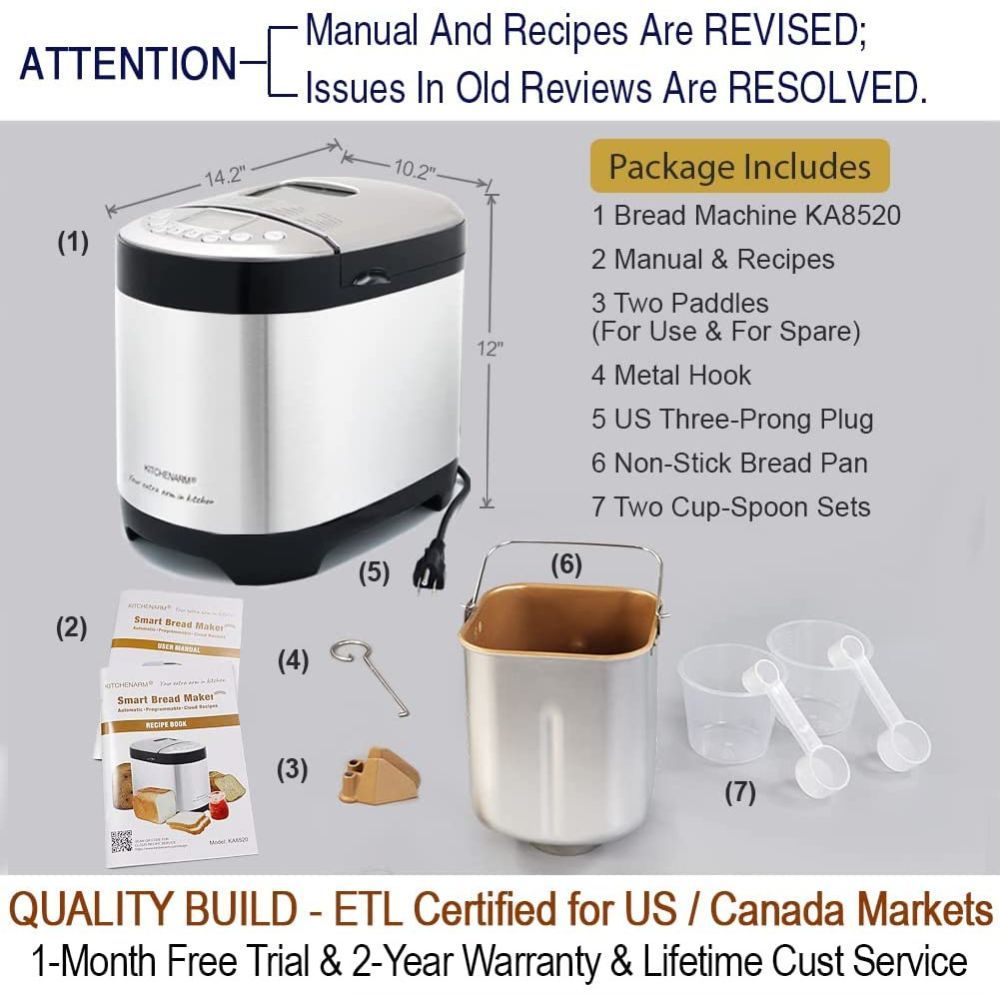 29 pre-programmed settings
3 loaf options
Stainless steel exterior
Non-stick interior
3 crust shades
Delay start & countdown timer
Digital display
550W
2 year product warranty
Lifetime free customer service
Recipes included online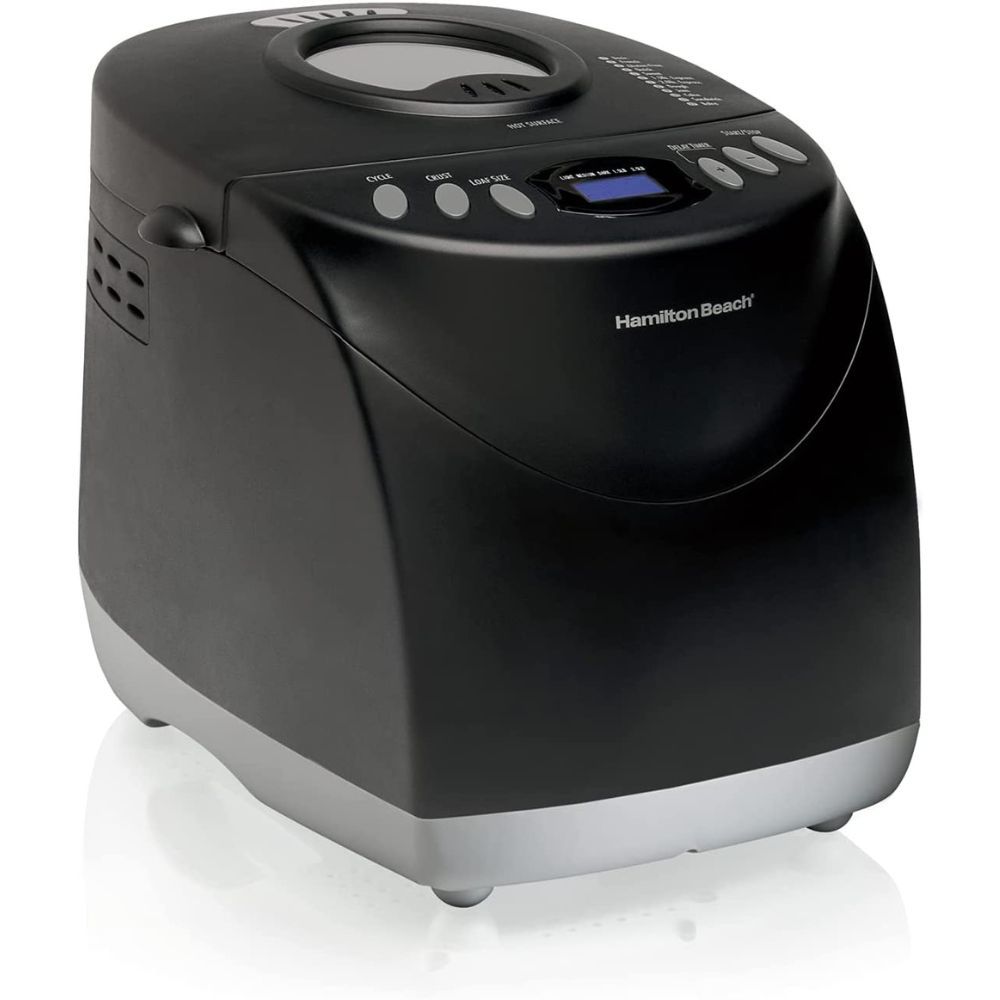 Most Reviewed
Hamilton Beach Bread Maker Machine with Gluten free setting
Check Deal on Amazon
What caught our attention
The Hamilton Beach Bread Maker was rated at four and a half stars out of five, plus got an impressive sixteen thousand plus high ranking reviews. Most of the users found it easy to use and consistently lives up to their expectations.
The Hamilton Beach bread maker is a kitchen appliance that will help you make the most delicious bread for your family. It is affordable and easy to use, with 12 presets including a gluten-free cycle. You can have homemade bread in just 3 simple steps: add ingredients, select the cycle and press start. With the versatility of this machine, make anything from gluten free bread, dinner rolls to dough prep and cakes.
This bread maker is also easy to clean and is dishwasher safe. Serve your family nutritious, healthy and preservative-free bread every time. A great choice for those who don't want to spend a fortune.
Specs and Features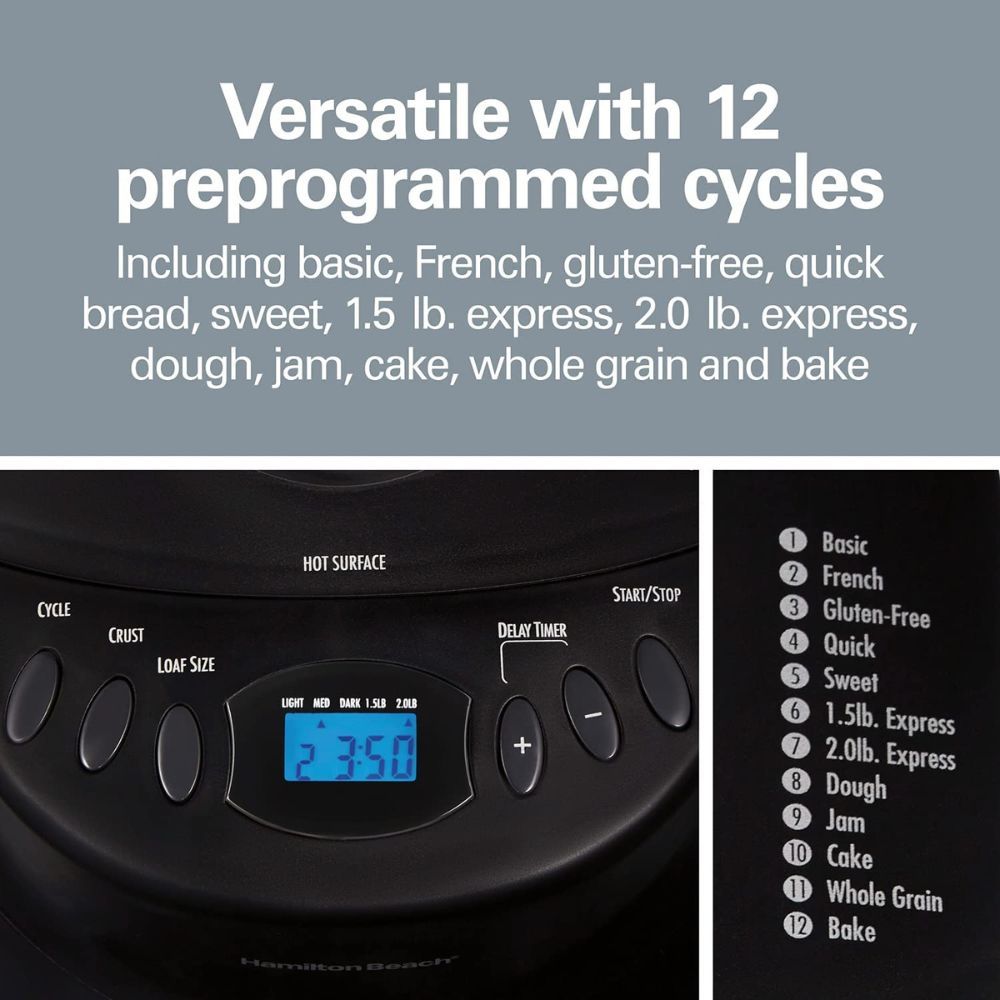 12 pre-programmed cycles
Delay timer
LCD display
1.5lb or 2 lb loaf options
3 crust settings
Bread pan and kneading paddle are dishwasher safe
Recipes included
600 W
1 yr warranty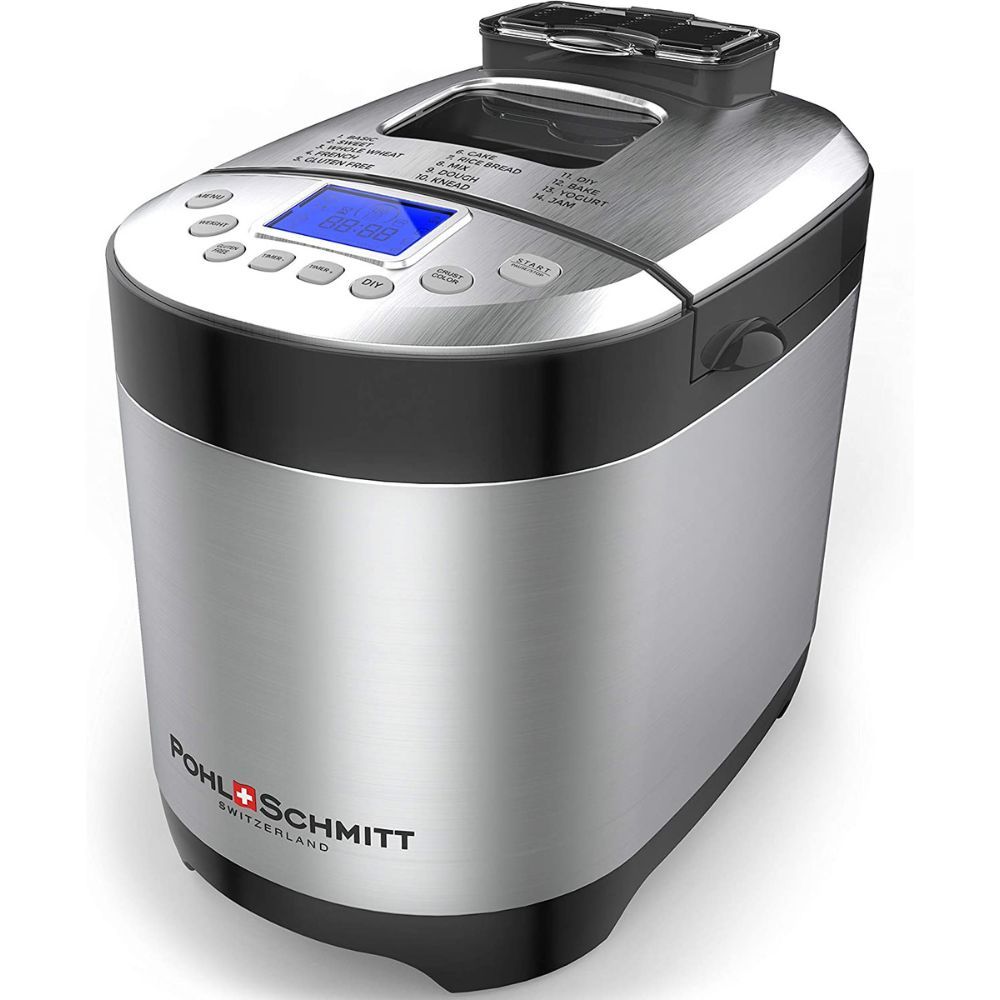 Best Gluten free bread machine with Dispenser
Pohl Schmitt Stainless Steel Bread Machine/Bread Maker
Check Deal on Amazon
What caught our attention
The Pohl-Schmitt bread maker is great kitchen gadget for creating bread recipes, especially for those looking for unique options. Making specialty bread with the built-in dispenser, is just as easy as measuring out the desired amount.  You don't have to worry about mixing the ingredients, kneading the dough, or even rising the dough. All you have to do is put in the ingredients and press start. The bread maker will do the rest.
The best thing about this machine is that you can fully program and adjust the settings and even make your entire breakfast. This bread maker has customized cycles from basic breads and sourdough to also make spreads, jams and even homemade yogurt.
The removable non-stick pan makes it convenient and easy to clean up, so you can experience your master-piece sooner.
Specs and Features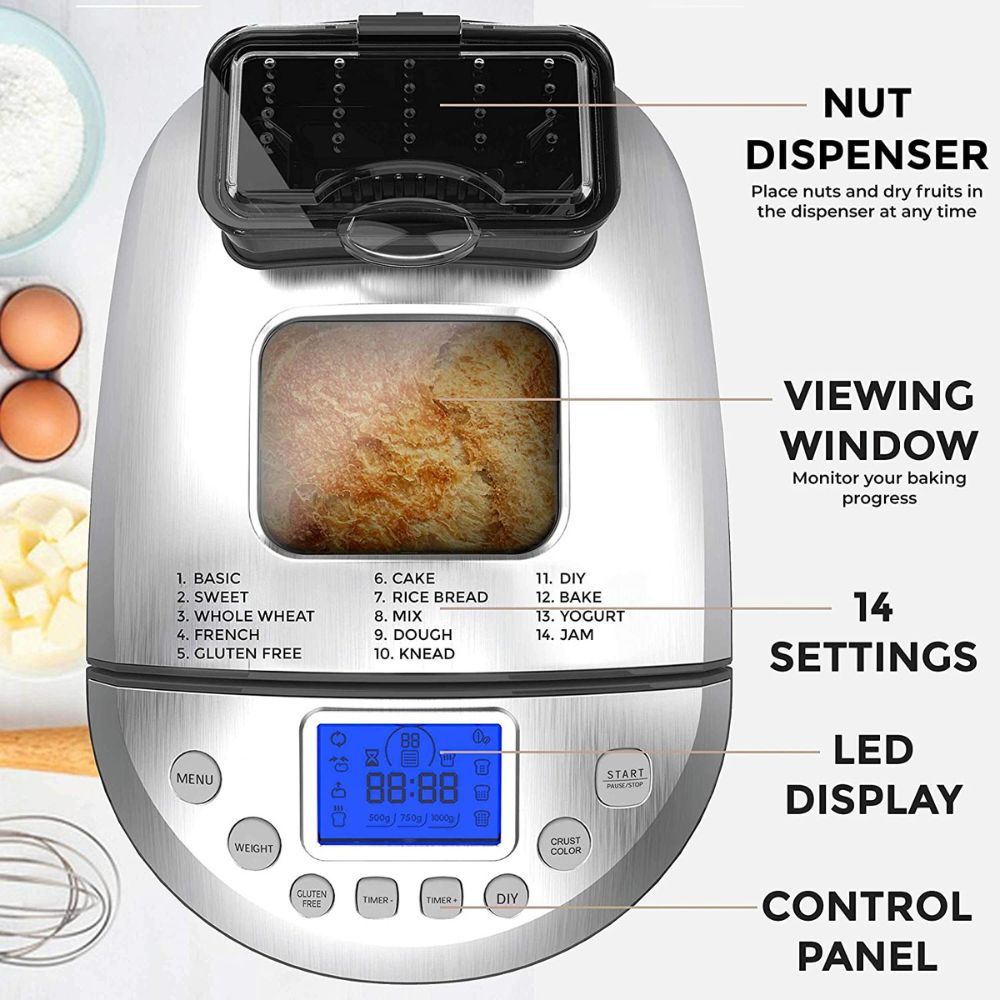 2 lbs capacity
14 pre-programmed settings
Fruit & nut dispenser
Nonstick pan & Nonstick paddle
3 loaf options
3 crust shades
LED display
Delay timer
Viewing window to monitor progress
Keep warm function
Recipes included
Tips for making Gluten Free Bread with Bread Maker
Making gluten free bread with a bread maker has it's quirks and challenges. Many have struggled to get the perfect results they would like to see using the bread maker. Here are some basic tips that might improve your outcome.
Gluten free dough are not meant to have a second rise nor a punch down. However, many pre-programmed settings on the bread maker still have a second rise and punch down cycle. If your machine includes a feature for customized settings, you may want to program your own cycle.
If your machine comes with nonstick paddles or nonstick pans make sure that there are no scratches on them as this can house contaminants in them that may cause someone who is sensitive to gluten to react negatively.
A bread maker with a gluten free setting does not necessarily mean that it will bake a better loaf. The perfect loaf might depend on the basic recipe that you use, how the dough was kneaded and the heat distribution in the machine.
Always have all your ingredients at room temperature before making the dough, especially for recipes with yeast. As cold temperature may prevent full yeast growth.
You will want to be taking the temperature of your bread, making sure it's over 205°F before you take it out of the maker to prevent under baked dough.
Gluten Free Bread Maker FAQs
Gluten free bread can be a little more finicky to make but there are machines built to handle it. We know you probably have many questions surrounding gluten-free bread making. We've created a list of frequently asked questions to help you choose the best gluten free bread maker that meets your needs. Everybody has different needs and this list will help you narrow down which best fits the functionality most important for you.
Can I make gluten free bread in a bread-maker?
Yes you can! Some bread-makers would even have a setting specifically for making gluten free bread.
Do all bread machines have a gluten free setting?
No, not all bread makers have gluten-free settings but the newer models tend to have it, as more and more people are becoming wheat sensitive.
Is it cheaper to make your own gluten free bread?
Making your own gluten free bread is definitely cheaper than buying a pre-made loaf. It is also an healthier option and tastes better.
Many people prefer to make their own bread because they want to control the ingredients. If you are going to buy a bread maker, you will want to look for a bread maker that makes gluten free bread.
What flour has no gluten?
Almond Flour, buckwheat flour, Sorghum Flour, Amaranth Flour, Teff Flour, Arrowroot Flour, Brown Rice Flour, Oat Flour, Corn Flour and Chickpea Flour.
Does gluten free bread bake faster?
Every recipe is different but gluten free bread only need a single rise so getting the dough ready to bake might be quicker. But they tend to also brown faster so many will adjust the temperature lower and leave it in the oven longer.
Do you need a gluten free cycle on a bread maker?
No, it is not needed as long as you have a good recipe. However, a gluten free setting on a bread maker will be a great option if you have a wheat allergy or sensitivity. A gluten free setting is a great feature that makes it easier to use and allows you to make consistent gluten free bread.
Why is my gluten free bread not rising in the bread maker?
There may be a number of reasons.
It is possible that the yeast you're using is old and no longer active.
You might have omitted ingredients.
You've used the regular bread setting on the bread maker
You had let the bread maker do a punch down and a 2nd rise cycle
What are the best flours to use for gluten free bread?
The best flour to use for your bread maker is a 100% gluten free flour blend. This type of flour is made mainly from corn starch, potato starch, tapioca starch, rice flour, and xanthan gum. It will make your bread rise just like traditional bread. You can find this flour blend at most grocery stores.
People have recommended these brands: Pillsbury, King Arthur, Cup4cup Multipurpose flour, Bob's Red Mill or Namaste.
Can I freeze gluten free bread?
Yes, you can freeze gluten free bread. Just try and make sure you get air out of the bag before you put it in the freezer.
What is the best way to reheat gluten free bread?
Heat the bread in the microwave or in a toaster oven without thawing. It will take a little longer but don't over heat.
How long does it take to bake bread in a bread maker?
It will depend on the type of bread machine you have. Some bread makers take as little as 1 hour to make the bread while others can take up to 5 hours. So if you are in a hurry, you might want to consider buying a bread maker that features a shorter cycle time.
What is the difference of a bread maker with one paddle vs two paddles?
A bread maker with two paddles is more efficient than a bread maker with one paddle. With two paddles, you can ensure that the dough is kneaded thoroughly and evenly.
Does baking the bread in the oven longer make a crispier crust?
Leaving your bread in the oven longer does make of a crispier crust but make sure you don't over do it and dry out your bread.
Best Gluten Free Bread Maker for you!
Today's bread makers are loaded with features and menu settings that allow you to make bread that's perfect for every diet, including gluten free. They can range from under $100 to $500, varying from the options and functions it includes.
The perfect bread maker for you might depend on your needs and wants. Whether you need the machine that only makes the best gluten free bread or one that has the option to bake sourdough, white or other variety of breads we've got you covered.
We've spent hours reading thousands of reviews online from verified customers and gathered the most important information for you to make the most informed decision.
*This site contains affiliate links. I may earn a small commission through links in this post.