Best Egg Cooker that'll make Gaston Jealous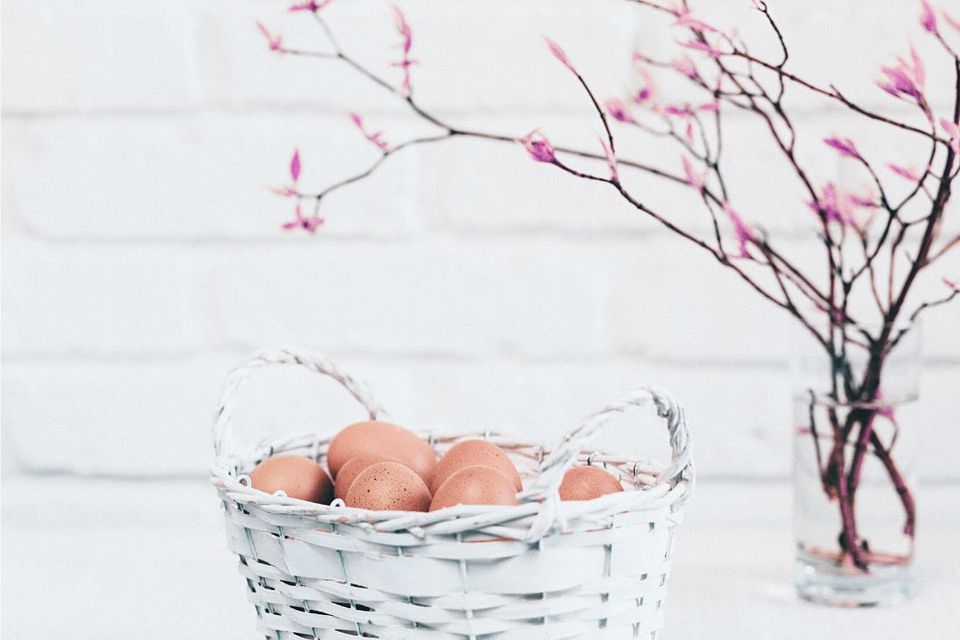 Want to be making perfect eggs every time?
Egg cookers are a great kitchen tool that allows you to cook eggs any way you want. And because they're so versatile, you can use them for more than just eggs! Whether you're preparing for a family breakfast, a simple sandwich or a deviled egg party platter, with an egg cooker, you'll never have to worry about overcooking or undercooking your eggs again.
Don't miss out on your daily dose of protein and nutrition! Now you can make eggs consistently every time you need them. Just add water, pour in your eggs and press the button.
Keep reading to find out which product is the best for you!
How we choose
Eggs can be tricky to cook and it can be difficult to make sure that they are cooked consistently. There are also a lot of devices out there that don't do the job well and some that aren't worth buying.
When choosing an egg cooker, there are some factors to consider. You'll want to consider whether you're looking for a device that is budget friendly, can make eggs consistently, one that has a larger capacity and can cook multiple servings of eggs at a time or one that has versatility. Other considerations include whether you'd like the cooker to look sleek or if you need an appliance that can save on space and storage.
That's why we've put together this list of egg cookers so that you can find the one best suited for you.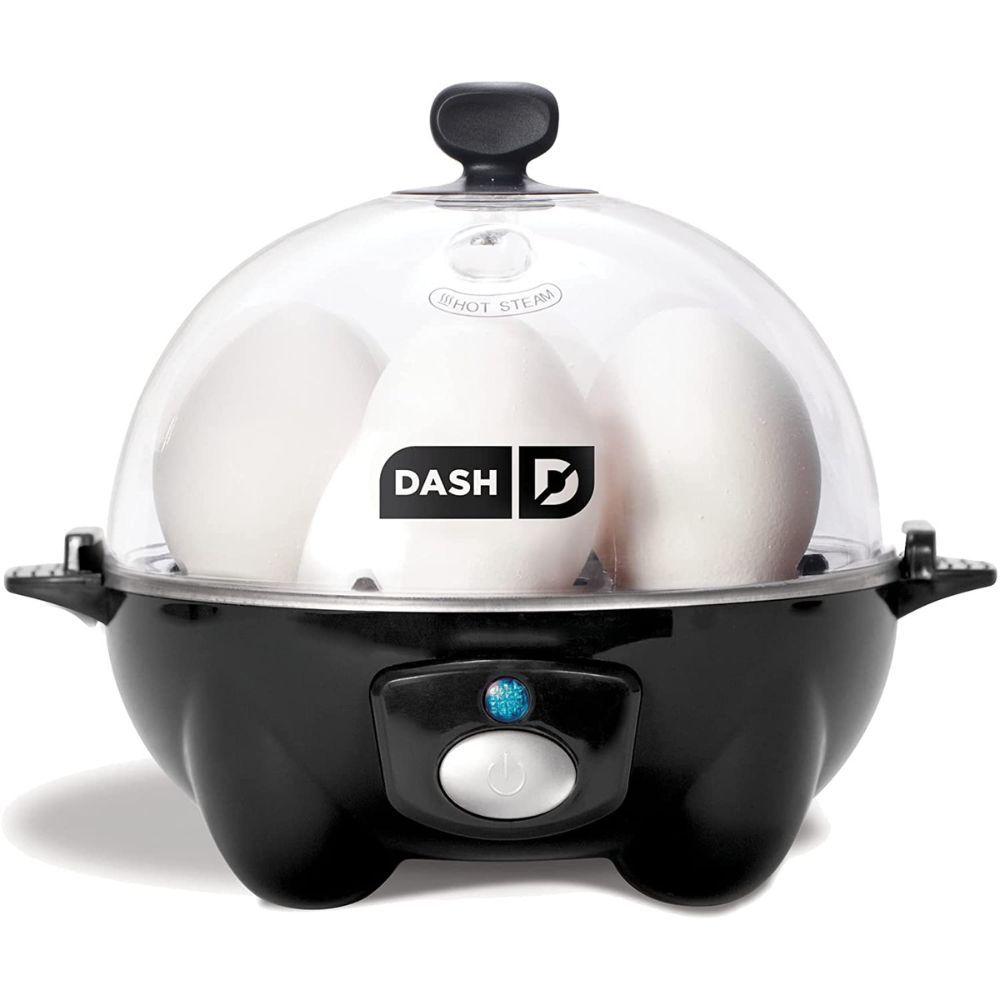 Most Reviewed Model
Check Deal on Amazon
What stood out to us
When you see a quality product that stands out from the crowd, don't be afraid to say "I wish I had that!" The DASH makes easy, quick, and healthy egg dishes every time with a SATISFACTION GUARANTEE. Love that it's small enough to fit on the countertop, but big enough to boil up to 6 eggs at once, or poaches up to 2 eggs in one pan, create your signature sandwich or enjoy a delicious omelet.
This is the perfect appliance for picky eaters, large gatherings, or those who have busy schedules. Whether you looking to make a perfect breakfast, lunch or dinner,  hard boiled or soft boiled eggs, poached eggs, scrambled eggs, eggwich, individual omelets, you can do it in 12 minutes of less with a push of the start button - it couldn't be easier. And cleaning is no issue either, all non-electric parts are dishwasher safe.
Specs and Features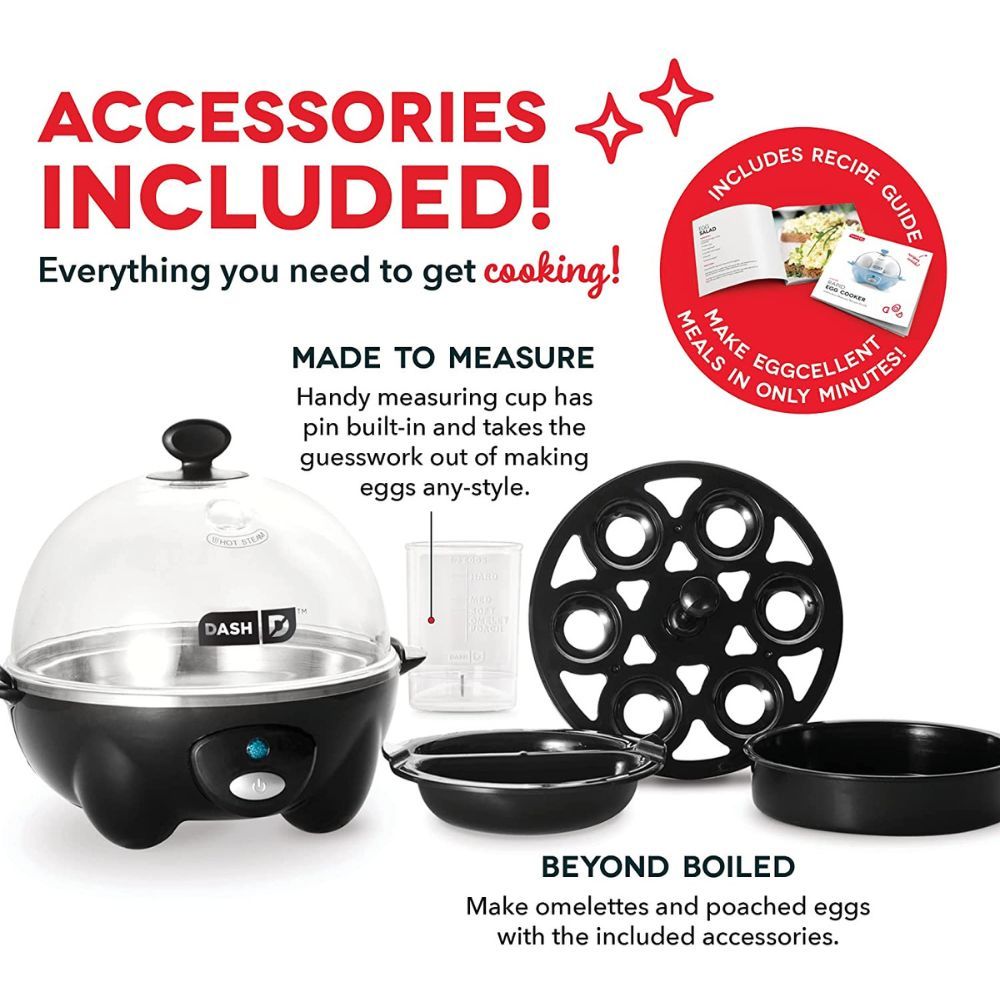 6 egg capacity
Cooks in 12 minutes
Soft boiled, medium boiled or hard boiled firmness
Poaching tray
Omelet tray
Measuring cup
Multiple color choices
Auto Shut-off
Recipe book & database access
Clear lid
Compact and light weight
Satisfaction guaranteed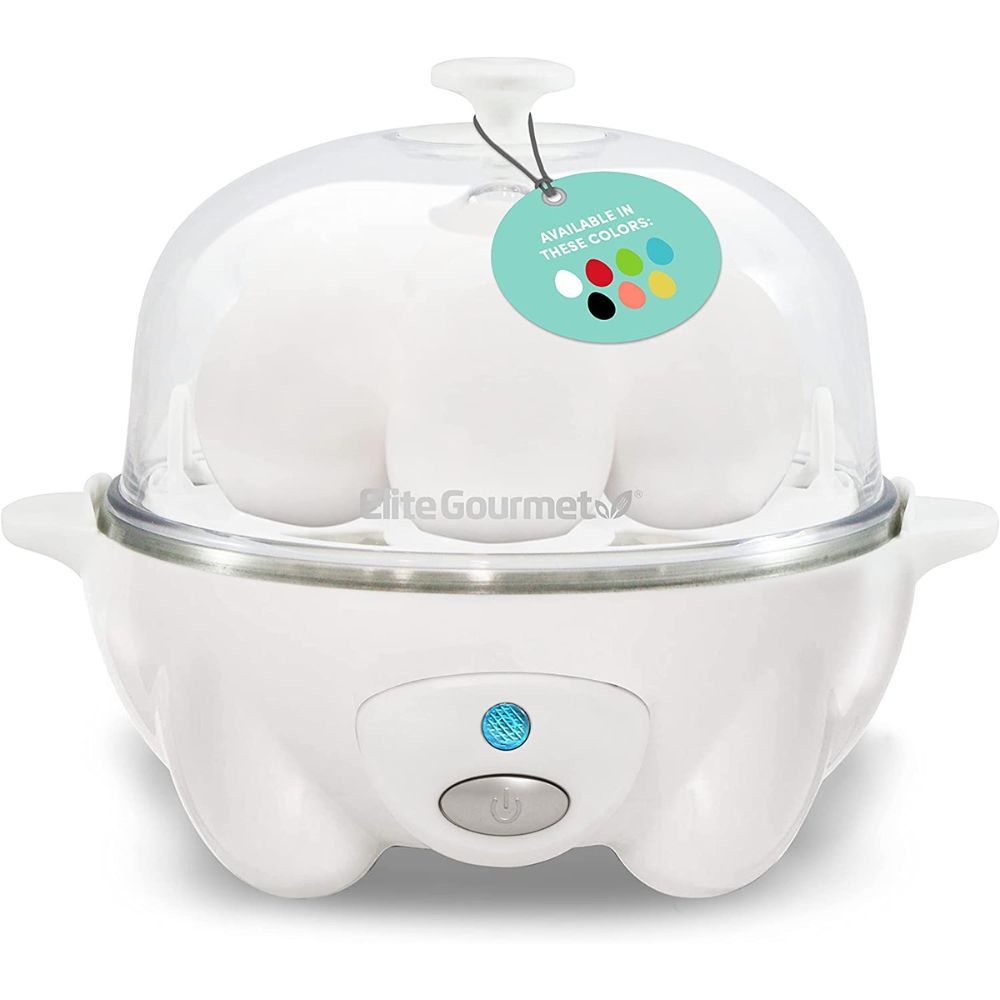 Most Affordable Model
Check Deal on Amazon
What stood out to us
Elite Gourmet's EGC-007 is a great way to enjoy fresh eggs every day at an incredibly low price! This compact and stylish model is designed to fit on any kitchen and can cook up to 7 eggs at once, making it a perfect device for busy families.
Now you can save money and enjoy the convenience of fresh eggs every day. The EGC-007 model is a great, fun way to cook fresh eggs because it is so simple to use and quick to clean. Simply fill the egg cooker with the right amount of water, set the timer and then sit back and enjoy. You don't have to worry about overcooking or undercooking. It's so easy to use, and you can get it for less than $20. Now that's a deal!
Specs and Features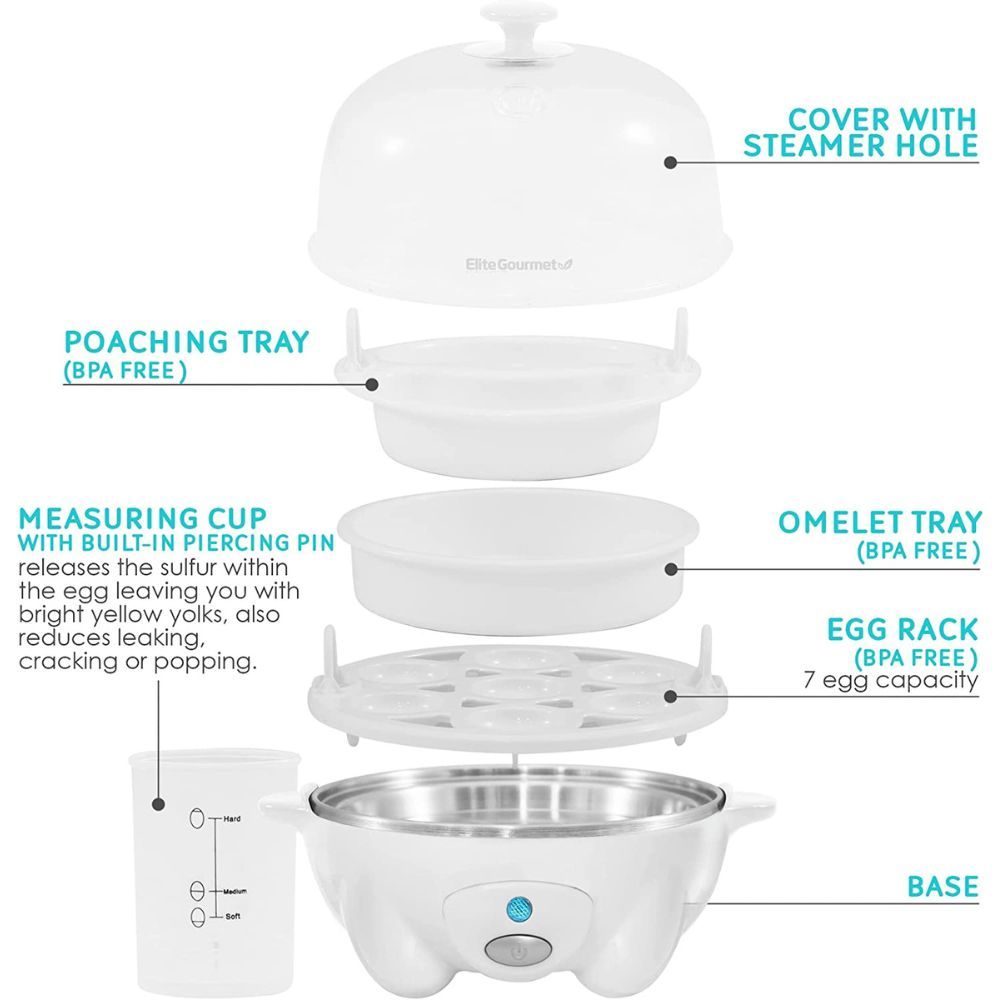 7 egg capacity
Cooks in minutes
Soft boiled, medium boiled or hard boiled firmness
Poaching tray
Omelet tray
Measuring cup
Multiple color choices
Steam other vegetables
Auto Shut-off
Alarm
Clear lid
2 Year limited warranty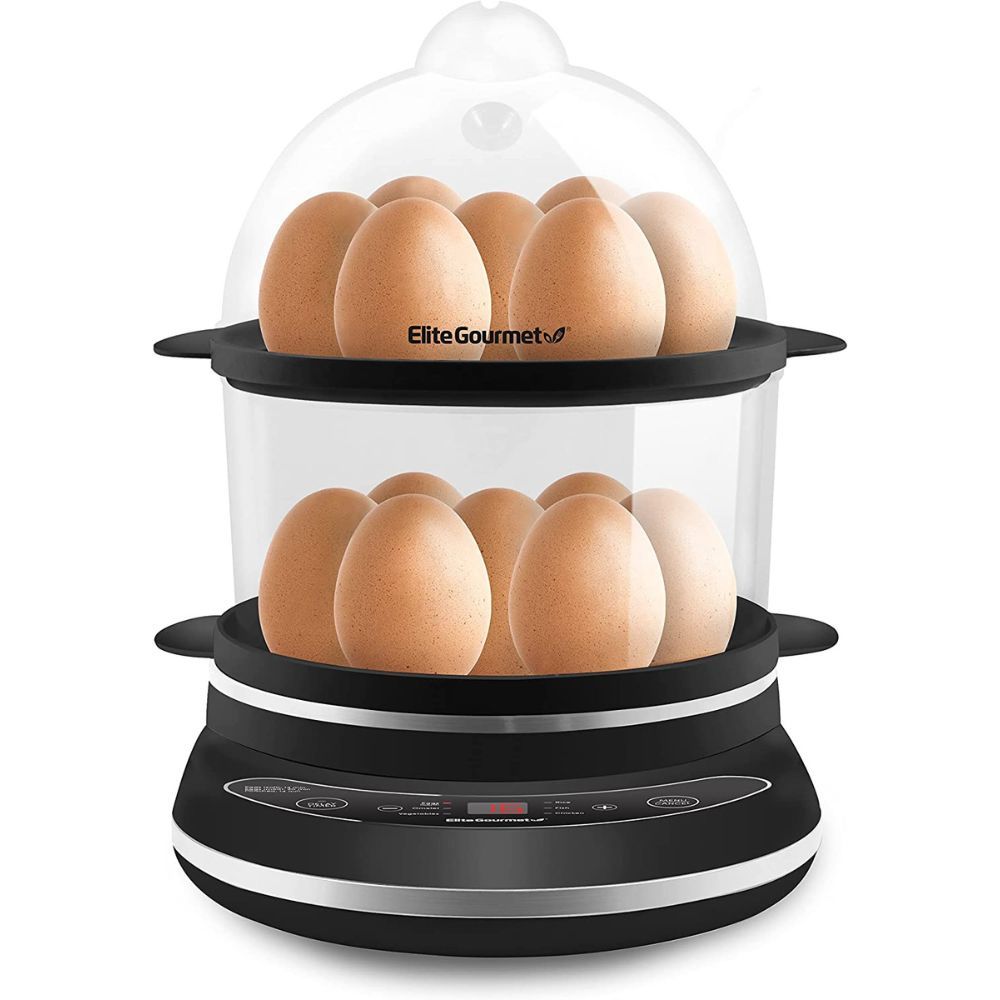 Most Versatile Model
Check Deal on Amazon
What stood out to us
Wow, this appliance does way more than what you expect from an egg cooking device. Its a food steamer, rice cooker on top of a regular egg cooker. This model of the Elite Gourmet is a versatile, high-tech appliance that can perform six different cooking functions and automatically shut off after the cycle is complete. This means you won't have to worry about overcooking or undercooking your food.
The Elite Gourmet EGC314B also features an audible indicator that lets you know when the cooking cycle is complete, a built-in piercing pin to prevent cracked shells and release sulfur during cooking, and a built-in delay timer that lets you delay your cooking by up to 9.5 hours. The 6 preset cooking programs help you quickly cook an egg, omelet, vegetable, fish, chicken, or rice.
Usually, an egg cooker does one function, which is to cook eggs. If you want to cook other items you'll need to get multiple devices. This could become very expensive and may cause storage issues. Instead, you can buy the quality made EGC314B, which is the combination of a master egg making device, steamer, rice cooker and many more. A great device to add to your kitchen or a great device to bring for camping.
Specs and Features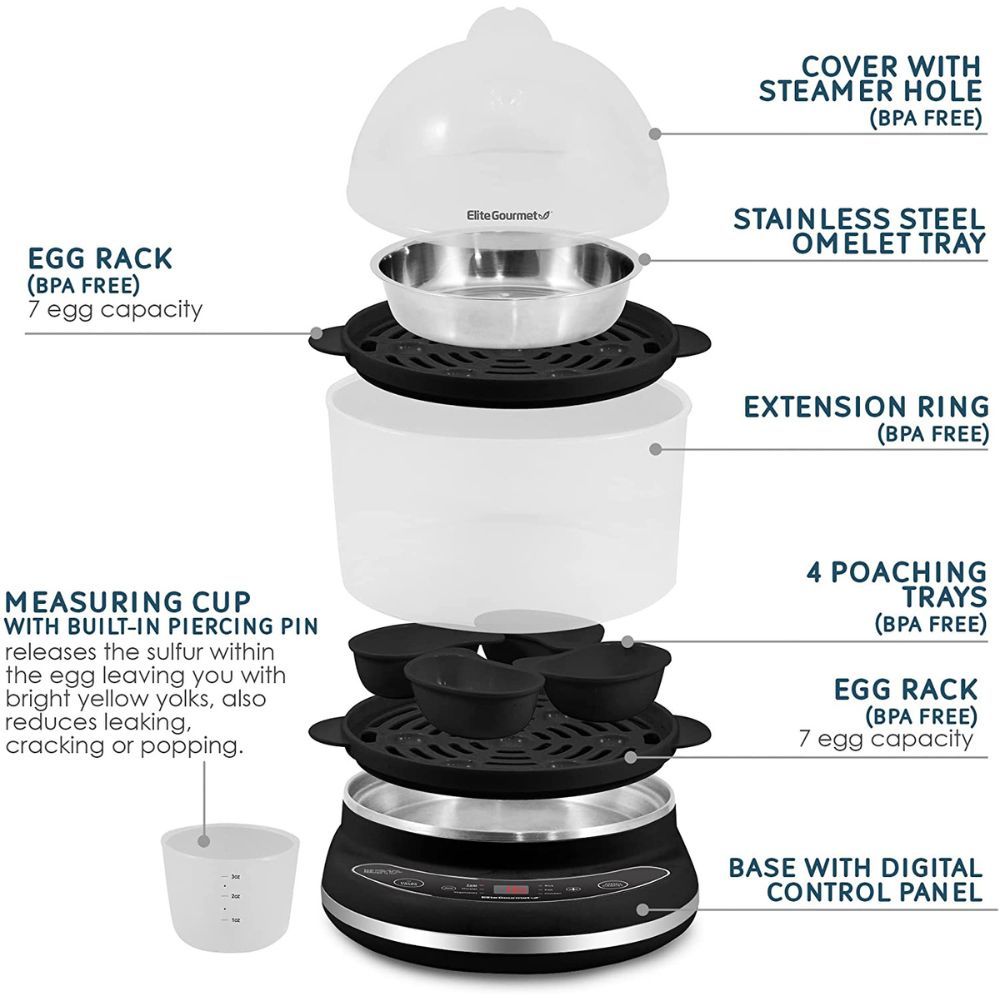 14 egg capacity
6 programmable pre-sets for eggs, rice, omelet, vegetable, chicken and fish
Digital control panel with LED display
Multiple color choices
Delay timer
Rapid cook time
Dishwasher safe for removable parts
Stainless steel omelet tray
4-egg poaching trays
Measuring cup
Slim and compact
Clear lid
Recipes included
Considerations
Capacity
Depending on what your personality daily needs are, the number of eggs you need to make at one time may determine the price point and the amount of space the device will take in your kitchen. The most common electric egg cooker can usually hold about six eggs. Some bigger models can hold up to fourteen eggs.
Versatility
Although these devices are made for eggs, they can be a multi-functional kitchen appliance that comes with many features making it a top choice for those who love to cook. Having an appliance that's multi-functional definitely reduce the amount of kitchen gadgets. Depending on the model you get, you might be able to cook multiple items at the same time. On top of cooking your regular breakfast egg, some fancier models have settings for pancakes, rice, steaming vegetables and cooking meat.
Convenience
Convenient is a very important factor when it comes to kitchen devices. A time saving device that allows you to hard-boiled, soft-boiled, or poached eggs without the mess, cleaning and fuss of traditional cooking methods can save time and energy. Some models also allow you to make other types of soft-boiled or poached food or even make rice. You don't have to worry about cleaning the kitchen after you have cooked. All you have to do is pour the water into the device, and turn it on. Other models also come with additional features, such as automatic shut-off mechanisms that save energy or an audible alarm to alert you that you food is ready.
Budget
These small kitchen devices don't cost much, especially when you consider the time and money you save by not eating out or getting store-bought foods you might consider spending a little more for better quality or one that is a better quality.
Features
The features you need will dictate what model of the device you'll want to get for your kitchen. There are a few features that you might want to consider before choosing model:
Automatic shut-off, delay start, timer or audible alarm so you don't have to constantly monitor the process.
A clear lid vs a fully enclosed lid.
Does having having a LED display matter or a one button operation work better?
Versatility: Can it do more than just make eggs? Do you need additional functionality, like steaming other foods?
Does the product come with a warranty?
Whether it's dishwasher safe, is it easy to clean.
Portability: Some are portable enough to take with you on trips or camping trips.
If storage and space is high on the list then a smaller compact model might suit you better than the models with a larger capacity.
There are a variety of styles and sizes, from small countertop models to large appliance models, so you can find one that fits your needs and style.
Egg Cooker FAQs
It seems like everyone's got an opinion on what the best egg cooker is. But which one is right for you?
We know what you're thinking. You've heard the hype around the new models. But, with so many choices, how do you know if the hype is true? How do you know if you're making the right choice for your family? Do you have space in your kitchen for another device? Will the device consistently deliver the quality you need?
You're not alone. That's why we've done the research and narrowed down the best product list for you to add to your list of kitchen gadgets. We've taken into account the pros and cons of each model so you can make an informed decision.
Do I want another kitchen device to store?
Egg cookers are very useful for cooking eggs, especially when you don't want to use your stove. They are also useful for making omelets and poached eggs. Some come with a timer and are dishwasher safe. Cleaning up would be a breeze.
What else can I cook in this gadget?
You can make omelets, frittatas, scrambles, sandwiches, cook meat, steam vegetables and even eggwiches. It doesn't take a lot of kitchen space and a device that is perfect for cooking eggs consistently.
What is the point of an egg cooker?
It is a tool used to cook eggs quickly and easily. It is perfect for people who do not like to spend time cooking or cleaning up after themselves. This device makes creating egg recipes (omelets, hard/soft boiled, eggwiches, steamed/poached egg) simple and convenient. It is also great for people who like to eat eggs for breakfast.
Do you have to pierce eggs in an egg cooker?
No. You do not have to puncture eggs before putting it in the device. And depending on your model it may come with a piercer for ease and convenience.
Are boiled eggs healthier than scrambled eggs?
Boiled eggs are healthier than scrambled eggs. Scrambled eggs contain cholesterol and other unhealthy fats which are not found in boiled eggs. Boiled eggs also contain more vitamin B12 than scrambled eggs.
What is the piercing pin used for?
The pierce the pin is a tool that prevents cracked eggs during cooking, but also allows the sulphur in the yolk to come out of the egg, making them perfectly yellow for use in cooking.
Best Egg Cooker for you!
Whether you're on a budget or trying to find the next multi-functional kitchen device to save on counter space, we've got you covered. We've spent hours reading thousands of reviews online from verified customers, we have taken into consideration both price and features and gathered the most important information for you to make the most informed decision.
In conclusion, you don't need to spend a fortune to buy the best egg cooker. You just need to know how you'll be using it and what you expect out of it. Choosing a kitchen device that saves you time and cleaning is totally worth it. You'll be amazed at how much time you can save by selecting the right model you'll need that would suite your lifestyle.
*This site contains affiliate links. I may earn a small commission through links in this post.