Best Dehydrators to Consider when buying Quality Jerky Maker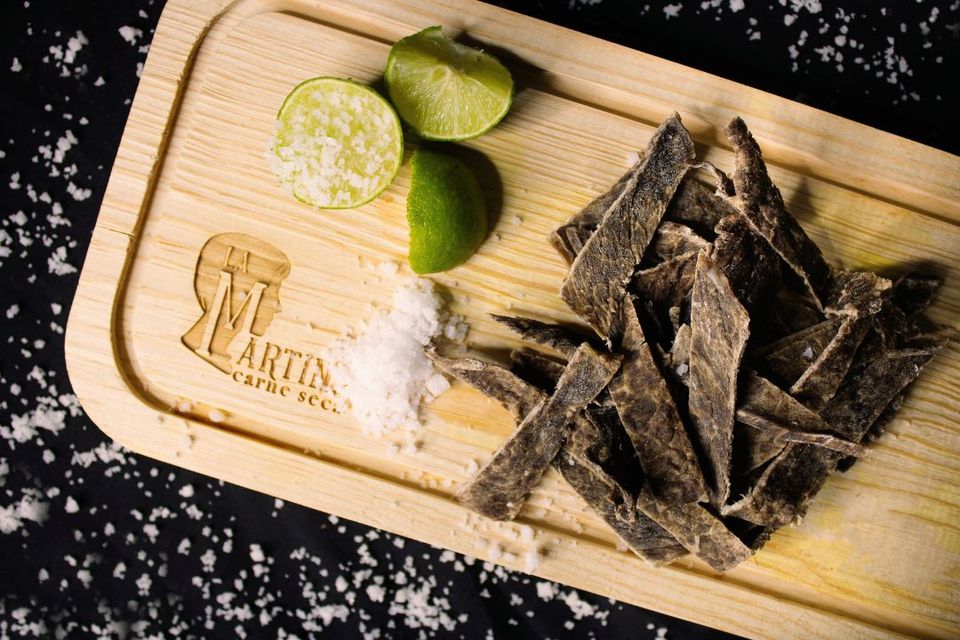 Jerky is a delicious treat that can be enjoyed in a number of ways. There's nothing quite like a good piece of dried beef snack to put a smile on your face. Whether you're on the road or at home, it is an easy way to stay healthy and happy while traveling. While you can buy jerky from a store, it's so much better to make it yourself.
Learn what to look for when purchasing a dehydrator, as well as, how to use your new appliance to make the most out of your time and money. We will share some tips for choosing the best dehydrator for making jerky on the market, as well as, provide you with an overview of the different features that's available in the market.
What to Look For in a Dehydrator
With so many options and choices out there it's hard to figure out what you really should be looking for in a machine that makes the snack you desire. Here we have broken down some important features you might want to evaluate before jumping into your purchase.
Style: There are two primary styles of dehydrators you will find on the market. The first less expensive type is with a fan mounted on top or bottom of the trays and blows air vertically through the trays to dry the beef. The second has a fan at the rear of the unit and blows the air horizontally over the beef from the back of the unit to the front and is more professional. Typically the round shaped ones are the top or bottom mount fans and the square ones are the rear mounted fans.
Durability: Make sure you choose a machine that will last. You will want to make sure you can use it for years to come. It's helpful to also compare the available warranty from the manufacturers.
Shape: Most dehydrators come in 2 different shapes, round or square. What you might want to consider on top of the ease of storage between the two shapes are that round ones are expandable and usually more energy efficient and run on less power compared to the square ones.
Size: You'll want to choose a machine that's large enough to accommodate the capacity you need, which may differ if you're create small batches for leisure vs. a hunter. Make sure you have enough trays to dry your snacks, while also compact enough to fit in your kitchen space.
Materials: You'll also want to consider the materials the devie is made of. You'll want to make sure you get a dehydrator that's made from food safe materials. You'll also want to make sure you get one that's easy to clean and dishwasher safe.
Trays: There are different types of trays, BPA free trays and stainless steel trays and you'll want to make sure you choose the right one for your needs. If you're going to be making a lot of dried snacks, you will also want to make sure you have the capacity and trays to fit all the ingredients you need.
Temperature: You'll want to make sure you choose a dehydrator that has an adjustable temperature control. This is especially important if you're making jerky, because it's important to make sure it's not too dry or too wet.
Price: Of course who doesn't want to be getting the best deal. The round dehydrators are usually more affordable than the square dehydrators. They're also made with different materials, the round ones usually are made with plastic and the square ones are usually stainless steel. You will want to make sure that you're getting one that's within your budget and can best accomplish your needs.
Why You Should Buy a Dehydrator for making jerky
The dehydrator is a tool that can be used to preserve food for later. When it comes to preserving meat, there are a lot of benefits to having one. Rather than keeping watch over the oven for 10+ hours and risking the chance that you might forget and burn your jerky. A dehydrator will have an auto shut off function so you can turn it on and walk away. One of the best benefits is that you don't have to worry about losing any of the nutrition in the meat. Another benefit is that the it will help keep the food from getting moldy. There are other benefits as well, such as being able to save money on food and not have to put your food to waste.
How we evaluated our choices
As you can see, there's a lot more to making jerky than just drying out the meat. Our team has gathered thousands of user reviews to come up with the best machine for doing the job based on heat distribution, unit capacity, affordability, ease of use, and accessories. If you want to make some great tasting snacks, you need to start by choosing the right product.
Read on to see what our team has chosen for our top picks.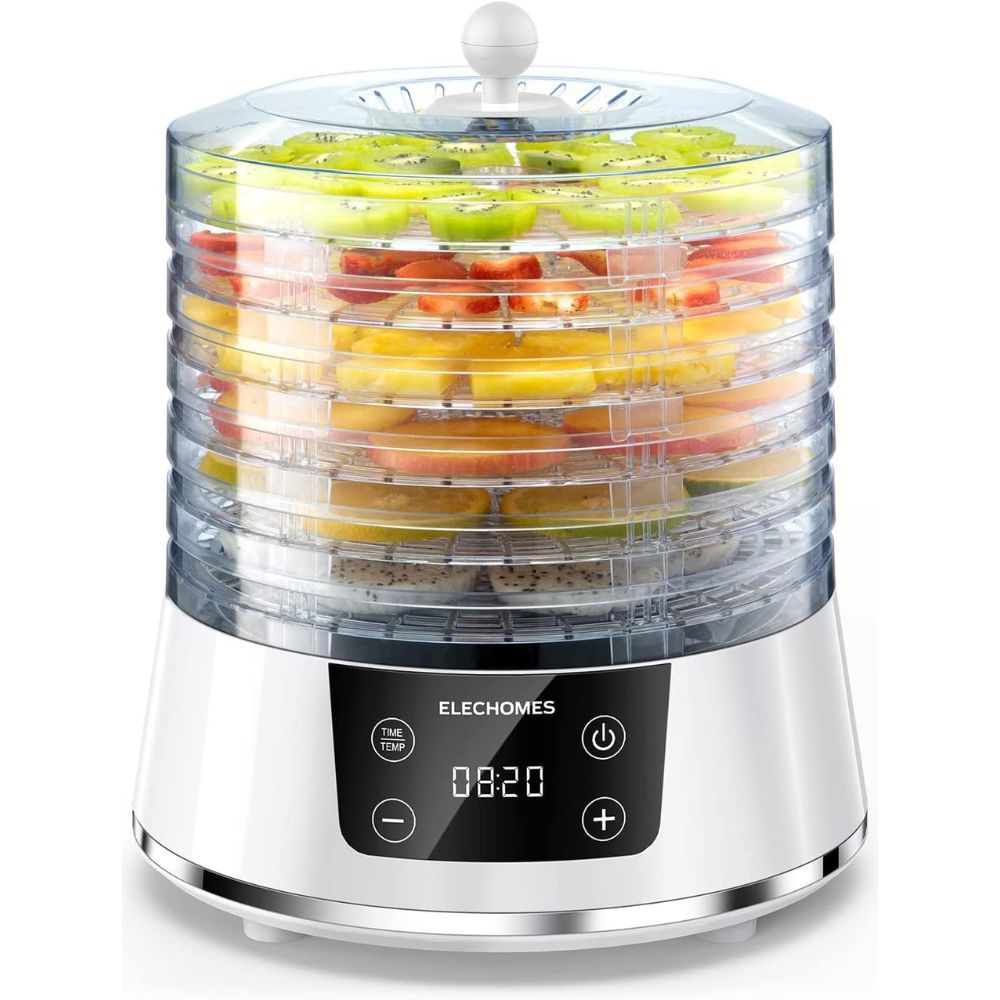 Best Budget Dehydrator for Making Jerky
Elechomes Food Dehydrator
Check Deal on Amazon
How this won us over
The Elechomes is the perfect size for a small kitchen. It's also very affordable and a small footprint and is very easy to store. This machine has a simple round design with adjustable digital thermostat and timer. The unit is very easy to use. It includes 6 stackable trays and is dishwasher safe. All-in-all and great starter system for the creating tasty and healthy snacks.
Specs and Features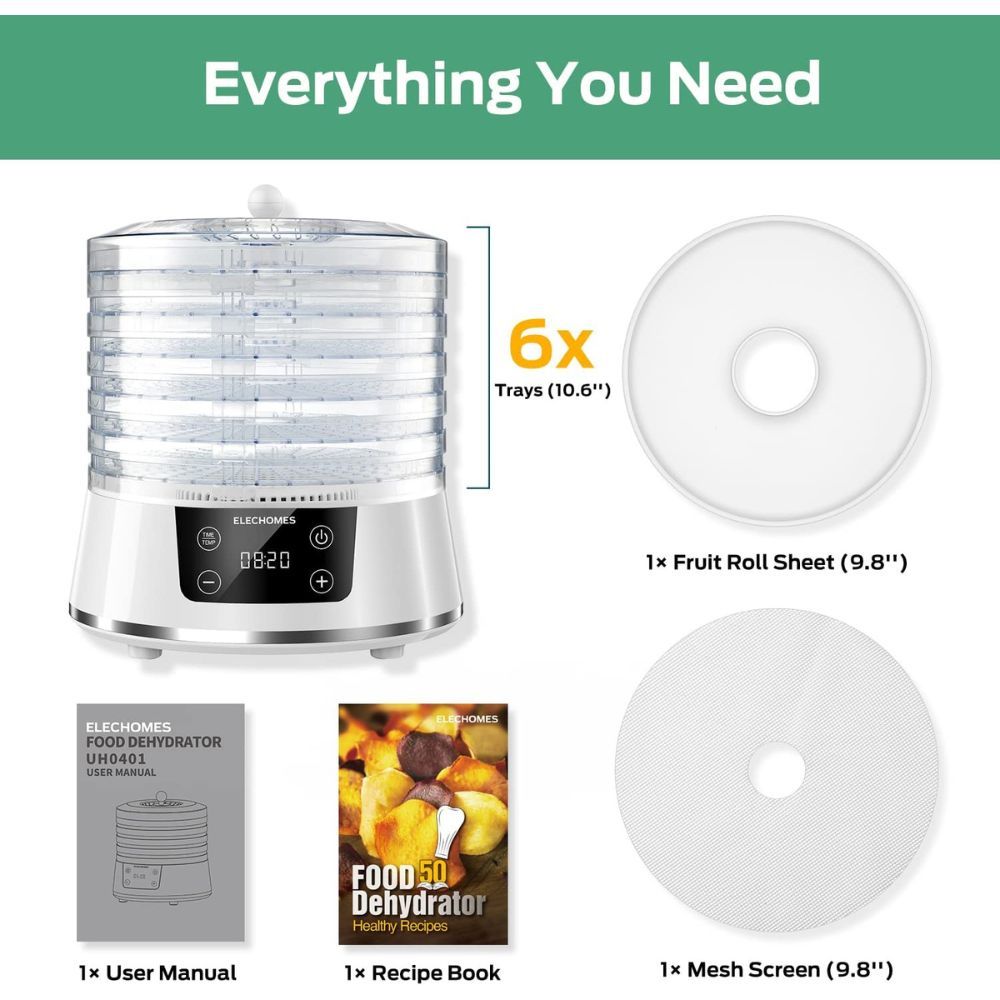 6 BPA-Free Trays
Mesh Screen and fruit roll sheet
Dishwasher safe
Digital thermostat and timer
Adjustable Temperature from 95° - 158°F
Overheat protection
Recipes included
18 month warranty
400W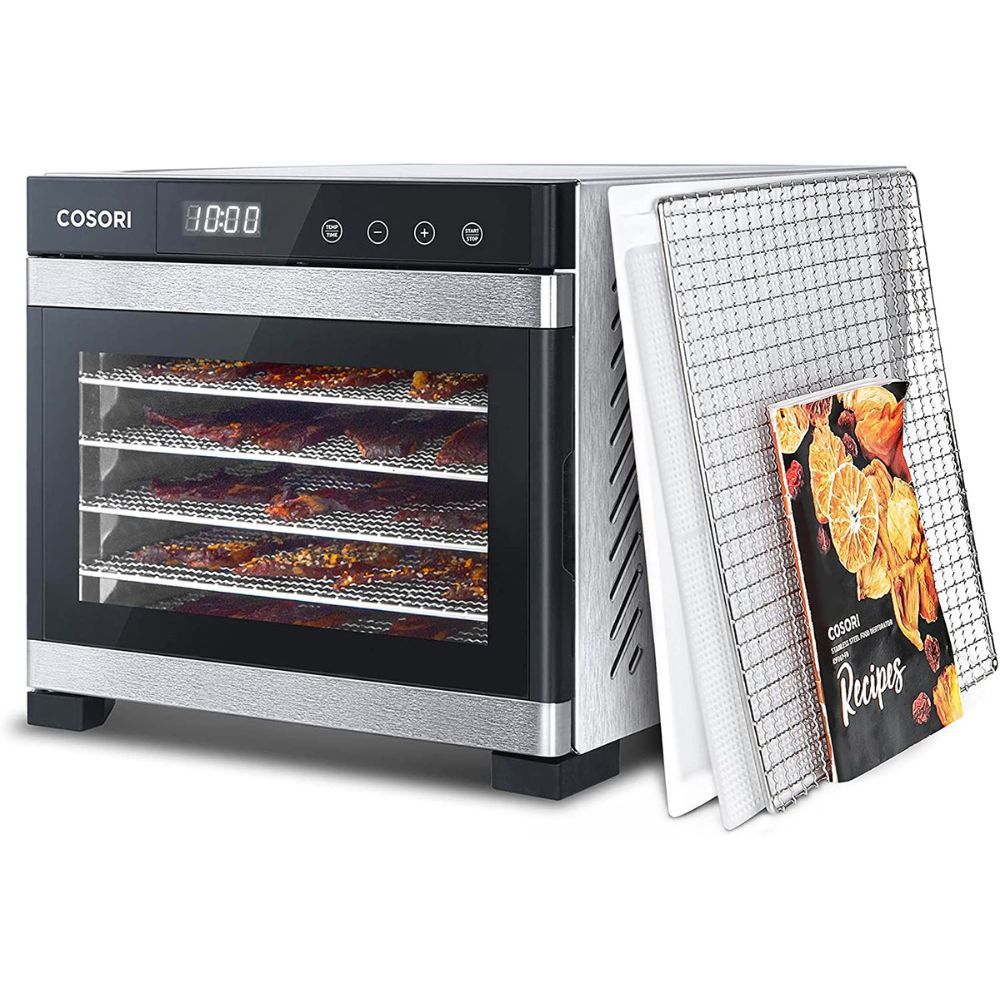 Top Pick Dehydrator for Making Jerky
Check Deal on Amazon
How this won us over
Impressed by its star ratings and raving reviews, this designed in California stainless steel dehydrator can make tasty dried snacks a breeze. The Cosori has a capacity that can hold up to 7.7 lbs of food, it's easy to use with adjustable timer and temperature controls, includes 6 stainless steel trays which are dishwasher safe. Not only is it great for making jerky, but vegetable, fruits, herbs and even yogurt, the possibilities are endless.
Specs and Features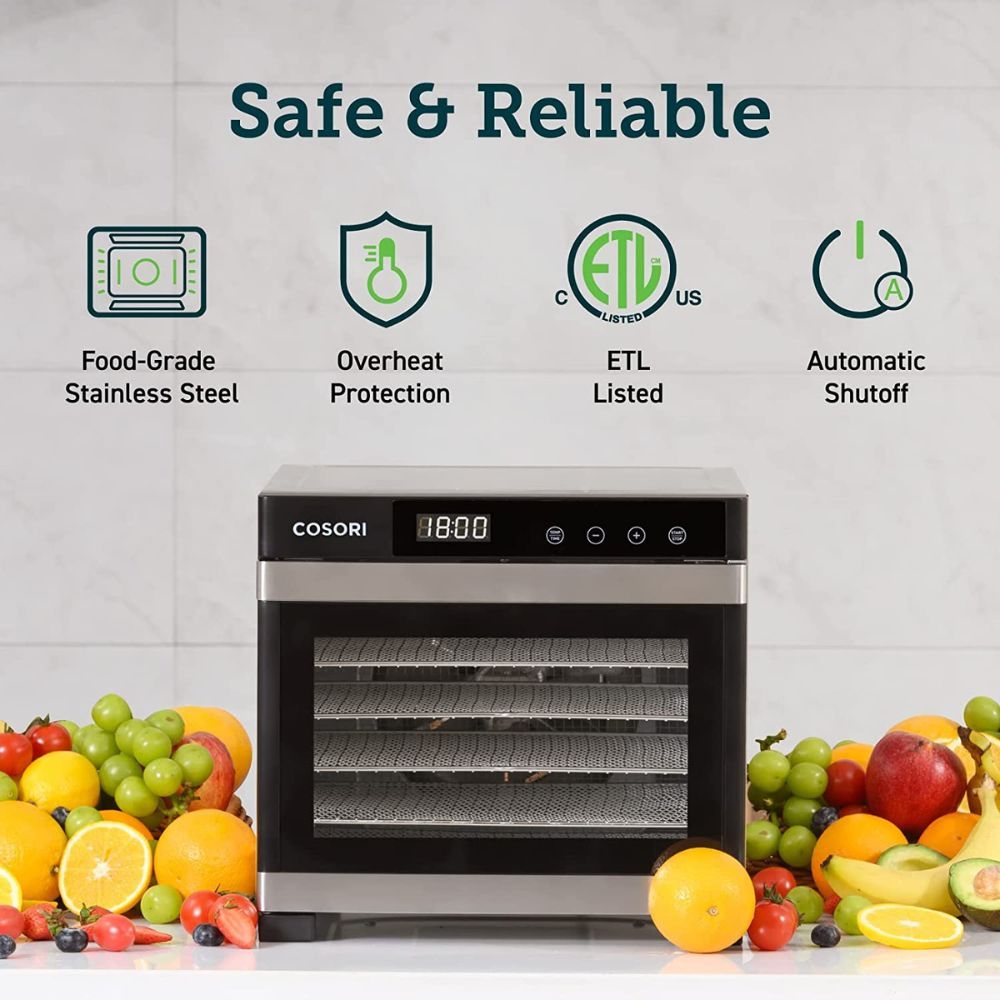 Touch-control LED Display
Adjustable Temperature from 95° - 165°F
Memory Function
6 Stainless Steel Trays
Mesh Screen and fruit roll sheet
Food Grade 304 Stainless Steel
Trays hold up to 7.7 lb
Time and temperature control
Horizontal air circulation
Quiet operation < 48dB
Overheat protection
Recipes included
Dishwasher safe
600W
1 year warranty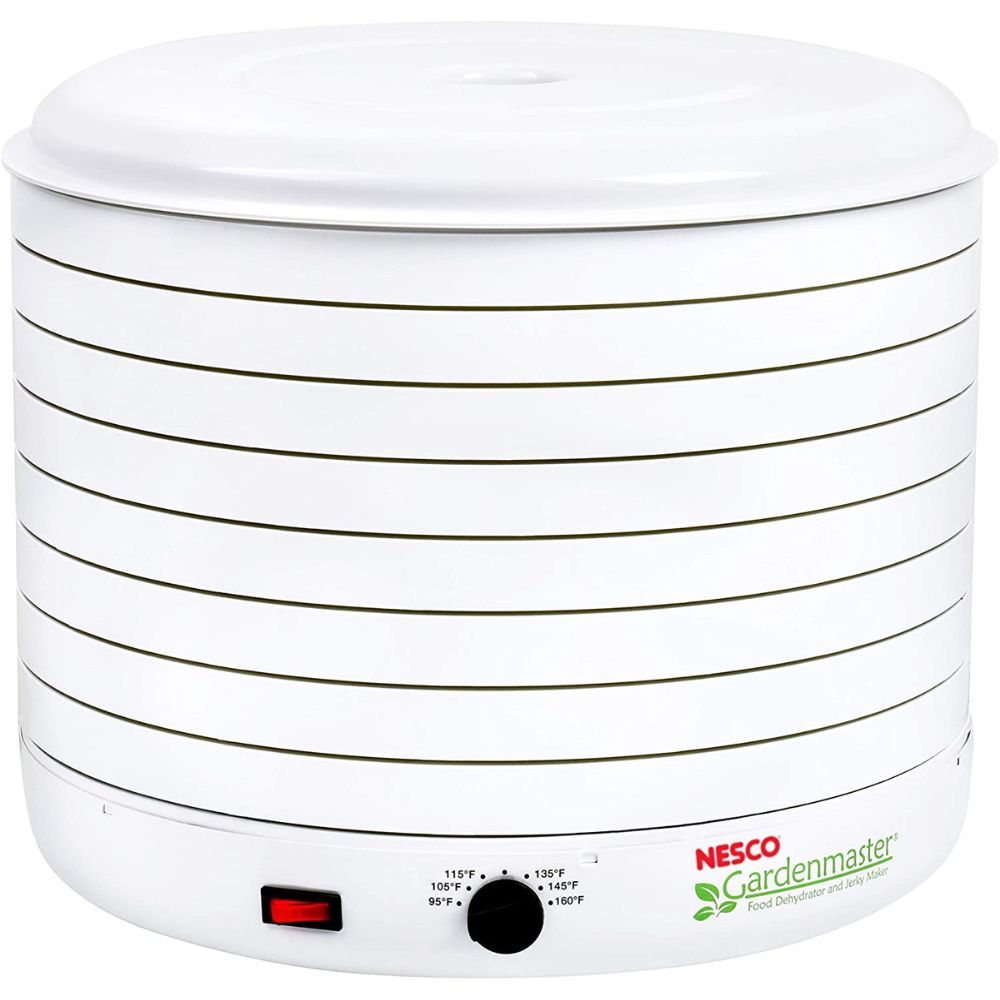 Best Expandable Dehydrator for Jerky
Nesco FD-1018A Gardenmaster Pro
Check Deal on Amazon
Nesco FD-1018A Gardenmaster Pro
Best expandable Dehydrator for Jerky
How this won us over
The Nesco FD-1018A is built with versatility in mind, it includes 8 trays but can stack up to 30 trays, allowing you expand on your capacity without buying another machine. Now, that's a lot. For smaller food pieces or herbs, it has a screen that fits over the trays to prevent food falling in small holes.  On top of that Nesco FD-1018A boosts 1000W of power using even heat distribution for consistency in drying the food effectively.
Specs and Features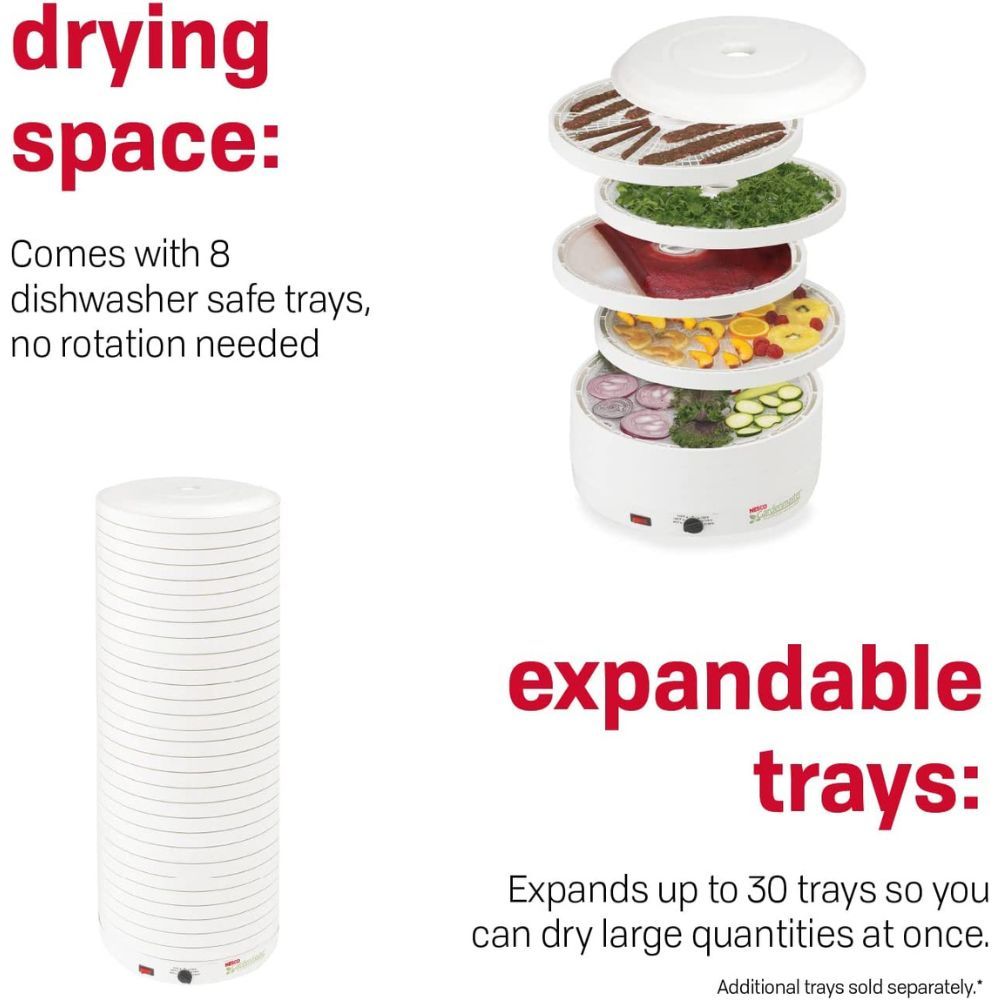 Expandable to 30 Trays
Adjustable Temperature control from 95° - 160°F
Converga-Flow system
8 BPA-Free Trays
8 fruit roll-up sheets
8 clean-a-screens
1 Original Jerky spice pack
Recipes included
1 year warranty
1000W
How to store your dehydrated jerky
To keep your jerky in perfect condition, you should shore it in a cool dry place. You'll want to put it in a plastic bag or container with a tight seal to prevent freezer burn. The best way if you have a vacuum sealer is to vacuum seal it before storing it in the freezer for up to 12 months. Useful suggestion: label your packages before you put it in the freezer for reference.
FAQs: Dehydrator for making Jerky
With all the different brands and models on the market, it can be a tough decision to figure out which one is right for you and how it can help with your food preparation and storage.
We've created a list of frequently asked questions to help you choose the best dehydrator for jerky that meets your needs. Everybody has different needs and this list will help you narrow down which best fits the functionality most important for you.
How long do you leave beef jerky in a dehydrator?
There are many recipes out there for making beef jerky. Some prefer it dryer than other and also depends on the cut of meat and how thick the meat is cut which would affect the amount of time it needs to dehydrate. But generally it's somewhere between 8-15 hrs at a low temperature it may take a bit less time at a higher temperature.
Can you use a food dehydrator to make jerky?
Yes, you can use a food dehydrator to make jerky. They are also great for drying fruits, vegetables, and depending on the controls some models can even dry herbs and spices.
What temperature do you dehydrate jerky at?
Jerky should be dried at a low temperature. If you make it at a high temperature, the meat will get too dry. The best temperature to set it at is around 140 degrees Fahrenheit.
Is a dehydrator worth it?
Yes, a dehydrator is definitely worth it! It can save you money, time, and energy. They are a great tool for preparing jerky and other snacks.
Do you cook beef before dehydrating?
You can cook your meat before dehydrating, this will cut down the time it needs to dry. Depending on the recipe you use it may not be necessary. You can usually put the sliced meat directly on the trays and let the machine do the job.
Should you pat dry jerky before dehydrating?
You should pat your jerky dry before dehydrating. This will help prevent moisture from building up inside your jerky and causing it to spoil faster.
Is curing salt necessary for jerky?
Yes. Curing salt is needed to preserve meat, such as jerky especially if you don't pre-cook the meat. Curing salt contains sodium nitrite and potassium nitrate, which help to preserve the meat and make it safe to eat. The salt makes the meat dry, which prevents bacteria and mold from growing on the meat. The sodium nitrite kills bacteria and it will prolong the shelf-life of the product.
Is higher wattage better for dehydrating jerky?
Higher wattage is not necessary better for preparing jerky. It depends on what kind of jerky you want to make. If you want to make dry jerky, a high wattage dehydrator will work fine. But if you want to make wet jerky, then you will need one that has a lower wattage. The best way to find out which type of machine you need is to look at the specifications of the one you like.
Should homemade jerky be refrigerated?
Yes, it is best if you store your homemade jerky in the refrigerator or even better the freezer. This way, the jerky will stay fresh longer.
What if the device does not include a timer?
You will have to use a separate timer or set an alarm and check on the process frequently.
How long will homemade beef jerky last?
It can last up to a year in the freezer, but it will only last a few of days if you leave it out in the open air. Depending on how you package it and if you had used curing salt to extend its shelf life.
Best Dehydrator for making Jerky for you!
There is no doubt that making your own homemade jerky is a great way to save money and also a great way to preserve meat. When you make your own, you get to choose the type of meat that you want to use, as well as the cuts of meat that you want to make and the flavor you want.
Whether you prefer a BPA-free tray or a Stainless steel tray, a top down fan system vs an horizontal fan system we've got you covered. We've spent hours reading thousands of reviews online from verified customers and gathered what you want to know most.
*This site contains affiliate links. I may earn a small commission through links in this post.