Whip Up Delicious Crepes with the 5 Best Crepe Makers!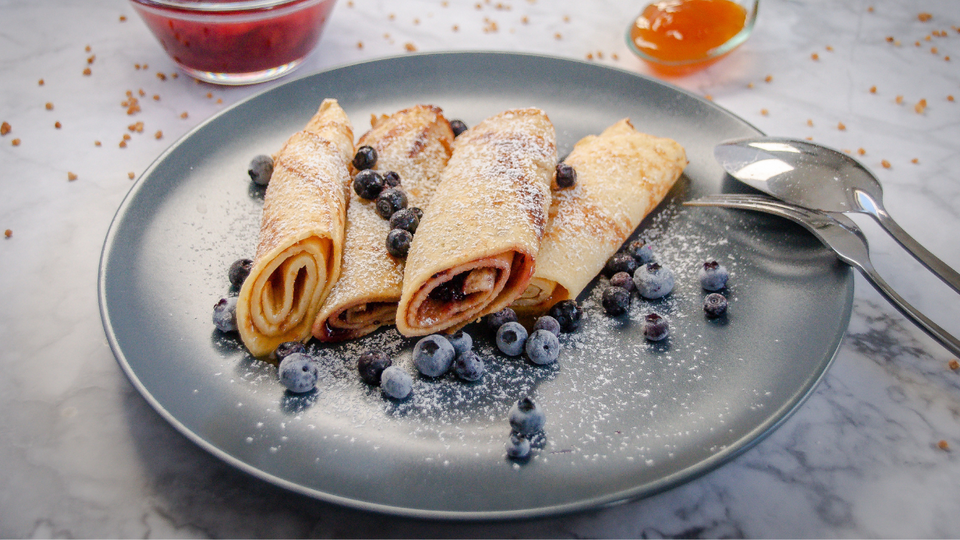 It's time to upgrade your culinary skills with the best crepe makers! Crispy and velvety pancakes can turn any ordinary breakfast into a special outing.
To help you whip up those delicious treats in no time, here's a list of 5 top-notch machines – perfect for beginners as well as experienced bakers.
From stainless steel pans to an adjustable temperature setting, each appliance comes with its own set of features such as non-stick coating and removable plates that make cleaning easier.
Get ready for some delectable creations every day!
How we choose the best crepe makers?
Are you in search of the perfect crepe maker to bring your culinary creations to life? Whether it's a delicate dessert or savory meal, crepes are a tasty snack that can be enjoyed by all.
With so many options in the market today, it can be difficult to determine which one is right for you.
To help make your decision easier, we've compiled this list of essential factors to consider when choosing the best crepe maker!
Cooking Surface
When it comes to selecting the best crepe maker, you're presented with three cooking surfaces: Cast iron, nonstick, and enameled cast iron.
Cast iron is always popular due to its consistent performance and temperature control; however, they do get heavy and difficult to move around.
Enameled cast-iron models are on the pricey side but come at an advantage of being less conductive than the other options as well as having the ability to be used for acidic foods.
Lastly, if you want a lightweight model that'll give you ease of use and effortless cleanups then non-stick should fit your needs - just ensure regular replacements every 5 years as these surface materials can't withstand higher temperatures like their counterparts.
Size
When it comes to crêpes, home cooks typically don't require a pan or machine that is more than 10-12 inches in diameter. That said, pans of up to 16 inches are also available should one desire something larger.
For general use such as making grilled cheese sandwiches, tortillas and even naan breads, a 12 inch pan should do the trick beautifully.
Accessories
From griddles and waffle makers to multi-function cookers, kitchen gadgets come in many shapes and sizes. While they are often equipped with a range of accessories, we strongly feel that one stands out above the rest: the spreader.
This handy tool has two distinct varieties – flat spatula and rounded pusher (similar to those seen in rock gardens at high schools).
With this little piece of equipment, batters can be evenly distributed while crêpes can be expertly flipped and folded. All things considered, purchasing a spreader is an excellent choice for any aspiring chef!
Versatility
Stove-top crepe pans can be used for a lot more than making crepes. Their low sides allow you to make pancakes, omelets and whatever else needs flipping with ease.
Flat-top griddles are perfect for preparing burgers, eggs and flat breads but should only be worked with plastic or wooden utensils in order to preserve the nonstick coating.
Electric crepe makers and cordless versions may not offer as much versatility, but they are designed specifically for making delicious crepes!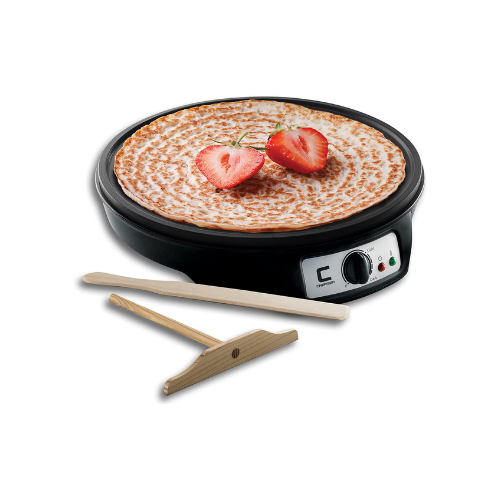 Quick Specifications
It has a non-stick cooking surface.
It has a large cooking area makes it easy to create restaurant style crepes.
It has a powerful 1000-Watt heating element with a precise temperature control knob.

Why we love it?
The Chefman Crepe Maker is a must-have for all your breakfast and brunch needs! With its powerful 1000-Watt heating element, precise temperature control knob, and convenient green indicator light that shows when it's ready to use - you can easily make crepes, blintzes, pancakes, omelets, hash browns and much more.
The appliance doubles as a griddle so you can use it day or night. It heats up quickly with the adjustable temperature range of 200F - 450F which ensures even cooking without burning. Plus the nonstick coating makes flipping crepes easy and ensures clean up fast – just wipe away any mess after each meal.
Also this crepe maker brings restaurant-quality food to your kitchen countertop! You'll be able to create delicious dishes like authentic French Crepes in hardly no time at all - impress family and friends with breakfast items they won't forget anytime soon.
What should you know?
The Chefman Crepe Maker is a great way to bring the restaurant-style crepes home. With its large cooking area, it makes creating delicious crepes easy and fun. It's non-stick surface ensures that you won't have any hassle when prepping or cleaning up after making your perfect crepe.
Using this appliance requires no complicated instructions either; just preheat the maker, pour a thin layer of batter into the center of the cooking plate and watch it cook within seconds! The flat design allows for an even heat distribution so that all sides of your crepe are evenly cooked without burning or sticking to the edges.
The design also makes storing this product incredibly easy as well - with its slim profile, you can place it in almost any tight space such as cabinets, closets and more! Cleaning up is also simple since all parts are easily removable - simply rinse off baking residue with warm water and some dish soap if necessary.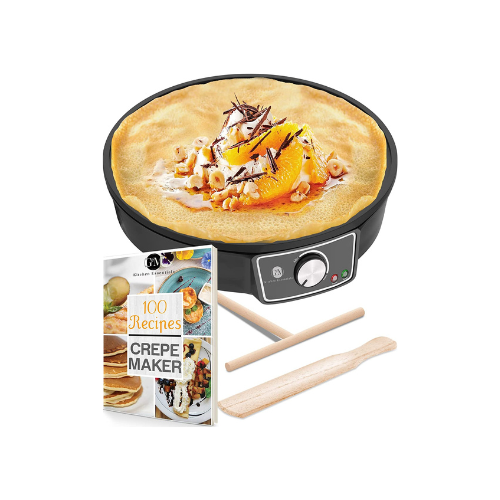 Quick Specifications
Each crepe pan nonstick 12 inch is designed for any kitchen.
It also doubles as a pancake machine or griddle.
It has a built-in indicator light that signals when the crepe pan is at the perfect temperature.
Why we love it?
G&M Kitchen Essentials has introduced an amazing electric crepe maker that is ideal for creating delicious pancakes, crepes, and griddle cakes. This product has a 12" diameter and non-stick aluminum surface allowing you to easily whip up mouthwatering treats with minimum effort.
Furthermore, it has a built-in indicator light that signals when the crepe pan is at the perfect temperature ensuring your creations always cook to perfection. The interior of this appliance also features a unique three layer Teflon coating which provides even heat distribution and makes cleaning extremely easy.
Whether you want to indulge in sweet or savory recipes such as classic French Crepes with Nutella or go bold with Grilled Cheese Pancakes - G&M's Electric Crepe Maker will come in handy every time! Its lightweight design makes it suitable for homes as well as small commercial establishments and its durable construction ensures long lasting performance. It is truly one of the best crepe makers in 2023.
What should you know?
G&M Kitchen Essentials is the perfect choice for those who love crepes. This comprehensive package comes with everything you need to start making delicious crepes in your own kitchen. It includes a premium electric crepe maker, 100 recipes and all of the necessary tools.
The electric crepe griddle is easy to use and safe for the whole family. It has an adjustable temperature control that can be set between 90F-450F, giving you precise heat control when making crepes like a professional chef! Plus its nonstick 12 inch surface means no mess or wasted ingredients – each batch of perfectly cooked thin pancakes will be ready in minutes!
G&M Kitchen Essentials also offers 24/7 USA customer support if you have any questions or concerns while cooking with this amazing product. With G&M Kitchen essentials, turning out perfectly prepared pancakes every time will become second nature!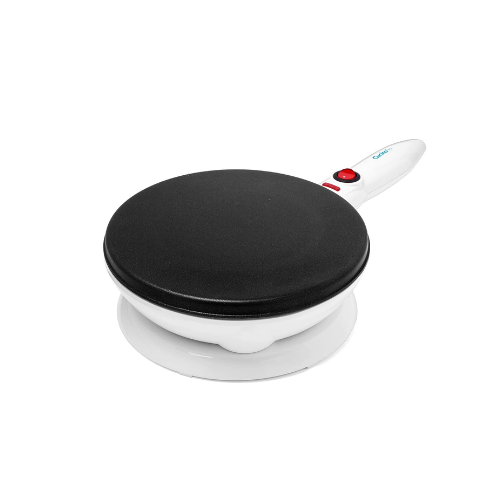 Quick Specifications
It is BPA free.
The top is fairly flat, and the edges are very rounded.
It features on/off switch with a ready light to indicate when the surface is hot enough to begin cooking.
Why we love it?
When you're looking for an easy way to create delicious crepes, CucinaPro Crepe Maker is the perfect choice! It's easy-to-use design and multiple features make it a great pick. The on/off switch has a ready light that will indicate when the surface is hot enough to begin cooking.
Plus, this device comes with all the necessary accessories such as a dipping plate and batter spatula that make creating your favorite thin crepes much easier.
With CucinaPro Crepe Maker, this holiday season can become even more special as you make delicious festive treats or breakfast items for your loved ones! And with its non-stick coating, cleaning up afterward is smooth sailing too – just wash away any residue with mild dish soap and warm water after use. Enjoy making creative recipes in no time!
What should you know?
The CucinaPro Crepe Maker is perfect for making delicious crepes with ease. This particular model features an electric base with a cord wrap, which makes storage tidy and easy.
The item measures 15"-L by 7.5"-W and is BPA free so you can be assured that it's safe to use around food. The top of the unit has quite a flat surface, but the edges are very rounded in order to make dipping batter into them easier.
Along with your purchase, there's also an instruction/recipe booklet included that takes away all the guesswork when you're preparing your crepes - whether they're sweet or savoury!
As far as using it goes, it couldn't be more simple: just plug in the device and wait until the light indicator turns on before adding any batter to get cooking! Cleaning up afterwards is hassle-free too; simply wipe down with a damp cloth after cooling completely.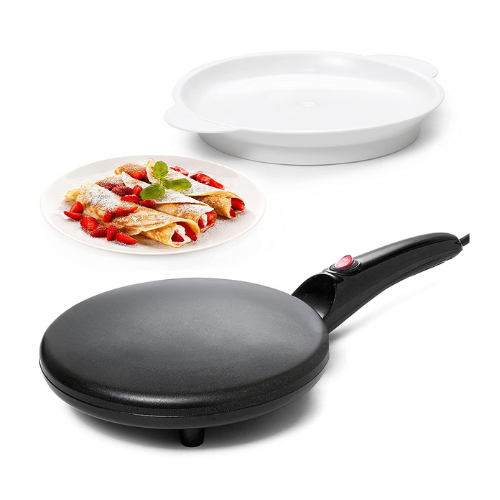 Quick Specifications
It has an intimate long big handle design for easy holding/operating.
It features a powerful 800 W heating element.
It has a non-stick coated plate surface to make crepes quickly.
Why we love it?
The Moos & Stone Crepe Maker is a great way to make delicious crepes, soft tortillas, tacos, blintzes and more. It has a non-stick coated plate surface that lets you quickly and easily prepare your favorite dishes without burning or sticking.
The temperature controller prevents burning by automatically adjusting the temperature so you can focus on creating the perfect dish. With its high powered heating element of 120V, 60Hz 800W power output and one press button ON/OFF switch , this crepe maker ensures easy operation as well as quick heat up time for faster results.
This crepe maker also features an adjustable thermostat control dial which allows us to adjust cooking temperatures for different recipes like thin pancakes or thicker waffles with just few knob turns . This feature ensures precise heat distribution necessary to cook delicate foods like crepes evenly every time.
What should you know?
Moos & Stone Crepe Maker is an ideal appliance for creating delicious crepes at home. With its large 8" cooking area, you can easily make restaurant-style crepes with ease. The best part about it is that the nonstick coating ensures not only a smooth surface but also easy cleaning and maintenance of the appliance.
The handle design of this appliance is also quite unique as it has a long big handle which allows you to hold and operate the product easily without any strain on your hands or wrists. This makes it very convenient to set down and take off from any position, making this an excellent choice if you have limited counter space in your kitchen.
In addition to its convenience features, Moos & Stone Crepe Maker also comes with a heat control knob so you can adjust the temperature precisely according to what type of crepe batter recipe you are using. Furthermore, when done making crepes all cleanup takes just seconds; simply wipe over the cooking plate with a damp cloth!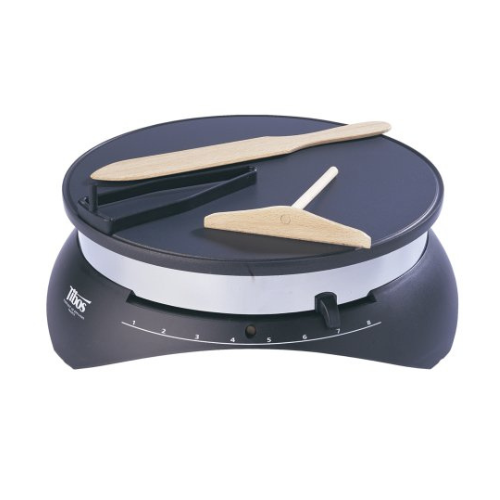 Quick Specifications
It has a powerful 1300W heating element.
It can make professional & restaurant-quality 13 inches crepes at home.
It can can double as hot plate for other types of food such as blintzes, jianbing, dosa.
Why we love it?
Tibos Crepe Maker is a powerful 1300-watts griddle designed to make traditional crepes. This device helps you obtain professional and restaurant-quality 13 inches crepes right at home.
It has a non stick Teflon surface that ensures your food doesn't get stuck on the pan while you are cooking, as well as a built-in thermostat and indicator light that signals when your desired heating temperature has been reached.
The Tibos Crepe Maker not only makes delicious crêpes but also cuts down on cleaning up after dinner. Its non stick surface requires little or no fat which faomakes it much easier yo wipe away any mess made during cooking process - leaving more time to enjoy those tasty treats!
Not just this but its sleek modern design adds beauty and style to any kitchen countertop so anyone can cook like a pro without putting in too much effort!
What should you know?
Tibos Crepe Maker is the perfect kitchen appliance for people who love to make and enjoy crepes. This electric griddle has a convenient non-stick surface, which allows you to easily flip your crepes without sticking or breaking them. It also offers plenty of customizable settings so you can get your desired result.
What's more, this griddle can double as a hot plate for other types of food such as blintzes, jianbing, dosa, omelets and flat breads! The machine comes with instructions and recipes in both French and English languages so you don't need any prior knowledge about making crepes before using it!
The Tibos Crepe Maker will surely be easy to use and maintain by its users. Plus, it comes with a 1 year manufacturer warranty that guarantees all parts are free from defects in material or workmanship during normal domestic use. So if something goes wrong with your machine within this period then Tibos will repair or replace the product at no cost to you!
FAQs about the best crepe makers
From traditional French-style street food to more modern recipes, there is something for everyone when it comes to making crepes.
But which product should you choose? To help answer this question, we have compiled a list of Frequently Asked Questions about finding the best crepe maker.
Are electric or stovetop models better for making crepes?
Both types of models can produce great results; however, electric models tend to be easier and faster since they are usually pre-heated before use while stove-top models require more time depending on heat sources used (i.e., gas versus electric burners).
Electric models also often have built-in temperature adjustment features that provide greater control over cooking conditions than those offered by stove-tops.
Finally, if space is an issue then an electric model may be more practical due its smaller size compared with most large stove-top units.
Do I need special cookware for my crepe maker?
You won't necessarily need any special cookware besides basic utensils like whisking bowl, spatulas/spoons etc but having Teflon coated pans would ensure easy release from sticking onto hot plates when flipping them during cooking process - these will make clean up much simpler too.
Furthermore having multiples of these items helps keep operations running smoothly throughout breakfast service at busy establishments or home kitchens alike since they eventually discolor overtime anyways through prolonged usage
How do I store my crepe maker between uses?
Cool, dry storage away from direct sunlight ensures lifespan and optimal performance.
Avoid unexpected environmental damage like warping from excessive cold temperatures.
Even in newspaper-lined sacks for absorption, it needs extra protection. Bubble wraps may be needed to secure round edges in corners and avoid unintentional collisions into hard surfaces during transit on uneven terrains.
Conclusion
In conclusion, crepes are a delicious way to provide variety for meals. Thanks to the advancements in technology and design, crepe makers make it easy to create light and fluffy pancakes with minimal effort.
After careful consideration of features such as temperature control, ease of use, and pancake quality, we have selected the 5 best crepe makers mentioned in this post.
We hope that our guidance will help you make the best crepe maker purchase for your home and kitchen. So, get ready to whip up delicious sweet and savory treats with ease!
*This site contains affiliate links. I may earn a small commission through links in this post.