Brew with The Finest: Our Picks of the 5 Best Coffee Percolators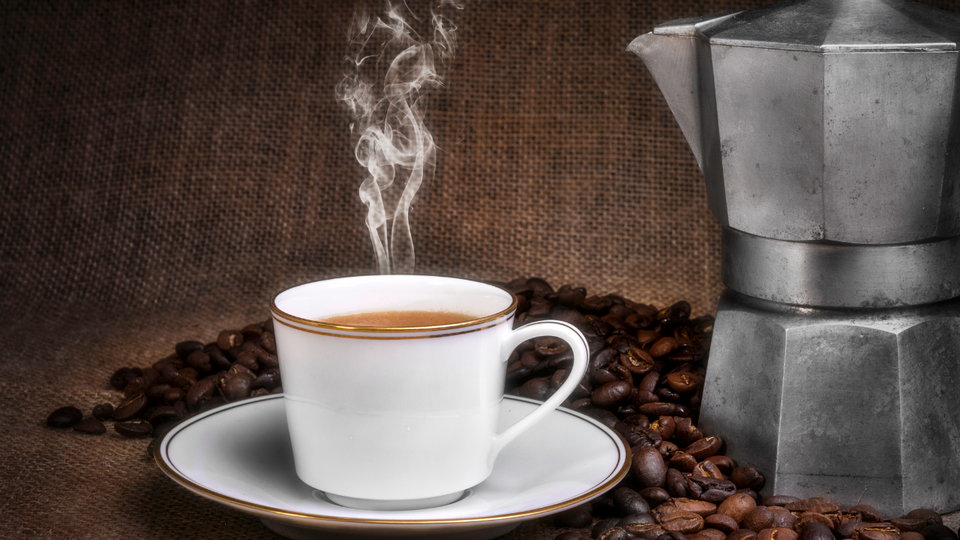 From centuries-old ibrik of Turkey to the modern AeroPress, coffee's past is brimming with brewing devices. One of these is the percolator; remembered as an iconic coffee maker in the late 1800s to early 1900s.
It works by forcing hot water via an internal tube and dripping it over grounds, yet this process can cause overcooking and a burned taste if not monitored properly.
Still, there are distinct advantages from such items that make them worth consideration - like affordability, ease to use and their petite size!
In this blog post, we will be discussing about the 5 best coffee percolators on the market. We will also let you know the factors you need to know while buying these devices.
How we choose the best coffee percolators?
Coffee percolators are a great way to make your favorite cup of joe. From the classic stove top to modern electric models, buying the best percolator can seem overwhelming.
With so many options available in the market today, it's important to know what factors you should consider when choosing which one is right for you.
In this blog section, we'll explore some of these key elements and provide tips on how to find the best coffee percolator for your home!
Type
When choosing a coffee percolator, it is important to decide whether you prefer the traditional stovetop variety or an electric model.
A stovetop percolator is usually more affordable, readily available and dishwasher safe, while an electric one provides added convenience during the brewing process and may be able to make multiple cups at once.
Ultimately, your choice depends on factors such as price point and how many people are likely to enjoy your freshly brewed java.
Price
For those looking to save money on a coffee maker, percolators are an ideal choice.
Being generally more affordable than standard drip brewers, these items come in various sizes and capacities; the larger ones being more expensive naturally.
The same is true for electric models which tend to be pricier than their stovetop counterparts. Ultimately, when it comes to finding quality at a price that won't break the bank – percolators should definitely be considered!
Ease of Cleaning
When buying a coffee percolator, it is important to consider how easy it will be to clean. Coffee percolators require regular cleaning and maintenance if they are going to serve you well in the long run.
The more complex the design of your percolator, the harder it will be to clean its many parts thoroughly. Therefore, buy one that has simple designs with easily accessible components so that you can keep them spotless.
Additionally, look for materials like stainless steel or ceramic which are much easier to wipe down than plastic models. Doing this ensures top-notch performance from your coffee maker and an enjoyable overall experience each time!
Style
When it comes to coffee percolators, style matters. Not only does the style of a coffee percolator affect its performance, but also your overall experience when you use the device. From making an aesthetically pleasing addition to any kitchen or office space to having convenient features that enhance brewing time and ease-of-use, there are numerous benefits offered by considering style while purchasing a coffee percolator.
Style can help dictate some of the key design aspects such as size and shape. If you're looking for something unobtrusive that doesn't take up much counter space you may want a more compact model; whereas larger models can accommodate multiple cups at once which are great for entertaining guests who may have differing tastes in their coffee.
Another element to consider is whether or not your chosen style adds convenience features like an adjustable temperature control knob as this will help ensure precise heating from cup-to-cup so no part of your brew goes under extracted.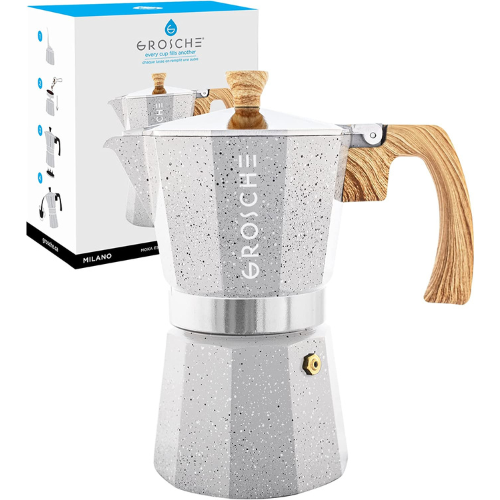 Quick Specifications
It has a premium stone finish which is 20x more durable than ordinary enamel.
It features a hand applied specked paint.
You can clean it simply by rinsing it in tap-water.
Why we love it?
If you love the strong taste of espresso, but don't want to invest in an expensive electric machine, the GROSCHE coffee percolator is a great choice for you. This moka pot will make 6 cups of espresso with just one use and can easily be used on a gas or electric stovetop as well as propane camping stoves.
Using this manual coffee percolator is much easier than using an electrical espresso machine too. All you have to do is fill it up with filtered water, add ground coffee into the filter basket and place it onto your cooker.
From there it's a matter of minutes until your cup of delicious Italian-style moka espresso is ready! Not only that - because this product uses no electricity whatsoever, you also get to save energy while enjoying your freshly brewed cup every morning.
What should you know?
The percolator is crafted from high quality materials that provide long lasting durability. It features a premium stone finish which is 20x more durable than normal enamel.
The hand applied specked paint adds extra protection to keep it looking like new, even after numerous uses and washes. In addition, this device can easily be cleaned just by rinsing in tap water or using mild detergent if necessary.
This product offers a simplistic and elegant design combined with incredible convenience and ease of use, making it perfect for those who enjoy having a freshly brewed cup of coffee in the mornings without breaking their backs trying to set up complicated machines!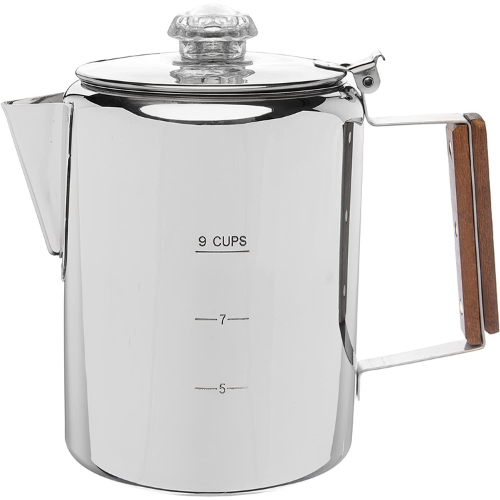 Quick Specifications
It comes with hardwood handle, construction grade steel.
It includes a pack of medical grade filters.
The stainless steel camping coffee makers are toxin free.
Why we love it?
This stainless steel camping coffee maker is 100% toxin-free and designed with premium materials like hardwood handle, construction grade steel and heat-toughened glass top that ensures your experience will be both safe and enjoyable.
Moreover, it comes with medical grade filters that make sure your cup of coffee always tastes as fresh as possible. The powerful percolation process rapidly circulates boiling water through freshly ground beans releasing all their delicious aromas into the air making sure you get a great taste every time without compromising on safety or convenience.
The Coletti Coffee Percolator also provides maximum portability due to its lightweight design which makes it very easy to transport when going out on long trips or hikes.
What should you know?
The Coletti Coffee Percolator is made of stainless steel which makes it highly durable and resistant to rusting - making it perfect for even the harshest weather conditions.
The percolator also features two handles that provide ease when pouring hot water into it and carrying the pot around. It comes with a removable base which makes packing up after use easy - all you need to do is take out the inner basket, remove its handle then fold up everything in one swoop ready for next time!
This amazing percolation device has been widely praised by people who love their morning cup of coffee while they're out on the trail or going off-road exploring. Its clever construction means not only faster brewing times but also improved flavour extraction from your favorite grounds too; this ensures you get maximum taste from every single mugful enjoyed!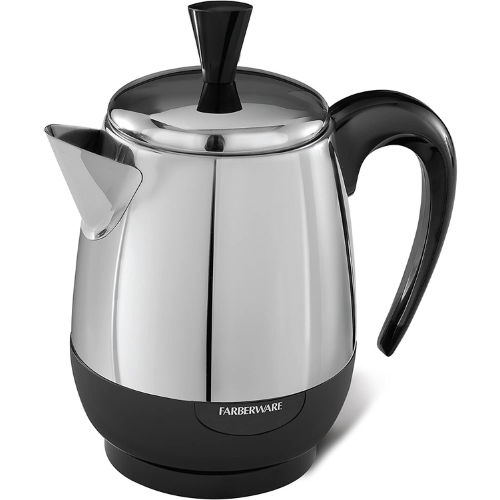 Quick Specifications
It has a robust aroma and flavor.
The lid features a rounded knob that's easy to remove.
The handle is designed for safe transport and pouring.
Why we love it?
This percolator has been designed with a durable stainless steel construction so it lasts longer and maintains consistent brew speed. The Automatic keep warm mode ensures that your beverage stays hot until your last sip without any need for reheating or burning the flavor out of your beans.
Plus, this model also features a premium stainless steel exterior which adds style as well as protection from heat damage during regular use.
With its simple design and ease-of-use technology, it makes perfect sense why so many people choose Farberware when they are looking for their favorite cup of morning caffeine fix or a relaxing evening tea break!
This coffeemaker has all the bells and whistles one might expect from such an appliance but at prices that won't hurt your budget either - making this one truly an unbeatable deal!
What should you know?
For coffee lovers, the perfect cup of coffee starts with choosing the right percolator.
The Farberware Coffee Percolator is a great choice if you're looking for an easy-to-use, convenient way to make delicious coffee at home or on the go. This premium electric percolator has a robust aroma and flavor that will make your favorite blends taste even better.
The lid features a rounded knob that's easy to remove so you can fill it up quickly and securely with your preferred blend of ground beans. Inside is a permanent filter basket made from high-quality stainless steel mesh – no need for additional paper filters – so there's less waste and more convenience when brewing up those fresh batches of coffee.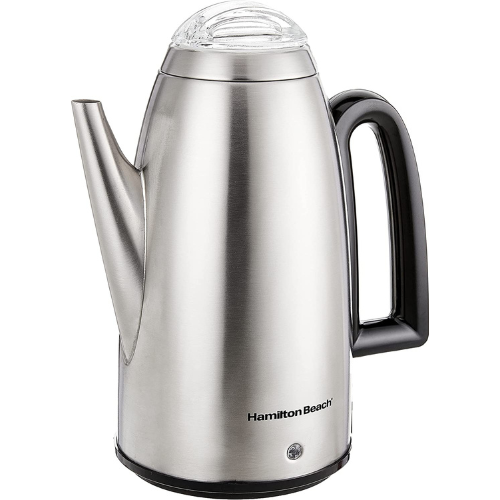 Quick Specifications
It offers a no-drip spout.
It has a stainless steel permanent filter basket.
It features a cool-touch handle.
Why we love it?
Are you looking for the perfect hot beverage maker? Look no further than Hamilton Coffee Percolator! This amazing appliance features a Gentle Keep Warm Heater, so your coffee is never cold and always the optimal temperature. The cool-touch Handle ensures that everyone's hands stay safe from extreme heat while retrieving their delicious cup of java.
Additionally, there's an added bonus with twist-off lid locks in place, giving you peace of mind knowing that all contents remain securely stored within.
The Hamilton Coffee Percolator is sure to please any coffee enthusiast by delivering great tasting coffee every time and meets safety standards with its design elements like the cool-touch handle and twist off lid locks in place.
You can feel confident using this appliance because it is designed to last long and perform well even when making large batches at one time.
What should you know?
When it comes to the perfect cup of coffee, the Hamilton Coffee Percolator offers all you need and more. With an easy-to-use design, this percolator promises great flavor every time!
The No-Drip Spout ensures your freshly brewed coffee stays put - no fussing around with spilled hot liquid. The Stainless Steel Permanent Filter Basket also helps make brewing smooth and efficient by keeping out any grounds or other impurities from entering your drink.
On top of making a delicious joe, there is also a handy Ready-to-Serve light indicator that reminds you when your coffee is ready for drinking - so say goodbye to worrying about leaving it on too long!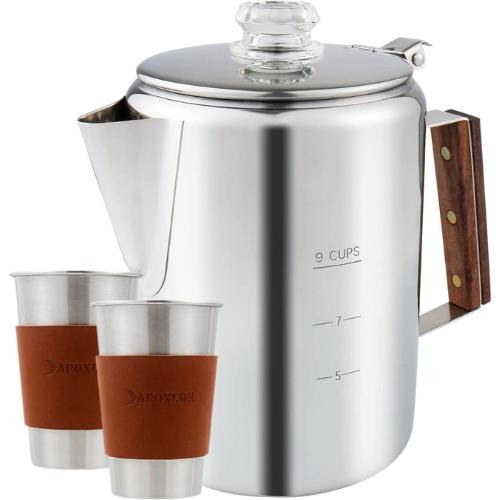 Quick Specifications
It is made from premium grade stainless steel.
It is resistant to corrosion and withstands rough handling.
It is made up of quality 18/8 (SS304) stainless steel.
Why we love it?
Are you looking to make a great-tasting cup of coffee in no time? If so, the APOXCON Coffee Percolator is just what you need. This percolator can generate up to 9 cups (about 42oz) of rich, full flavored coffee in a matter of minutes – it's fast and easy.
The construction quality is also something that stands out - this particular item was made using 18/8 (SS304) grade stainless steel and it's built to last.
In order to get started right away, each purchase includes two stainless steel cups with accompanying sleeves efficiently designed for connoisseur level thermal insulation while even allowing brew access by thumb tabs or convenient handles.
So don't worry about your beverages becoming cold before they're consumed! These added features definitely go the extra mile towards making sure your drinking experience reaches peak comfort levels all around.
What should you know?
Are you an outdoor enthusiast looking for a coffee-making solution that can come with you wherever your journey takes you? Look no further than the APOXCON Coffee Percolator, designed to provide convenient and reliable coffee brewing capabilities in any environment.
Ideal for camping trips, beach getaways or other outdoor activities, this lightweight percolator is easy to transport from place to place and is built for both indoor and outdoor use.
The percolator features a durable stainless steel construction which offers superior strength as well as corrosion resistance—perfect for rough handling of frequent transportation.
FAQs about the best coffee percolator
Coffee percolators are an excellent way to make a strong and flavorful cup of coffee, but there's still some confusion around exactly how they work. Here, we answer all the frequently asked questions about this beloved brewing method to help you get the best flavor out of your next pot.
What type of grind should I use in my percolator?
Medium grind is usually suggested since this texture allows optimal water absorption resulting in bolder yet smoother brews. Make sure not to over pack as that can lead up bitter flavor profiles due to excessive grounds touching each other during brewing time producing additional oils getting transferred into your mug eventually - no good!
Is drip or percolated coffee better?
That depends on who you ask! Drip coffee is more popular in the cafe and restaurant industry due to automation. But percolated coffee has its own advantages as it's made by forcing boiling water through ground beans — this technique allows for an incredibly consistent extraction rate resulting in full-bodied flavor over extended periods of time, making it perfect for home use.
What are the benefits of using a percolator?
Aside from producing great tasting brews, there're several other advantages of using such brewing device: they're extremely easy to use; some models feature options like warmers or timers that let you set up your ideal cup before jumping outta bed; they don't require elaborate expertise nor expensive machine parts - all adding up to great value/price ratios overall!
Conclusion
In conclusion, the 5 best coffee percolators on this list are all great options for a enthusiast or anyone who wants to make an excellent cup of drip-brewed coffee in their own home.
From traditional electric percolators to advanced models with multiple filtration levels, each one provides its own unique advantages and helps you get great tasting results every time.
Experimenting with different types of beans, grinds and recipes is half the fun when it comes to brewing your own perfect cup at home - so give percolating a shot today!
*This site contains affiliate links. I may earn a small commission through links in this post.