Choosing The Perfect Blender For Making Smoothie Bowls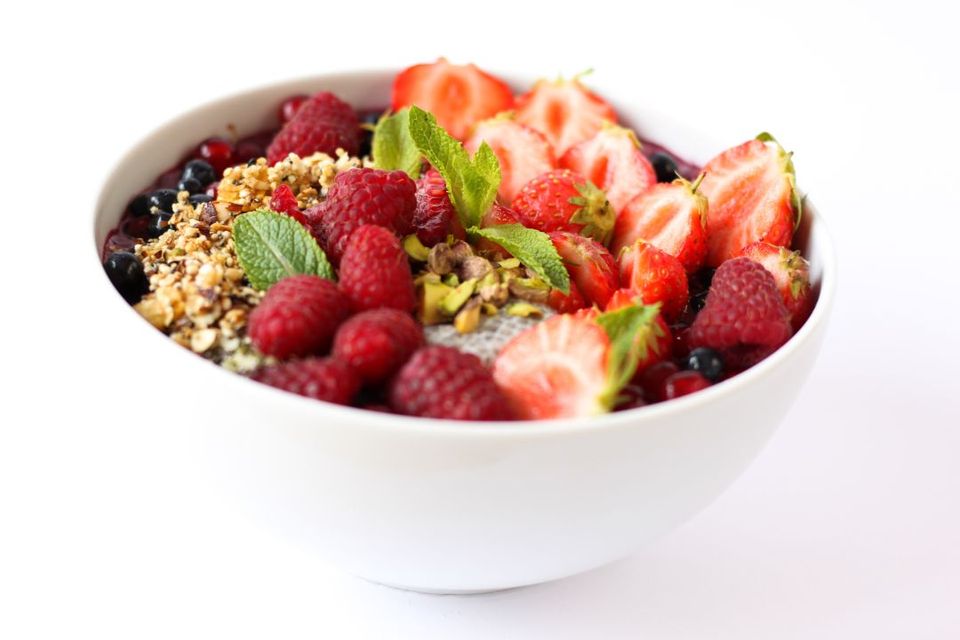 You know all the healthy things you should eat but sometimes it's hard to fit them all into your busy schedule.
That's where the smoothie bowl trend has taken off as a perfect alternative to cereal with the perfect blend of refreshing, healthy and delicious. It's a fun way to pack nutrients, healthy fats and fiber into your diet.
Making the perfect smoothie bowl is all about balance. The key to achieving that balance is using a variety of ingredients to customize your bowl to fit your tastes and dietary needs. This allows you to build a healthy and satisfying meal without spending hours in the kitchen. But don't forget after choosing the desired ingredients the blender you use to blend it in is just as important.
How we choose
The trick to making the perfect smoothie bowl is to make sure you have the right powerful blender to get the perfect consistency. Too watery will make it into a melted cold vegetable/fruit soup and not blended enough will give you unwanted chunky frozen ice pieces. You want a blender that deliver a consistent thick, creamy blend, and a device that is easy to use and dishwasher safe.
Getting the right tool for the job saves time and money and a bunch of headaches. That's why when it comes to researching, we don't take that task lightly. Our team has gathered thousands of user reviews and star ratings to come up with a list that will inform you of the quality you'd expect with consideration on your wallet can handle.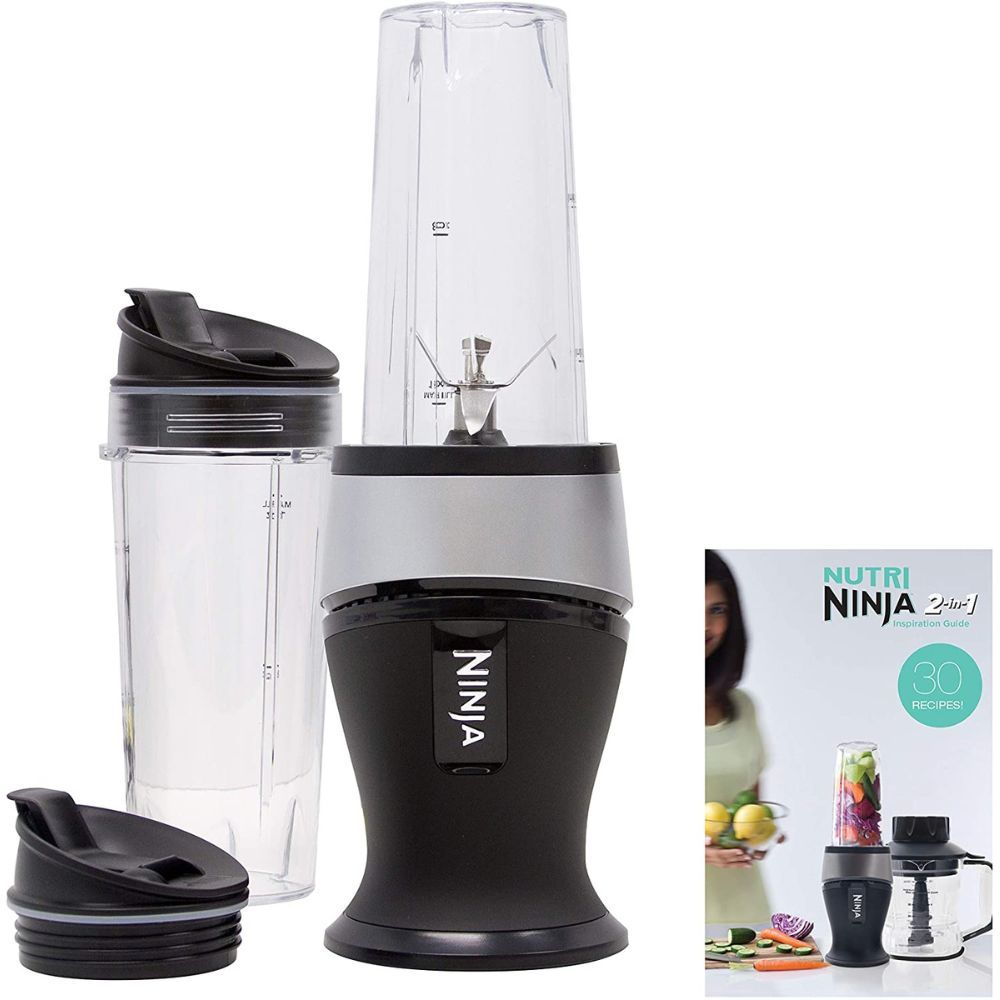 Best Personal size Smoothie Bowl Blender
Ninja QB3001SS Fit Compact Personal Blender
Check Deal on Amazon
Why we chose this
Although this is not marketed to be a smoothie bowl blender, we've found that this is a great affordable option for those that maybe on a budget or only need to make a small amount on the go. This small Ninja QB3001SS's 700 Watt motor manages to push through everything inside the cup to give you your desired consistency and well blended ingredients.
No complex programs, just one setting push-to-blend directly from the single serve cup. The blending power will surprise you, blending up ice cubes and frozen fruits to a creamy consistency.
This Ninja personal blender model is a great way to bring a healthy, clean option into your daily routine. This blender also comes with two 16oz blender cups that are slim and easy to store and ready for you to bring with you on the go. Simply disassemble parts and put it in the dishwasher for easy cleaning.
Specification and Features
Two 16oz blender cups
Pulse technology
One Setting Push-to-blend
Frozen blending
Compact & Simple
Dishwasher safe
Recipe guide included
700 Watt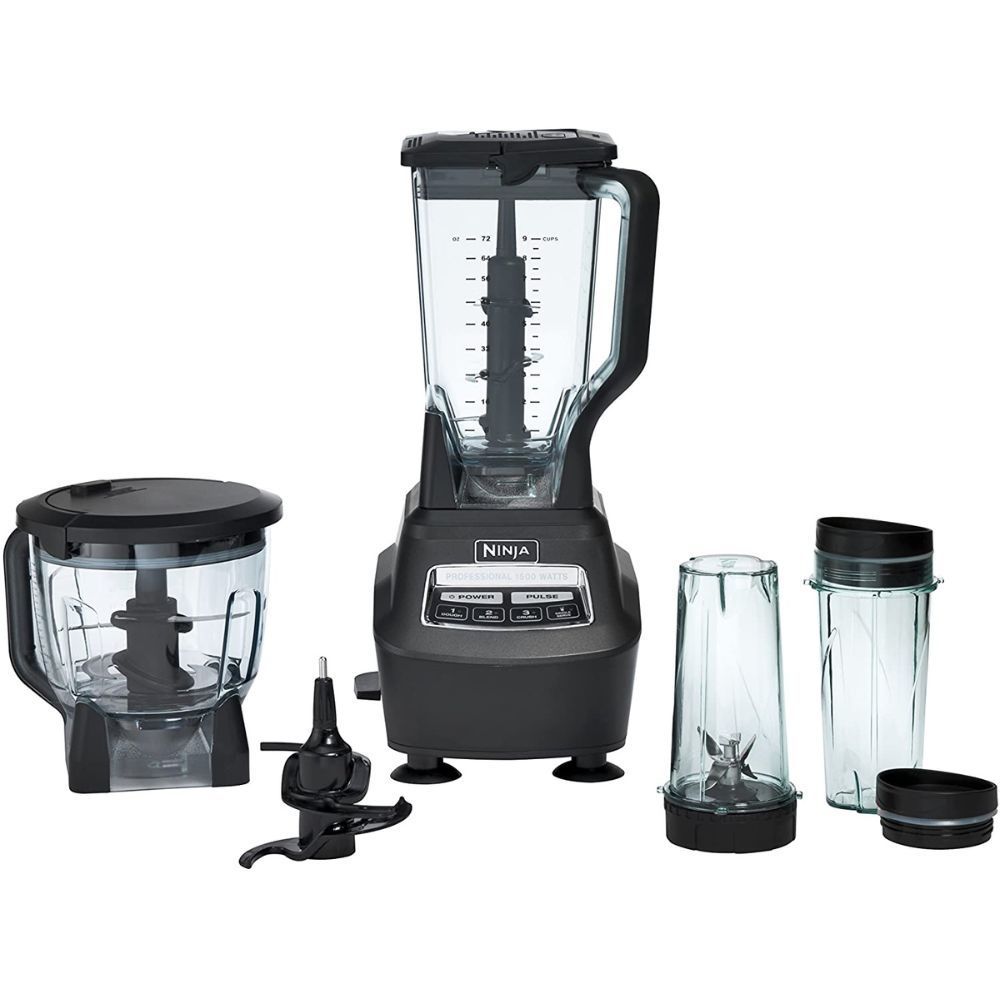 Most Versatile Blender for Smoothie Bowls
Ninja BL770 Mega Kitchen System
Check Deal on Amazon
Why we chose this
What if I told you there was a way to cut out the hassle and still enjoy a healthy, home cooked meal? The Ninja Mega Kitchen system comes packed with 1500 watts of power to handle all of your drink and meal making needs. This is not only a blender that can create awesome smoothie bowls, it's a whole kitchen system that can handle anything from drinks, to food processing in less time.
The XL 72 oz. blender pitcher features high power crushing technology to blast through ice and frozen fruit. Two 16 oz. Nutri Cups with to go lids are perfect for creating personalized, nutrient rich smoothie bowls to take on the go.
With a growing family, and a busy lifestyle, it's hard to find time to cook the way you want to. The Ninja Mega Kitchen System makes it easier and possible to enjoy delicious, nutritious home cooked meals, without spending a fortune.
Home cooking just doesn't have to be expensive or complicated. With the Ninja Mega Kitchen System, you can prep, cook and serve up great meals at home, without spending a fortune.
Now you can enjoy a home cooked meal in minutes. Simply press a button and let the Ninja do the work.
Specification and Features
72oz Total Crushing Pitcher (64oz Liquid Capacity)
64oz Food Processor Bowl
4 functions: Blend, Mix, Crush & Single Serve
Two 16oz To go cups with lids
Recipe guide
Dishwasher Safe
1500 W
Dough Blade, Chopping Blade, Nutri Ninja Blades, Stacked blade assembly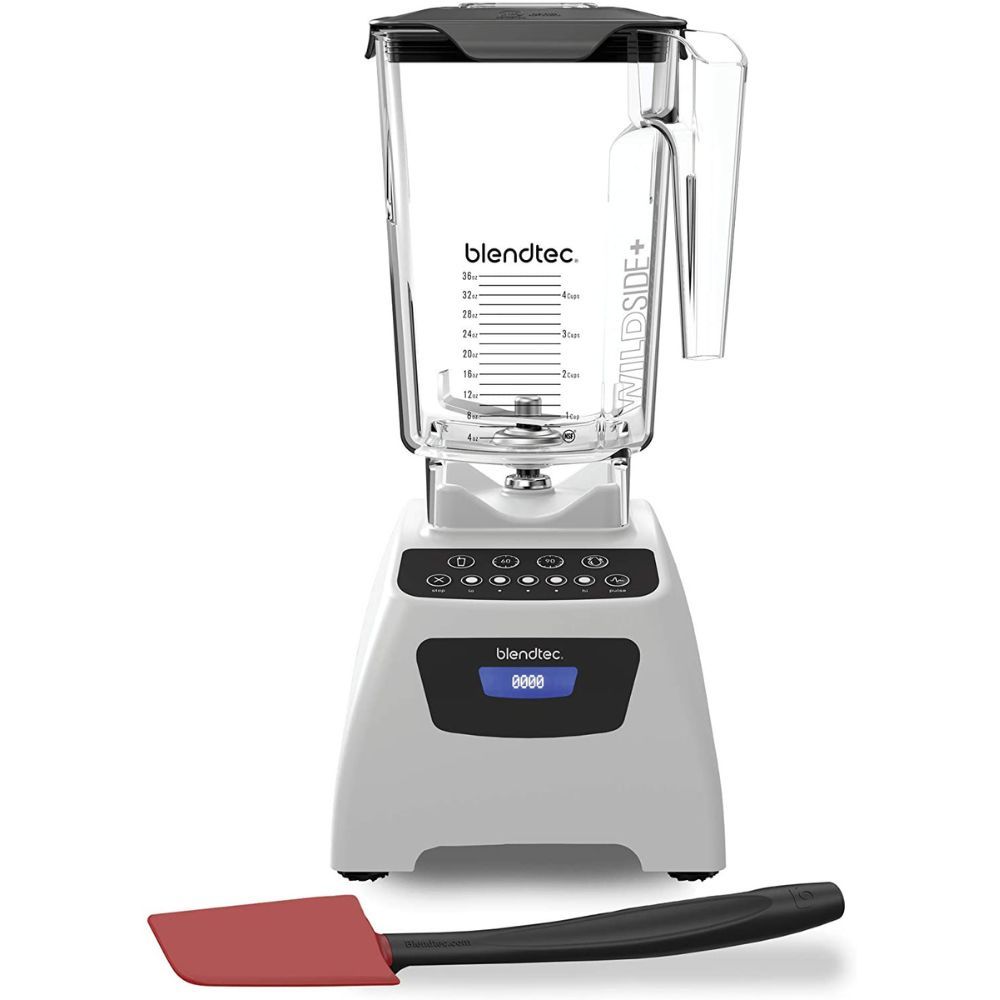 Best High-end blender for smoothie bowls
Blendtec Classic 575 Blender with WildSide+ Jar
Check Deal on Amazon
Why we chose this
The Blendtec Classic 575 takes blending to a whole new level. With its pre-programmed cycles, 1-touch buttons, 4-pre-programmed cycles, pulse & 5-speed manual control, it's easier than ever to create your favorite bowls, salsas, hot soups, and more. Complete control to adjust your blending at any time.
This Blendtec Classic model is designed to blend like a professional restaurant blender with one of the most powerful motors in the industry and it's patented blunt blade (10x more power than competitor blades). It blends food in seconds, and can be easily cleaned just with a drop of dish soap and a press of a button, you don't even need the dishwasher.  Best of all, it comes in a stylish design that will look great on your kitchen counter.
Why spend hours trying to perfect your smoothie bowl when you can just press a button to create a perfect consistency with the Blendtec Classic 575?
Specification and Features
Blendtec blunt blade
Precision pulse button
4 Pre-programmed cycles
5-speed manual control
Self-cleaning
BPA free WildSide+ Jar
Commercial Grade 1570 W motor
2 year Comprehensive Warranty
Designed and Made in USA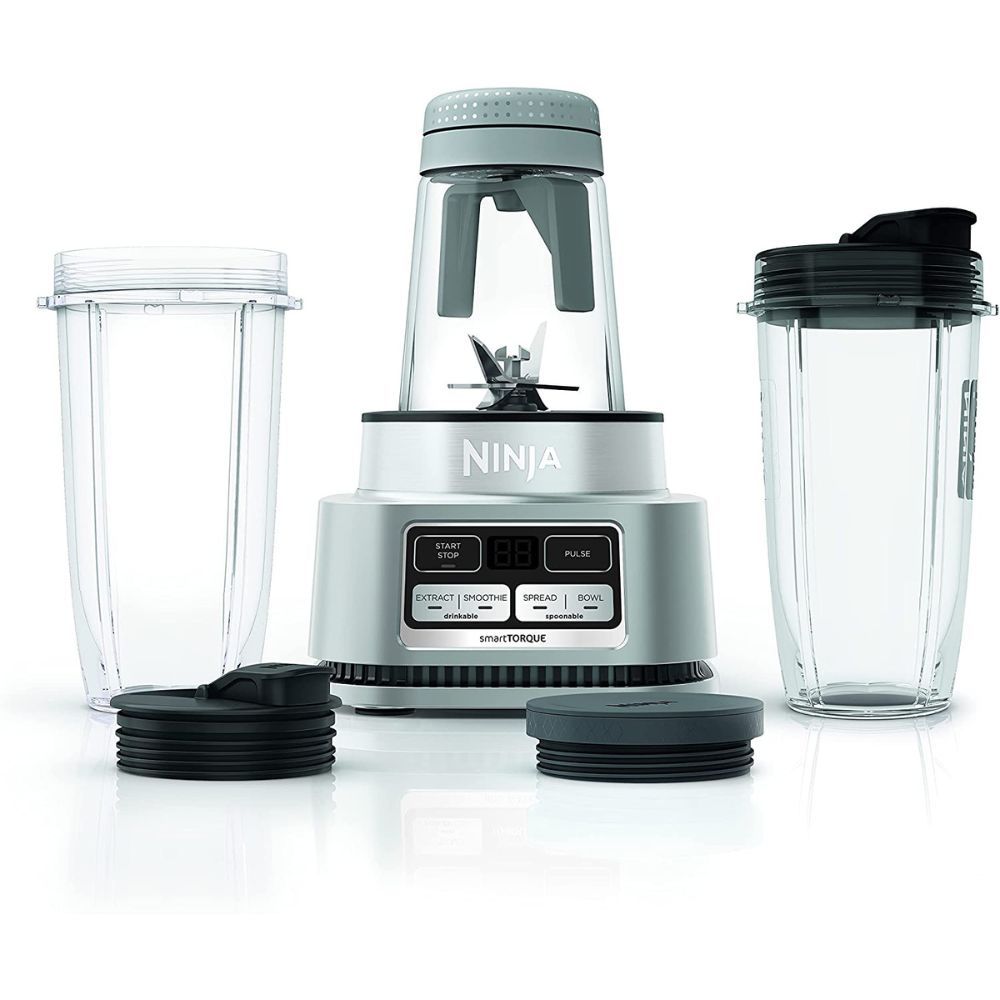 Best Value Blender for Smoothie Bowls
Ninja SS101 Foodi Smoothie Bowl Maker & Nutrient Extractor
Check Deal on Amazon
Why we chose this
Ninja SS101 Foodi with smartTORQUE is designed to blend through frozen foods with less liquid making for a thicker smoothie bowl. This model features a 1200 W motor, enough power that it can handle heavy loads without stalling or needing to be stirred.
Converts frozen or fresh fruit, veggies, and other foods into a nutritious, protein-rich, fat-free frozen treat in a matter of seconds! This model includes 6 pre-programs for one touch options, and you can take the guesswork out of making drinks with its built in auto-IQ technology.
With two single-serve blending options in one, you can enjoy more flexibility when it comes to creating your own blended smoothie bowl. This blender combines both the Nutrient Extraction Cup and Smoothie Bowl Maker in 1 unit so you can have both at your fingertips, for easy blending and serving.
Specification and Features
Smarttorque technology
Hybrid Edge Blades
24 oz Nutrient Extraction Cups with Spout lids
14 oz Foodi Smoothie Bowl Maker with Storage lid
Auto-IQ Technology
6 programs for one touch blending
Recipe guide included
Dishwasher safe parts
1200 W
FAQs for Blender for Smoothie Bowls
If you're not sure which blender model is right for you, you may find yourself overwhelmed by the options. Every brand claims they have the best products.
Well, we've created a list of frequently asked questions to help guide you to choose the best blender that meets your needs. Every individual is different and this list will help you narrow down which is best suited for you and your family.
What's the difference between a smoothie bowl and a shake?
Smoothie bowls are meant to be eaten with a spoon and not slurped from a straw. And it's typically a perfect blend of fruits, vegetables, nuts and yogurt.
What kind of blender do you need for a smoothie bowl?
If you want to create your own creamy bowl of nutritious, protein packed snack, then you need a high powered blender. You need a blender that can handle ice cubes and blend using less liquid.
Why is my smoothie bowl not thick?
Adding more ice cubes or frozen juice cubes will thicken your smoothie bowl. But if your blender is not strong enough the time it takes to crush the ice or the heat of the motor may melt the ingredients before it gets blended smooth.
Do you need a special blender to make smoothie bowls?
You don't necessarily need a special blender to create one. However, a high-powered blender will allow you to create a smoother, creamier, and more delicious smoothie bowl.
How do I make my smoothie bowl creamier?
Adding yogurt or nut butter will add creaminess to your smoothie.
If you are looking for a blender to make your frozen bowl creamier, you will want to find a model with a powerful motor. A powerful motor will allow the blades to cut through ice faster and blend your ingredients together more efficiently. This will blend a creamier smoothie bowl.
Is the Ninja blender good for smoothie bowls?
The Ninja blender is the perfect tool for making smoothie bowls. With its robust motor and sharp blades, it can easily blend fruits and vegetables into a smooth and creamy consistency. Plus, some Ninja blender models come with a special attachment that makes it even easier to create smoothie bowls at home.
Are there blenders you wouldn't recommend?
There are just so many different models of blenders out there, but as a guide, even if you are going for a budget blender that the specification indicate enough power to crush through ice. Additional features that might be considered would be: capacity, simple to operate, dishwasher safe parts and don't break easily.
Best Blender for Smoothie Bowls for you!
Making the perfect smoothie bowl can be a combination of art and skill. You don't want chunky frozen ice pieces not over blended vegetable juice. Making sure you have a blender that deliver a consistant thick, creamy blend, and a device that is simple to use and tidy up will save you so much time and hassle.
We've spent hours reading thousands of reviews online from verified customers and gathered the most important information for you to make the most informed decision.
*This site contains affiliate links. I may earn a small commission through links in this post.